WTMD: Rock On | Summer 2019 | TU Magazine
A Musical Gift To Baltimore
It has become a rite of summer in Baltimore: Each month from May through September,
live-music lovers descend on Canton Waterfront Park for WTMD's First Thursday Festivals,
presented by Brewers Hill. Grassy spots are claimed, camp chairs are unfolded and
blankets are rolled out by everyone from hipsters to families with young kids. When
the music starts, all dance and mingle as six bands perform on two stages at the region's
biggest free concert series.
Thursdays weren't always so rockin'. The festivals began about 15 years ago as intimate
events staged near the Washington Monument in Mt. Vernon Place, for an audience of
just a few hundred. They grew over the years until the crowd spilled out from the
park onto nearby streets. In 2014, WTMD relocated it to Canton Waterfront Park; in
2017, a second stage was added.
Over the years, an impressive roster of bands has performed, including Los Lobos,
the Mavericks, Marcus King Band, Joan Osborne, Lake Street Dive and Moon Taxi. An
average of 12,000 concertgoers meander through the park, stopping to see some of the
50 local vendors and grabbing food from favorites like Jimmy's Famous Seafood and
Blue Pit BBQ. Dooby's serves local craft beer, wine and specialty cocktails, and this
year WTMD has added an Artists' Alley, showcasing works by 10 Maryland artists.
"This is our musical gift to the city of Baltimore," says Scott Mullins, WTMD's general
manager/program director and First Thursday producer. "We believe that First Thursdays
enrich the cultural life of the city and help make Baltimore a more vibrant place
to live. It's free, and over the course of the summer, tens of thousands come and
enjoy the adventurous music line-ups that reflect WTMD's Music Discovery format."
Great food, drinks, art and a wonderful sense of community certainly don't hurt.
WTMD's First Thursday Festivals at a Glance 
When: Music runs 5:30 p.m.-10 p.m. the first Thursday of every month, May through September–except
for this year's July festival, since the first Thursday falls on July 4th.
Where: Canton Waterfront Park, 3001 Boston St. in Baltimore First Thursdays are rain or shine.
No coolers, outside alcohol or glass containers permitted.
First Thursdays are rain or shine.
---
Tales From The Wall
Among the hodgepodge of amps, drums and chairs backstage at WTMD's performance studio
is a long stretch of white wall covered in more than a thousand signatures. Called
WTMD's Wall of Scrawl, it bears the name of nearly every musician or band who has
played a show or given an interview at the station in the past four and a half years.
These are their stories.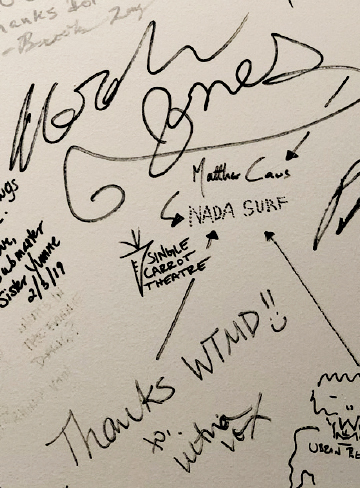 The first person to sign the wall was also one of the most famous. Jazz and pop star
Norah Jones brought her trio Puss 'N' Boots in for a free, hour-long Live Lunch set
in October 2014. Jones shared the spotlight with drummer/ singer Sasha Dobson and
bassist/ singer Catherine Popper for a set of originals and cover songs. When Jones
sang, a hush fell over the studio audience. Everyone in the room knew that voice,
and remembered a time when her soft and breezy singles "Come Away With Me" and "Don't
Know Why" ruled the airwaves. After the show, Jones hung around to meet fans and sign
autographs, and before she left the station, she grabbed a black Sharpie and left
her signature—a looping cursive one, with the final "s" drawn out to underscore the
rest of her name, ending in a curl. It was a lone patch of black on a blank canvas—but
not for long.
View more information: https://www.towson.edu/magazine/summer-2019/wtmd-rock-on.html
See more articles in category:
Grammar