Vernon Hurte to lead Student Affairs at TU
New Vice President of Student Affairs has distinguished leadership background and
will join Towson University in 2020.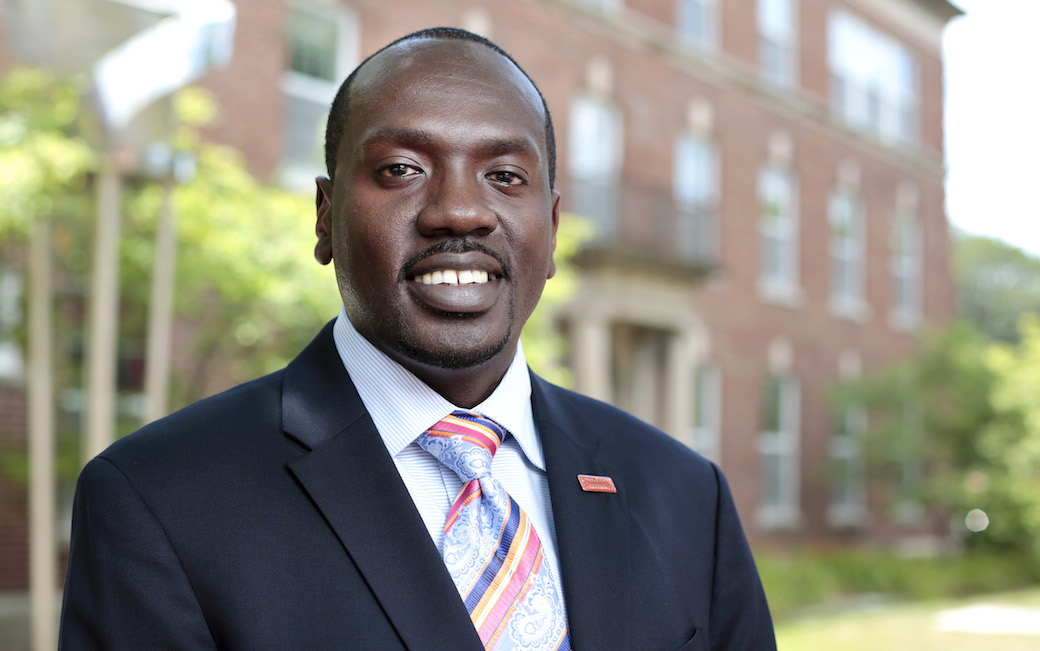 Towson University has appointed a new Vice President of Student Affairs after a thorough,
nationwide search.
Dr. Vernon J. Hurte will join the university in this key leadership role beginning
on February 17, 2020.
Dr. Hurte was clearly the top candidate after an extensive national search. His appointment
was announced to campus in a message Thursday by President Kim Schatzel and Provost
and Executive Vice President Dr. Melanie Perreault.
"Thank you to President Schatzel, Provost Perreault, and the entire Towson University
community for the tremendous opportunity to serve as the next vice president of student
affairs. Towson University is a leading university with a deep commitment to student
success," Dr. Hurte said. "I'm excited about the opportunity to lead the passionate
and talented team within the Division of Student Affairs and partner with students,
faculty and staff toward further enhancing the student experience at TU."
Dr. Hurte will report to Dr. Perreault, serving as the university's chief student
affairs officer, a member of the president's cabinet and an officer of the university.
He will provide university-wide leadership on all-inclusive services and programs
that promote student engagement and success.
"We know you all will join us in welcoming Dr. Hurte to the Towson University community
and offering our support as he transitions into this important leadership role," Drs.
Schatzel and Perreault stated in the message to campus.
Dr. Hurte will provide vision, strategic direction and leadership for a division of
almost 200 full-time staff that offers a comprehensive range of student programs and
services including the Career Center, Counseling Center, Student Case Management,
Health Center, Housing & Residence Life, Campus Recreation, Student Activities, Fraternity
& Sorority Life, New Student & Family Programs, Student Success Programs, Civic Engagement
& Leadership, Student Conduct & Civility Education, Military & Veterans Center and
Events & Conference Services.
Dr. Hurte brings more than 18 years of experience in higher education to this leadership
role. He joins TU from Iowa State University, an AAU land grant university with more
than 33,000 students, where he has served as the associate vice president for student
affairs and dean of students since 2017. At Iowa State, some of the efforts led by
Dr. Hurte included leadership for 16 departments/functional areas and campus-wide
initiatives including the Critical Incident Readiness Team, Sexual Misconduct Leadership
Committee, Academic Success Center, Multicultural Student Affairs, Center for LGBTQIA+
Student Success and Veterans Center.
Dr. Hurte also served for five years as the assistant to the vice president and senior
associate dean of students at The College of William and Mary, where he supervised
strategic planning, assessment, outreach for the Office of Student Conduct, Student
Accessibility Services, Care Support Services, Enrollment Services, Transfer Student
Services and division-wide diversity and inclusion efforts. Dr. Hurte received a B.S.
in psychology from Bowie State University, a Master of Divinity from Virginia Union
University, and a Ph.D. in Education from the University of Tennessee.
Earlier this year, TU convened a search committee charged with working on behalf of
the university to support this important search.
"Our goal was to bring an innovative, strategic and collaborative student affairs
professional to TU to lead the Division of Student Affairs, a person who would bring
unwavering commitment and extensive expertise aimed at promoting a culture of inclusion
and diversity, outstanding student retention and degree completion. We also needed
someone who would lead the academic and personal development of students and further
TU's leadership in community engagement for our region and our state. The search committee
and process confirmed that Dr. Hurte fulfills all of those capabilities and qualities,"
Drs. Schatzel and Perreault stated in the message to campus.
The search committee was chaired by Brian DeFilippis, vice president for university
advancement, and included key members of campus leadership:
• Bob Campbell, Department of Financial Affairs and Auxiliary Services
• Leah Cox, Office of Inclusion and Institutional Equity
• Joe Herring, University Police
• Kelly Hoover, Department of Housing and Residence Life
• Matt Lenno, Department of Campus Life
• Tim Leonard, Athletics
• Lorie Logan-Bennett, Career Center
• Laurie Mullen, College of Education
• Anthony Skevakis, Division of Student Affairs
• Sara Slaff, Office of the General Counsel
• Naimah Kargbo, Student Government Association
• Jennifer Ballengee, Academic Senate
• Theresa Jenkins, Staff Senate
"We are both pleased and proud of the participation of our Towson University community
in this university-wide process over the last several months. The search remained
both inclusive and efficient because of the diligence of Assistant Vice President
for Human Resources Steve Jones and Senior HR Partner Jen Stano. We thank them both
for their support," the campus message read.
President Schatzel and Provost Perreault also extended thanks to Interim Vice President
of Student Affairs Maggie Reitz for her leadership during the fall semester.
"During her tenure, she brought her academic affairs background to the position and
facilitated new connections with the Division of Student Affairs division that will
support a smooth transition for Dr. Hurte," the campus message read. "We look forward
to Dr. Reitz's continued leadership as vice provost."

View more information: https://www.towson.edu/news/2019/vpsa-vernon-hurte.html
See more articles in category:
Grammar