TU's Regional Economic Studies Institute reports on human disparities across Maryland
Annual forum featured panelists discussing solutions and needs to creating more equitable
communities.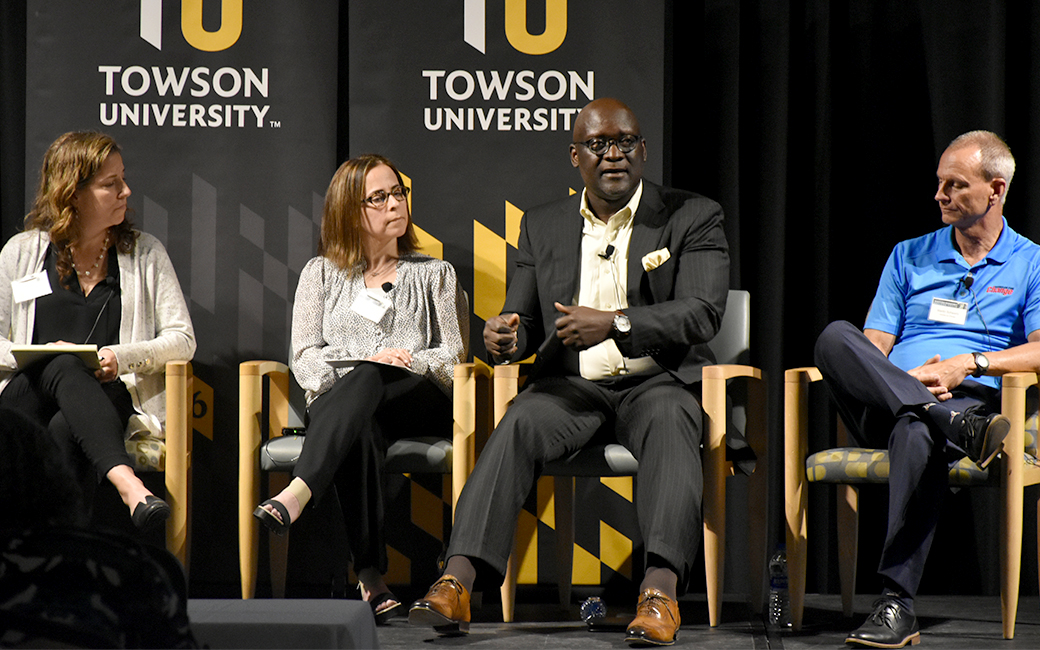 The Regional Economic Studies Institute (RESI) hosted its fourth annual Maryland Workforce Outlook Forum on Wednesday afternoon in West Village Commons. This year's event focused on addressing
and finding solutions to human disparities across Maryland.
"As an institution, Towson University is deeply committed to equity and inclusion.
This year's Forum highlights the values of our institution and allows us to work with
partners to take a deeper dive into examining these issues at the state level," said
Daraius Irani, vice president of Strategic Partnerships & Applied Research.
RESI's independent research on this topic began in 2017, when a TU student intern
suggested looking at localized human development disparities—education, income, and
health—in Baltimore City and the major economic implications for residents.
The research led to the development of a white paper, a webinar, and eventually this year's Maryland Workforce Outlook Forum topic.
"Disparities have major economic implications for Maryland, so understanding them
and finding equitable solutions is critical for all Marylanders," says Irani.
Reporting on statewide human disparities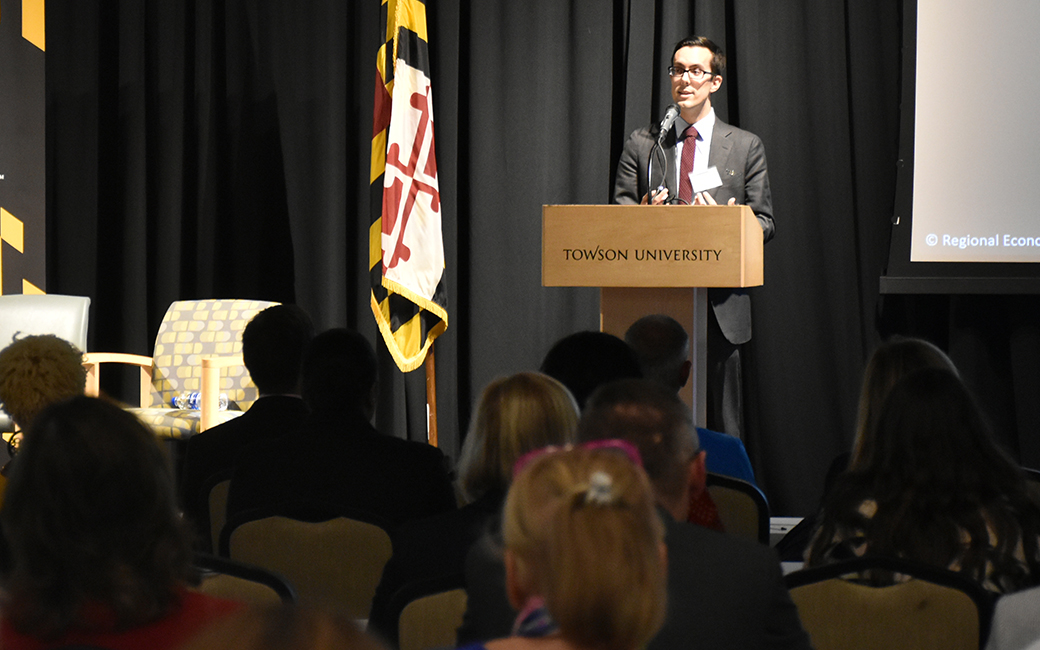 "We previously looked at disparities in Baltimore City at the neighborhood level.
We really wanted to expand our research to look at variations statewide," says Michael
Siers, director of research at RESI.
For the forum, RESI examined all 1,400 census tracts in Maryland to bring a clearer
picture of education, income, and health disparities across the state.
RESI researchers used the Human Development Index (HDI), an index developed by the United Nations to measure and rank levels of social
and economic development of countries, to analyze and rank each census tract.
"Using HDI allows us to understand the gaps in opportunities facing Maryland residents,"
says Siers. "For example, people who live blocks away from each other can have life
expectancies that vary by almost 25 years."
View RESI's slide presentation (PDF).
Using maps to highlight the research during his presentation, Siers pointed out that
the portions of the state that are doing the best are concentrated in metropolitan
areas along the I-95 corridor. Similarly, areas faring worse are mostly in urban areas,
such as Baltimore City, Hagerstown, or the suburbs of Washington D.C. However, rural
areas of the Eastern Shore and Western Maryland also experience resource and opportunity
gaps.
According to Siers, this pattern is seen across the country.
"Since the end of the Great Recession ten years ago, job growth has been almost entirely
within metropolitan areas. Rural areas and small towns have struggled to tap into
that growth," says Siers.
Siers pointed out while disparities are found across the state, the root causes are
not the same and the resources needed in Western Maryland aren't the same as those
needed on the Eastern Shore or in Baltimore City. For example, the share of households
without access to a car in struggling urban areas is four times higher than the statewide
average. However in struggling rural areas, car ownership is closer to the Maryland
rate.
Addressing disparities to improve lives
The Maryland Workforce Outlook Forum continued Wednesday afternoon with a panel discussion
featuring area leaders who are working to address disparities and create more equitable
communities.
"In 1999, transportation was identified as the number one barrier to employment for
low income families. Unfortunately, transportation is still identified as the number
one barrier today," says Martin Schwartz, founder and president of Vehicles for Change.
The non-profit takes donated cars, repairs them, and then identifies families who
need a car to get to and from employment to escape poverty.
"This is not only a human issue, it's an economic issue," says Schwartz. "We've awarded
over 6,400 cars to families. Seventy-five percent of the folks who get a car from
us within the first 12 months of car ownership increased their annual salary by $7,000
a year."
For incarcerated men and women, returning to life outside of prison brings anxiety
and challenges to employment.
To help returning citizens, Vehicles for Change opened Full Circle Auto Repair & Training Centers. The program trains previously incarcerated citizens to become skilled auto mechanics
and helps ensure reentry is a time of empowerment and support.
"A job makes a huge impact and we have to find a way, not only to get people to work,
but we have to find a way to provide opportunities for individuals coming out of incarceration
to access a better lifestyle," says Schwartz.
Elyshia Aseltine, associate professor in Towson University's Department of Sociology, Anthropology and Criminal Justice, agreed. Aseltine co-created a program that brings together incarcerated students and college students behind prison walls
to learn.
"Stigma of having a criminal record is the biggest barrier to employment. We need
to rethink the narrative of good versus bad folks, which is mostly based on fear," says
Aseltine. "Using new terms like returning citizens and shared humanity would go a
long way to open up opportunities for this population."
To close the discussion, Irani asked the panelist what was needed to support and scale
solutions.
Lynne Kahn, founder of Baltimore Hunger Project, noted that there must be more awareness about these disparities and organizations
must partner to coordinate efforts and find collaborative solutions.
Terris King, chair, Board of Directors for the Family League of Baltimore, echoed that in his remarks.
"This needs to be more than a feel good exercise. Baltimore City is in dire need of
real change. We must build models for change that can be replicated," says King.
Continuing the conversation
Wednesday's forum also served to kick off a new series of roundtable discussions RESI
will launch during summer 2019 and continue into the fall. The roundtables will bring
together community members with non-profit, education, and business leaders to examine
pressing subjects such as education, transportation, or the role of community engagement.
"We will collaborate to identify major issues, potential solutions, and success stories
from partner organizations," says Siers. "We will then work to put these insights
and ideas into the hands of policymakers who can affect change during the next legislative
session."
More Information
About Resi
Formed in 1989, the Regional Economic Studies Institute is the trusted expert on Maryland's
economy. RESI empowers public, private, and non-profit organizations with data-driven
solutions to guide decision-making.
This story is one of several related to President Kim Schatzel's priorities for Towson University: TU Matters to Maryland, BTU-Partnerships at Work for Greater Baltimore.

View more information: https://www.towson.edu/news/2019/maryland_workforce_outlook_forum.html
See more articles in category:
Best