TU's ready to blast off into Homecoming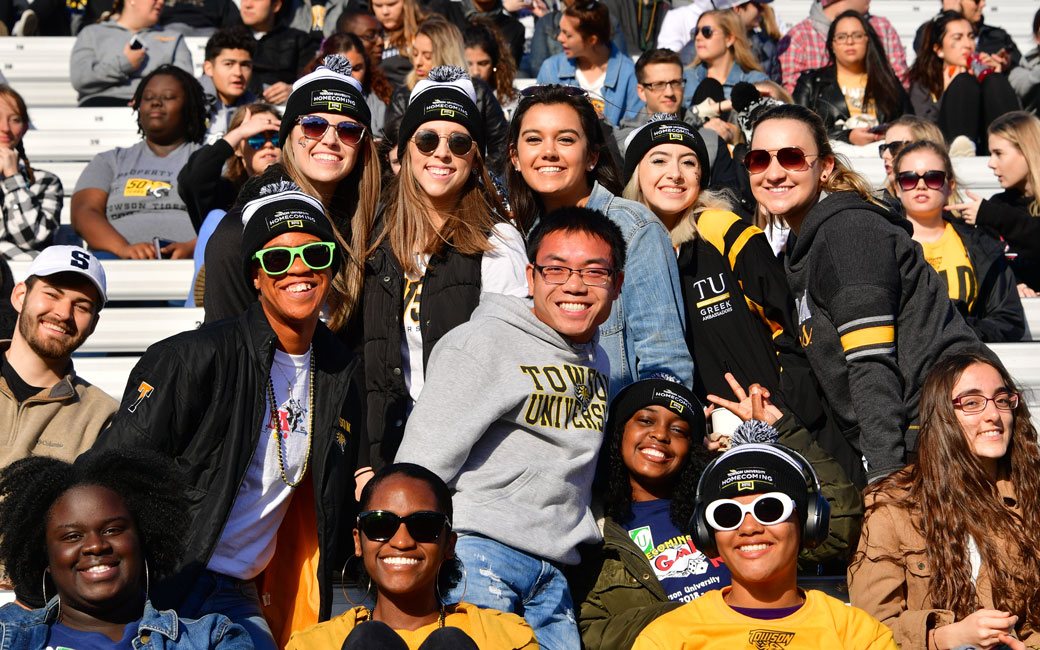 Students can go "Into the Galaxy" with several space-themed events that will inspire
Tiger pride
Towson University is ready to help students travel to a galaxy not too far, far away
to celebrate its annual Homecoming week.
Homecoming takes place from October 13-19 with the theme "Into the Galaxy." To celebrate,
TU will be hosting over a dozen space-themed events that offer something unique each
day. 
Events are open to all students, unless noted otherwise. And as with every year, the
week ends with the Homecoming football game, which will feature the nationally-ranked
Towson Tigers taking on Bucknell.
Some of the intergalactic events this year include:
Space Training & "Fuel Up" Station
Monday, Oct. 14 | 12 – 3:30 p.m. | Stephens Lawn
Students can get prepared for their week in space with some special "training." This
event, held on Stephens Lawn, will feature special inflatables, an obstacle course
and snacks at the special "Fuel Up" Station.
Star Gazing  
Wednesday, Oct. 16 | 5 p.m.-7 p.m. | Smith Hall's Watson-King Planetarium 
Take a trip through the universe at Towson University's own Watson-King Planetarium to learn about stars located throughout the universe and directly above us here in
Towson. This event will give you a better understanding of the stars around us.
Dance the Madness
Wednesday, Oct. 16 | 7 p.m. | SECU Arena
Dance the Madness is a competitive co-ed group performance in which student organizations
present a short routine that promotes school spirit.
The Space Race Homecoming Pageant 
Thursday, Oct. 17 | 7:30 p.m. | West Village Commons Ballroom
The annual pageant will highlight the nominated members of this year's Homecoming
Court. Members of the Homecoming Court will participate in a costume portion, perform
a talent, and answer questions as they compete for votes to become Towson University's
2019 homecoming king and queen.
Students can pick up free admission tickets to this event at the University Union
Box Office. Students will be able to vote for their choice of the Homecoming King,
Queen, and/or Royal using Involved@TU.  Voters will be able to select up to two candidates. 
"Return of the Tigers" Block Party
Friday, Oct. 18 | 5 – 8 p.m. | Burdick Gym  
A homecoming tradition, this year's block part will feature various Earth saving activities,
sample some space and earth food, play laser tag, compete in a paper airplane or hula
hoop contest, and have fun the annual block party.
Fifth Annual Tiger Trot 5K
Saturday, Oct. 19 | 9 a.m. | Burdick Hall
Join your fellow Tigers as you race (or walk) through Towson University's campus during
TU's annual Tiger Trot. Runners are encouraged to wear TU black and gold apparel to
showcase their Tiger Pride! Day of registration available from 7:30 a.m. to 8:30 a.m.
Click her to register for this year's race.
Homecoming Football Game
Saturday, Oct. 19 | 4 p.m. | Unitas Stadium
Come support the Towson Tigers Football Team as they do battle with Bucknell! The Homecoming Royalty will be crowned at halftime,
and the winners of Homecoming week will be announced. The game will feature a special
student-focused tailgate before the game inside the Tigerzone, located outside of
the Unitas Stadium box office. 
These are just a few events that will be taking place during the week. For more information
visit Towson University Homecoming events page, or check out the Towson University Homecoming Twitter and Instagram pages.

View more information: https://www.towson.edu/news/2019/homecoming.html
See more articles in category:
Grammar