TU's Big Event was bigger than ever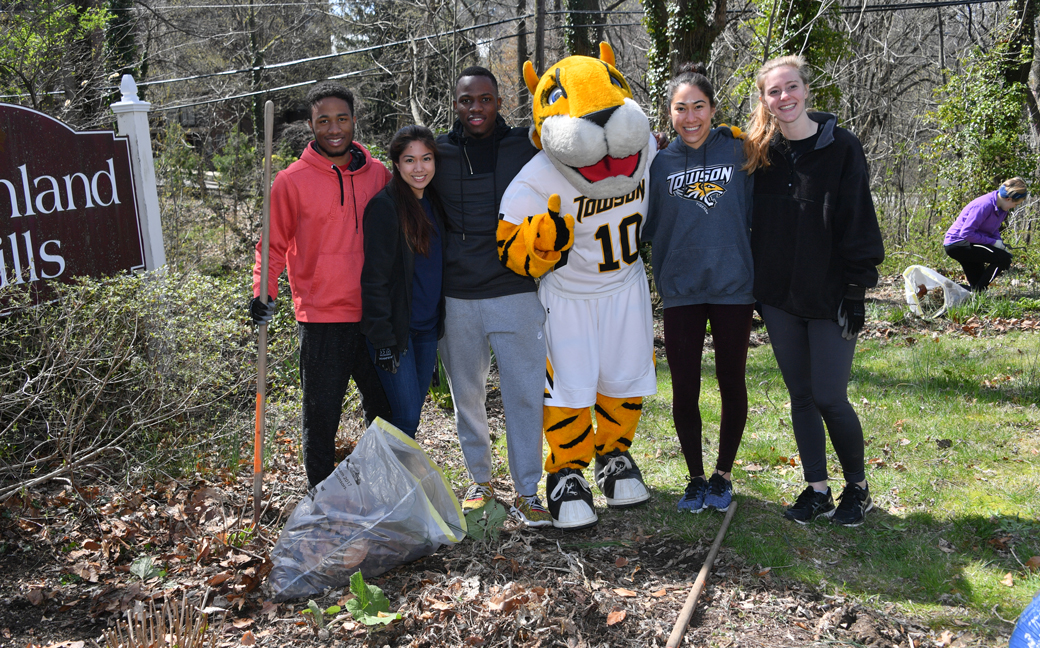 Thousands perform community service, enjoy top acts on the final day of Tigerfest
week
The 'Biggest' Big Event yet
Starting at 8 a.m. on April 21, 2,000-plus students from numerous organizations met
at SECU Arena to take part in the ninth annual Big Event, the university's largest day of community service. After eight years, students,
faculty, staff and alumni have continued to give back to the TU community by providing
service to a record-breaking 220 sites throughout the community.
"Towson University is an anchor university, and it's so important to be able to show
our community the love we feel for them," President Kim Schatzel assured students
before they headed out. "There is no better way to do that than the service that Tigers
love to do."
This year's Big Event broke records in both volunteer and site counts. TU is the only
institution in the University System of Maryland with a Carnegie Community Engagement
Classification, which is awarded to about 320 other schools nationwide. The classification
"recognizes Towson's priorities and emphasis on engaged and collaborative teaching,
learning and scholarship that deepen students' civic and academic learning to enhance
community well-being."
Towson University gives back with The Big Event
Many of the Big Event service sites included private residences near the university.
Many homeowners expressed how grateful and amazed they are by TU students' commitment
to serving fellow community members.
Linda Freeburger has lived in the community for close to 35 years. After her husband
died, she tried to keep up with the painting, staining and mulching on her own. Since
taking a fall while painting, she has avoided outside tasks that might lead to injury.
"This is the first time I've had students come out," explained Freeburger. "I had
no idea The Big Event existed! When the girls from the university came to my door
to ask if I'd like to participate, tears just started streaming down my face. I can't
tell you how much I appreciate this."
Some of the other notable service sites in this year's Big Event included Towson's
Chamber of Commerce, The Y in Central Maryland, schools, churches, parks and retail
shops in the 'uptown' Towson area.
"The community service and the people appreciating us coming out are my favorite things,"
explained senior philosophy major Greg Brice. "I still have the contact information
from the last few places I've been. Every now and then I'll email them to check in
and see how they're doing or if they need anything."
Brice, who graduates at the end of the semester, says this is his fourth time volunteering
with The Big Event.
"It's a really relaxed event with no pressure," explained junior computer science
major Daniel Elice. "If you have an organization, or you want to do it yourself, it's
a nice way to get involved. To me the Big Event is TU's way of saying 'Thank you'
to the entire community."
Tiger(Slime)fest takeover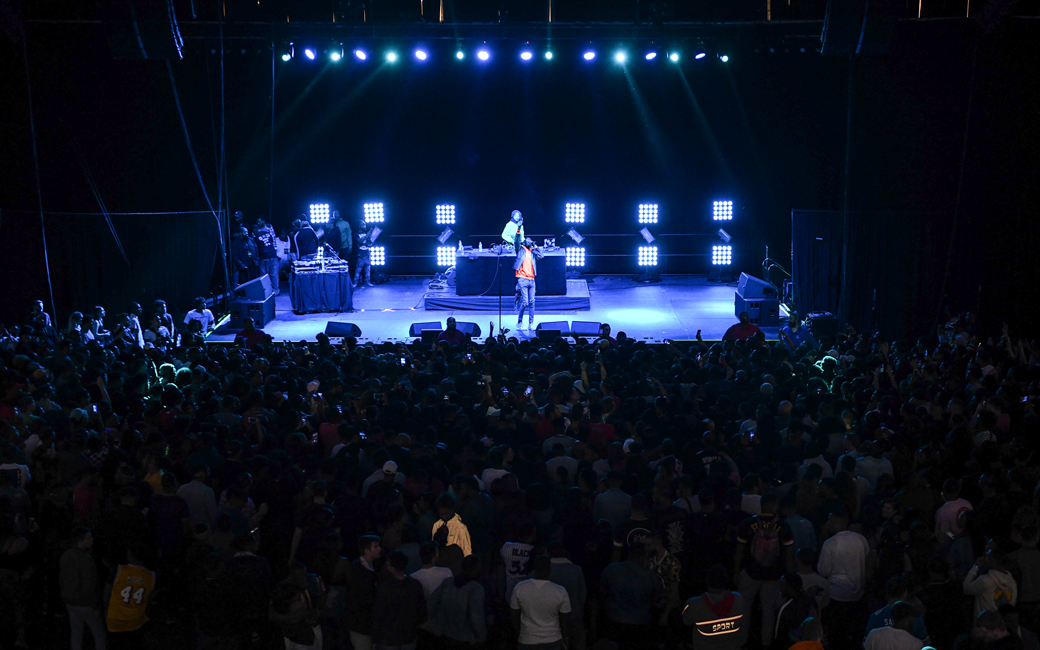 Tigerfest aimed to offer something for every TU student. Beginning on Friday, April
20, Campus Activities Board (CAB) opened the weekend with a performance from Danish rock band New Politics in Lot
26. CAB also offered carnival games, food, giveaways and activities throughout the
night.
Doors for Tigerfest's main concert opened at 6:30 p.m. on Saturday, April 21, with
the event starting at 7:30 p.m. Every year CAB works to bring top names in music to
perform onstage at SECU Arena. This year, CAB recruited rapper Young Thug as the headliner,
with opening acts Rhett Price and former Towson University student Dave East.
Rhett Price is a hip-hop violinist who launched his career as a YouTube sensation.
Originally from Greenwood, Texas, he left in 2009 to study music at Berklee College
of Music in Boston. He eventually left school to return to Texas with his instrument
on his back. Thanks to a viral YouTube video, Price is now booking shows at colleges,
corporate and private events.
Dave East is a rapper from Harlem, New York. He gained much of his clout following
his 2014 mixtape "Black Rose," which led him to record deals with Nas' label Mass
Appeal Records and Def Jam Recordings. His Saturday performance began with a mention
of his time at TU, and the crowd roared in approval.
Jeffrey Lamar Williams, known as Young Thug, Thugger, Slime or just Jeffrey to his
fans, made his first appearance at Tigerfest. His echoing show left people talking.
Students were shocked by Williams' decision to perform on campus. Earlier in the year,
he'd announced that he wouldn't be releasing any new music until 2019 "out of respect
for his deaf brother," according to an interview with Hypebeast. He'd also cancelled his entire Australian tour.
"Young Thug is the type of artist that can keep me entertained for a whole show,"
said TU student Brandyn Sherman. "According to a few articles I saw on Twitter, I
thought he wasn't going to be doing too much in music this year. I'm glad that's not
true."
Williams is known for being a prolific artist. In 2014, Kanye West praised him for
his ability to quickly release music and referred to him as a modern-day Bob Marley.
This past year Williams received MTV's Video Music Award for Best Editing for his
song "Wyclef Jean," released as a part of his 2016 mixtape, "Jeffrey." Williams has
also been nominated for iHeartRadio Music awards and BET awards.
He has already began releasing new music. His album, "Hear No Evil," featured Nicki
Minaj, Lil Uzi Vert and 21 Savage.
This year's Tigerfest set a high bar for future performers. Williams included music
from his most recognized albums, "Super Slimey," and "Beautiful Thugger Girls," as
well selections from older albums.
This story is one of several related to President Kim Schatzel's priorities to Towson University: Culture of Philanthropy.
View more information: https://www.towson.edu/news/2018/tigerfestweekend.html