TU students partner with Towson Chamber of Commerce on survey
Local partnership gives students real-world experience in public relations, supports
Towson community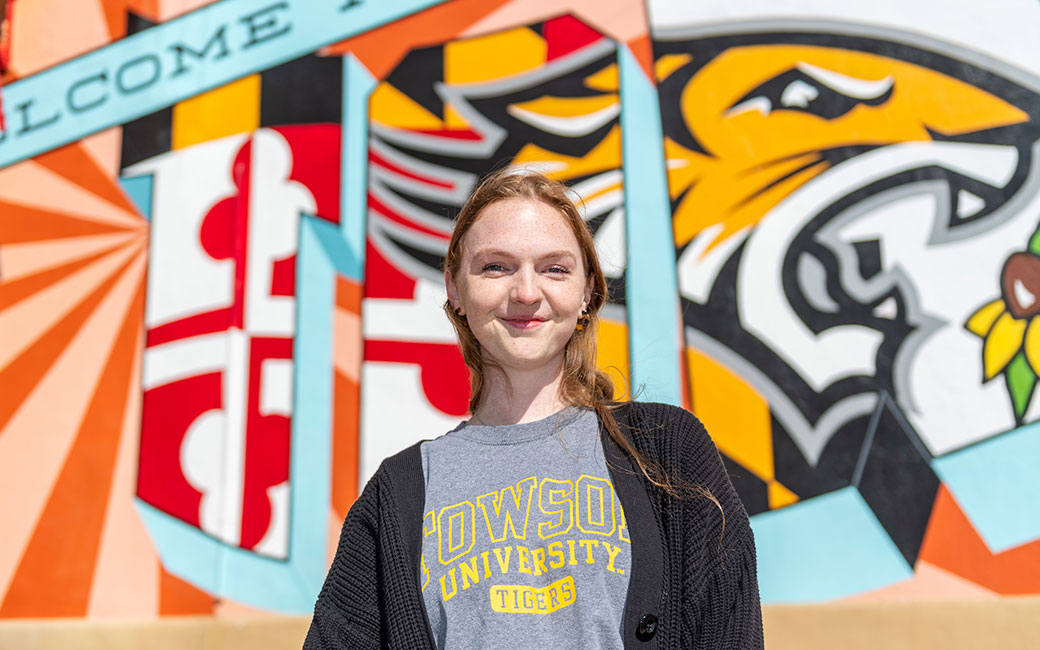 What types of businesses would you like to see in Towson? What do you love most about
the community, and what would you like to see improved?
A survey released March 8 by the Towson Chamber of Commerce gives local students, residents
and business owners the opportunity to answer these questions and more.
Created in partnership with Towson University mass communication students, the survey aims to help the chamber better understand the members of the
community it serves and to plan future events and improvements.
It also gives seniors in associate professor Melanie Formentin's public relations campaigns class a service-learning opportunity that makes an impact
in their own community.
"This is our capstone course in the public relations track, and we run it like a mini
PR agency," says Formentin, noting that the class was divided into groups based on
the audiences the survey addresses—students, residents and business owners. "Students
spend most of the semester doing research and then put together a proposed plan the
client can implement."
Mass communication major Emily Wannen '21 was hired as a research assistant for the
project with support from a BTU Partnerships grant and serves as a liaison with the three groups of students and Towson Chamber
of Commerce Director Nancy Hafford.
"I've learned how much goes into conducting your own research and how many edits you
have to go through but also the process of working with a real client," says Wannen,
who attends monthly chamber board meetings with Formentin and is responsible for monitoring,
compiling and interpreting the survey results. At the end of the term, she will present
the results at a chamber board meeting.
"I really enjoy the research side of mass communications and working on this project
has helped me discover that," adds Wannen, who hopes to work in PR for the nonprofit
sector.
Not only does the partnership provide real-world experience and undergraduate research
opportunities for students, it also provides mentorship opportunities for students
working closely with faculty and community partners. 
"Emily is strategic. She picks up on things quickly and is really creative with good
ideas," says Formentin. "Our relationship is very collaborative. I see myself as guiding
her, and we talk through how to maximize what we're doing."
By participating in this survey, you're directly helping the Chamber of Commerce make
Towson a better place to live, work and play. 

Take the Survey
The Towson Chamber of Commerce has a long history of partnering with Towson University
students on projects, "but never in a greater way that we are now," says Hafford,
who has been director of the chamber for 16 years.
From residences to mixed-use and commercial developments, more than $1.7 billion is
being invested within a 1/4-mile radius from the intersection of York and Burke. Much
of that has to do with the proximity to TU.
"Really, this is the students' survey," Hafford says. "We gave some direction, but
they came up with 99% of the content."
The survey data will allow the chamber to work with developers, business owners and
local government to shape Towson's future based on the community's desires, Hafford
says.
"It couldn't have come at a better time," she adds. "The voices that respond to this
survey will shape the future of our community, and TU students and the university
are a big part of our community. We're a college town. The input students give today
will help make it a better town for further generations of students coming to TU."

View more information: https://www.towson.edu/news/2021/mass-communication-towson-chamber-partnership.html
See more articles in category:
Grammar