TU offers array of huge events throughout the spring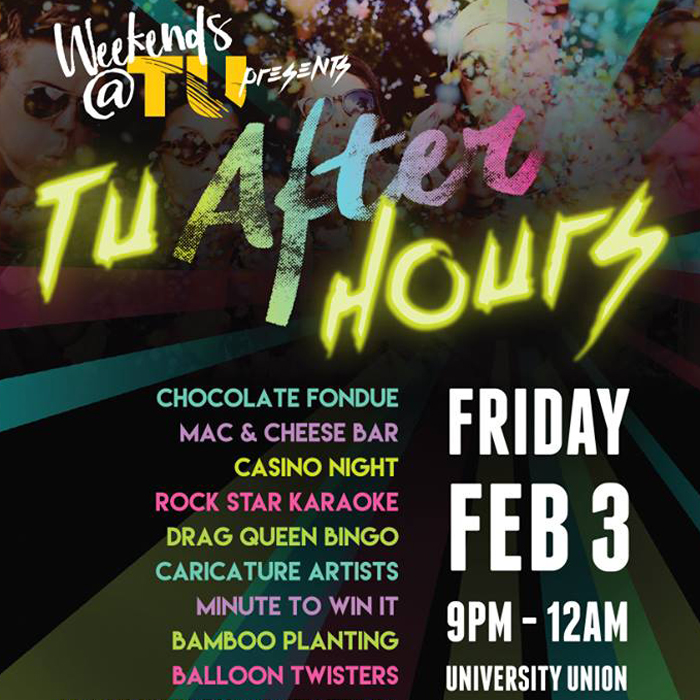 Spring is a busy time at Towson University. Flowers are blooming in the middle of
campus, the weather is starting to warm-up, and students are looking for ways to spend
their time in between studying.
TU students will have plenty of ways to stay busy during the spring term with organizations
and departments across campus providing plenty of fun events that range from huge
concerts to educational fairs, guest speakers and much more. There is something for
everyone on campus.
Weekends at TU presents "TU After Hours"
Friday, February 3 | University Union | 9 p.m. – 12 a.m.
The Office of Student Activities and Weekends at TU are ready to give students plenty of opportunities to have fun on campus.
Weekends at TU kicks off the term with "TU After Hours," a free event on Friday, February 3, inside the University Union.
The event will feature free food, games and entertainment, including a mac and cheese
bar, casino night, rock star karaoke, video games, caricature artists, drag queen
bingo, speed shopping and plenty more.
"TU After Hours" is just the first event as part of Weekends at TU. Students can stay
up-to-date with all the organization's events by following the group's Facebook and Twitter accounts.
Spring Involvement Fair
Wednesday, February 8 | University Union | 12-2 p.m.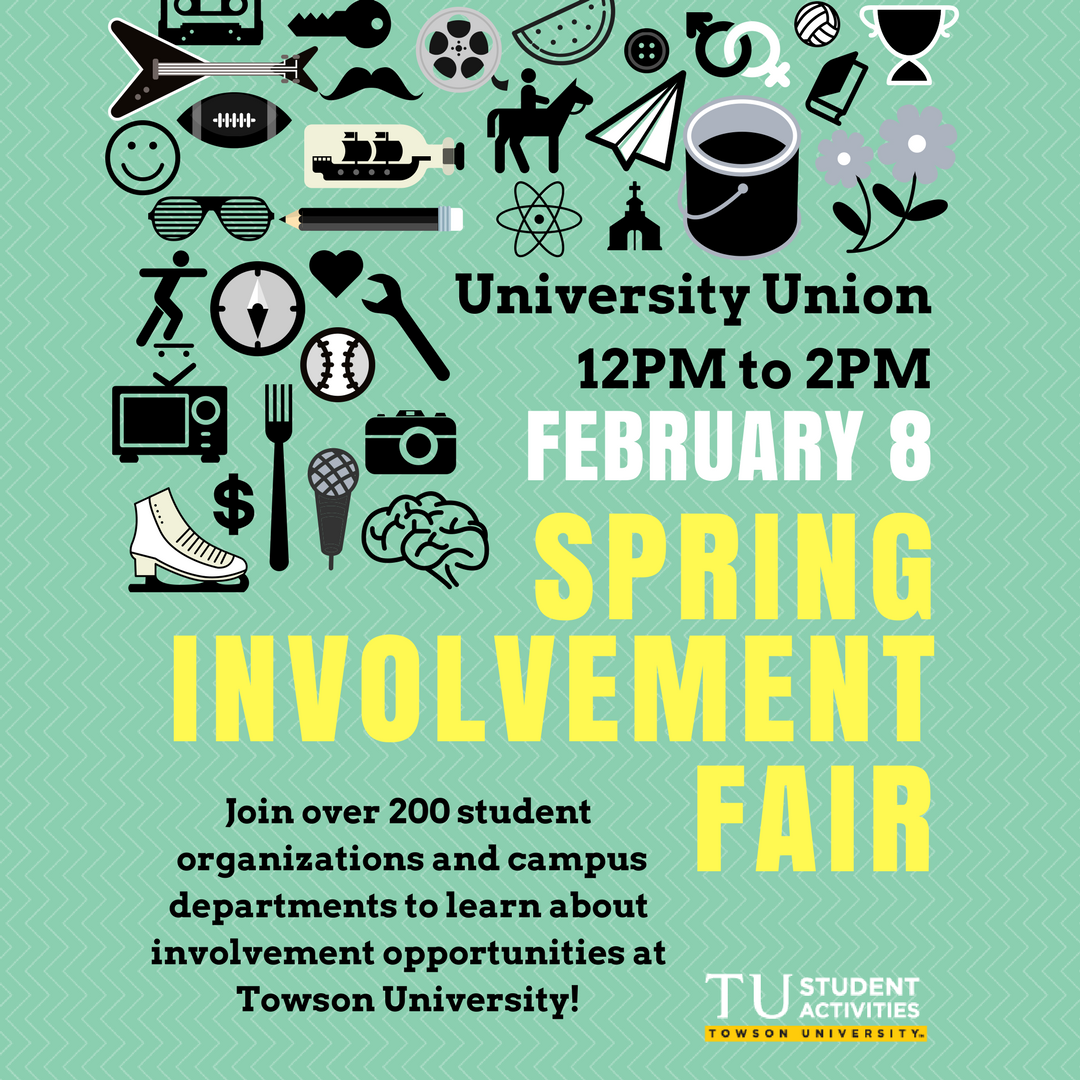 The Office of Student Activities will host its annual Spring Involvement Fair on Feb.
8 inside the University Union. The Involvement Fair takes place each term, and it
has become the premier opportunity to explore the variety of involvement opportunities
that Towson University has to offer.
Over 200 student organizations and campus departments will be in attendance to help
students find ways to get involved on campus. This includes Greek life, assorted clubs,
club athletic teams and campus organizations and events looking for student involvement.
Prior to the fair, students can browse TU's current student organizations on Involved@TU. This event is open to all students and no registration is necessary to attend.
Study Abroad Fair
Thursday, February 9 | University Union Potomac Lounge | 11 a.m. – 2 p.m.
From South Africa to Australia to the Czech Republic, Towson University students are
discovering new countries and cultures and developing the knowledge and skills they
need to succeed in a global community.
To help students learn more about these opportunities, the Towson University Study Abroad program hosts a Study Abroad Fair each term. By attending the fair, students get to meet study abroad program providers,
TU faculty-led program directors, former study aboard participants and Study Abroad
Office Peer Advisers and staff.
Any TU student who is interested in studying abroad is welcome attend the fair. This
is the perfect place for students to ask questions, get more information and discover
study abroad opportunities.
The Big Event
Saturday, April 22 | 8 a.m. – 2 p.m. | SECU Arena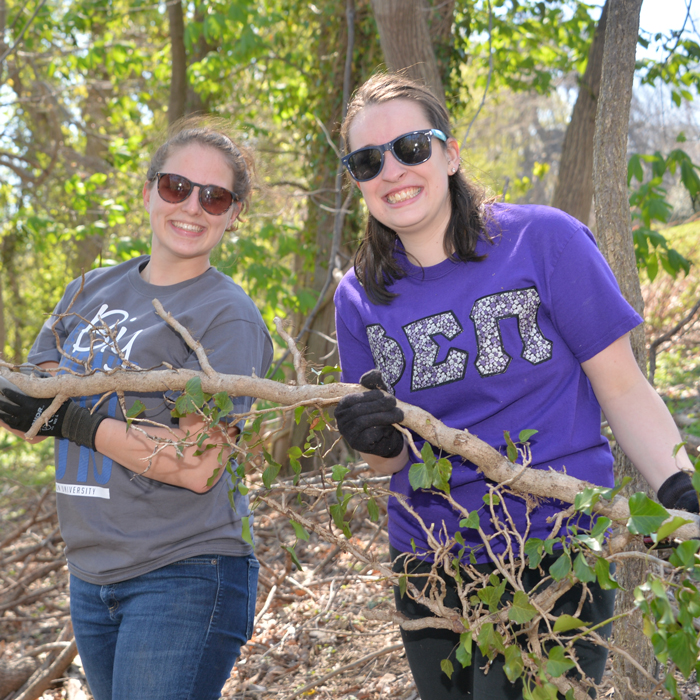 Serving as the largest day of service at Towson University, The Big Event has TU students, alumni and staff performing community service for local homeowners
and non-profits as a way to give back to the community surrounding campus.
Last year's Big Event featured over 2,000 volunteers working at over 200 service sites
and was the largest day of service in the university's history.
Student registration for The Big Event 2017 will open on Thursday, February 16, at
The Big Event Registration Form. All participants must register individually.
Towson University Athletics

For complete team schedules, check out TOWSONTIGERS.COM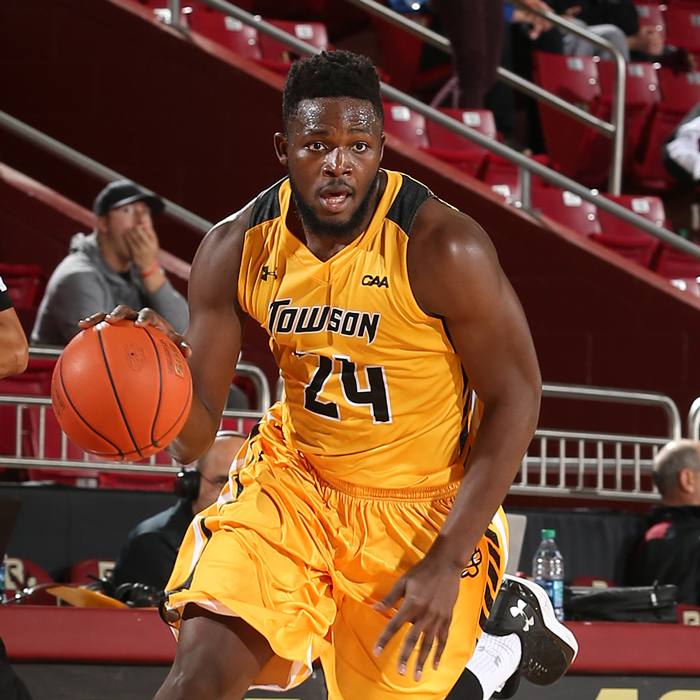 Several Towson University athletic teams will be making a push toward the postseason
over the spring term.
Both the men's and women's basketball teams are entering the final stretch of Colonial Athletic Association
(CAA) play, with both teams looking to make a splash in the CAA Tournament.
The men's tournament will be held at the College of Charleston in Charleston, South
Carolina, while the women's tournament will take place at James Madison University
in Harrisonburg, Virginia.
Both the men's and women's lacrosse teams are coming off CAA Championship seasons, with both picked in preseason
polls to repeat this season. Both teams also come into the season ranked nationally.
Towson University students receive free admission to all athletic events. For non-students,
tickets for all athletic events can be found at TowsonTigers.com.
Spring Mega Job and Career Fair

Friday, March 31 | SECU Arena | 12-3 p.m.
Whether a student is graduating, needing an internship to gain experience, or wanting
some extra money for the summer, the Towson University Career Center is ready to help him or her find employment.
Held at SECU Arena, the Spring Mega Job and Career Fair allows TU students and alumni of all majors to meet with over 200 employers for full-time
and part-time positions and internships.
Students should dress professionally, bring plenty of copies of their resume and be
ready to meet personally with all employers. Those attending the fair can also get
a professional headshot, get their resume reviewed, and meet with on-campus employers.
TigerFest
April 29 and 30 | SECU Arena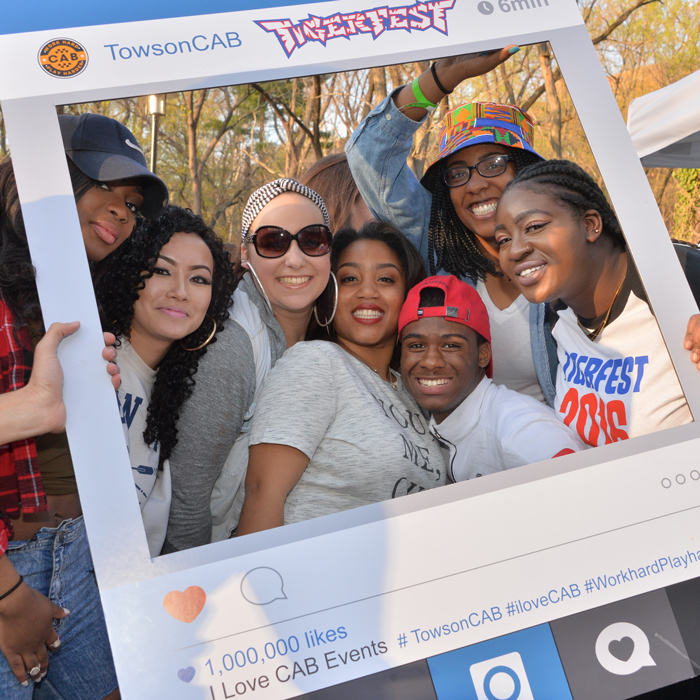 Featuring some of the biggest names in music, Tigerfest serves as Towson University's annual concert weekend.
Presented by the Towson University Campus Activities Board (CAB), Tigerfest spans
over two days, with the first day being a "free festival" for students and the community.
The second day is the traditional Tigerfest concert held in SECU Arena.
Past performers include Steve Aoki, Rae Sremmurd, G-Eazy, Kid Cudi and more. To keep
up to date with the TigerFest, please follow CAB's Twitter and Facebook accounts.
For more events, check out events.towson.edu.

View more information: https://www.towson.edu/news/2017/springevents.html
See more articles in category:
Grammar