TU in the News: Kroop's nears century mark of crafting jockey boots
TU alumna Randy Kroop is the third generation to run her family's riding boot store.
Towson University alumna Randy Kroops was featured in the Baltimore Sun on Tuesday, February 16 in an article highlighting her family business, A. M. Kroop and Sons, Inc.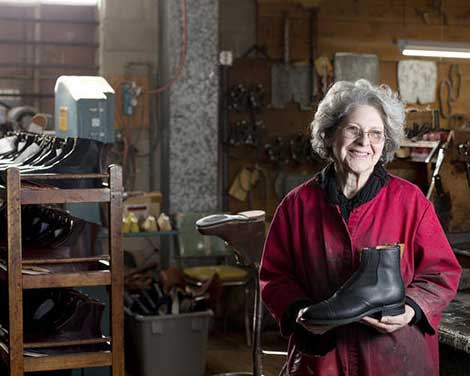 She hasn't changed the painstaking 125-step process used by her grandfather since taking
over the shop from her father, Morris, and her uncle, Israel, in the late 1970s, according
to the Sun.
Read the full article
Kroop and her family have long created custom riding boots for jockeys like George Woolf, who rode Seabiscuit to win the famous race at Pimlico in 1938 as well
as music celebrities Carly Simon, Madonna and Leon Redbone.
After graduating from what is now Towson University with a degree in fine art, Kroop
designed furniture and loved sewing, carving and painting in oil and watercolor. In
1979, her father convinced her to take the reins of A. M. Kroop and Sons. 

View more information: https://www.towson.edu/news/2016/kroopsanniversary.html
See more articles in category:
Grammar