TU honored with HEED Award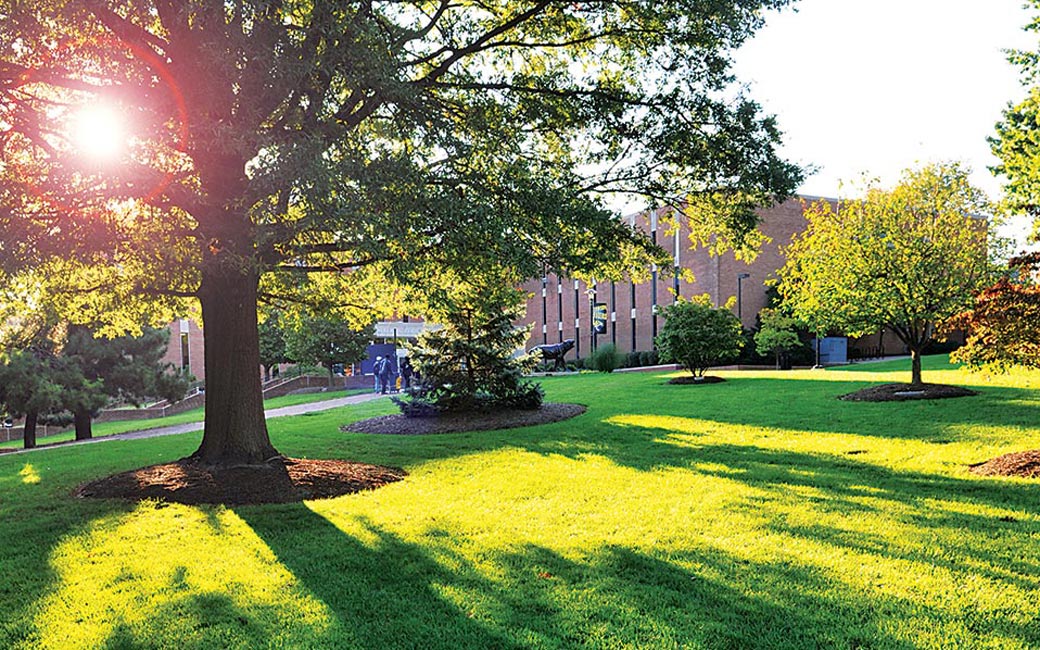 Award recognizes TU's commitment to creating an equitable and inclusive atmosphere
Since Leah Cox arrived on campus in 2017, she has made it her mission to help Towson University become a national model of equity
and inclusion.
Cox, TU's first vice president of inclusion & institutional equity, and her staff
in the Office of Inclusion & Institutional Equity (OIIE) have worked to foster a university climate that is grounded in respect, civility
and inclusion. 
This work is now being recognized by Insight into Diversity magazine, which awarded Towson University its first Higher Education Excellence in Diversity (HEED) Award. TU is the only higher education institution in the state of Maryland to receive
the honor and one of 90 across the nation.
For Cox, receiving this honor underlines what TU is doing to promote diversity and
inclusion on campus. 
"This award is one that universities across the nation are excited to receive," Cox
says. "It's an award given by individuals who are also working on diversity issues
in higher education. They understand the hard work that diversity specialists do on
our campuses."
The HEED Award is open to all colleges and universities across the U.S. and Canada
and measures an institution's level of achievement and intensity of commitment in
regard to broadening diversity and inclusion on campus through initiatives, programs
and outreach; student recruitment, retention and completion; and hiring practices
for faculty and staff. 
Applications are comprehensive, covering all aspects of campus diversity and inclusion.
One of the goals of the process is to help institutions assess their diversity efforts
to build on their success and improve where necessary.
Brian Jara, coordinator of diversity training & initiatives in OIIE, says being presented
with this award shows that TU is continuing its momentum in diversity and inclusion.
"We don't do this work for accolades, but occasionally it's nice to be validated,"
Jara says. "This award shows that we are moving in the right direction. And we're
going to continue to push ourselves to help guide the university."
When filling out the application, the OIIE team highlighted three initiatives: 
BTU and the Towson University Partnerships Office are committed to equity as a central
lens for what they do. BTU elevates the work already being done with TU's partners
throughout greater Baltimore to better address the needs of the region. 
Dialogue@TU provides opportunities for the entire campus to learn the theory and practice
of dialogue as a useful skill in navigating frank discussions about our identities
and social justice. Formerly known as the Intergroup Dialogue (IGD) Program, Dialogue@TU
continues to embed a dialogue component in select courses while also expanding the
reach of dialogue training to all staff, faculty and, more recently, undergraduate
and graduate student leaders. 
Towson University's Student Success Programs help students from diverse backgrounds
succeed while at TU. One of the premier programs is Students Achieve Goals through
Education (SAGE). 
SAGE fosters academic achievement, personal development and campus-wide involvement
among new students from diverse backgrounds. The SAGE Learning Community offers first-generation,
first-year college student mentees peer-to-peer mentorship living arrangements through
Housing & Residence Life. 
By highlighting these three initiatives, OIIE showcased that inclusion and diversity
isn't siloed. It is a truly campus-wide effort. 
"This shows why we have such great momentum, because it's no longer the case that
only one person in one position or one office is responsible for diversity, equity
and inclusion," Jara says. "When I started here four years ago, President [Kim] Schatzel
regularly said diversity was everybody's job. So, it makes sense that we're seeing
initiatives worthy of national recognition coming out of different departments."
OIIE wants to remind students that they can still get involved with helping TU become
a more diverse and inclusive community. This includes being a part of student organizations
and sharing their voice. 
"We are consistently providing education, training, programs and support to create
a place of belonging," Cox says. "We encourage all members of the community—students,
faculty and staff—to reach out, participate, learn more and engage in all of the cultural
experiences that we have to offer."
This story is one of several related to President Kim Schatzel's priorities for Towson
University: Diverse and Inclusive Campus.
View more information: https://www.towson.edu/news/2020/heedaward.html
See more articles in category:
Grammar