TU earns 2021 NCAA/MOAA Diversity and Inclusion Award
Award recognizes athletic department's initiatives and policies that embrace diversity
and inclusion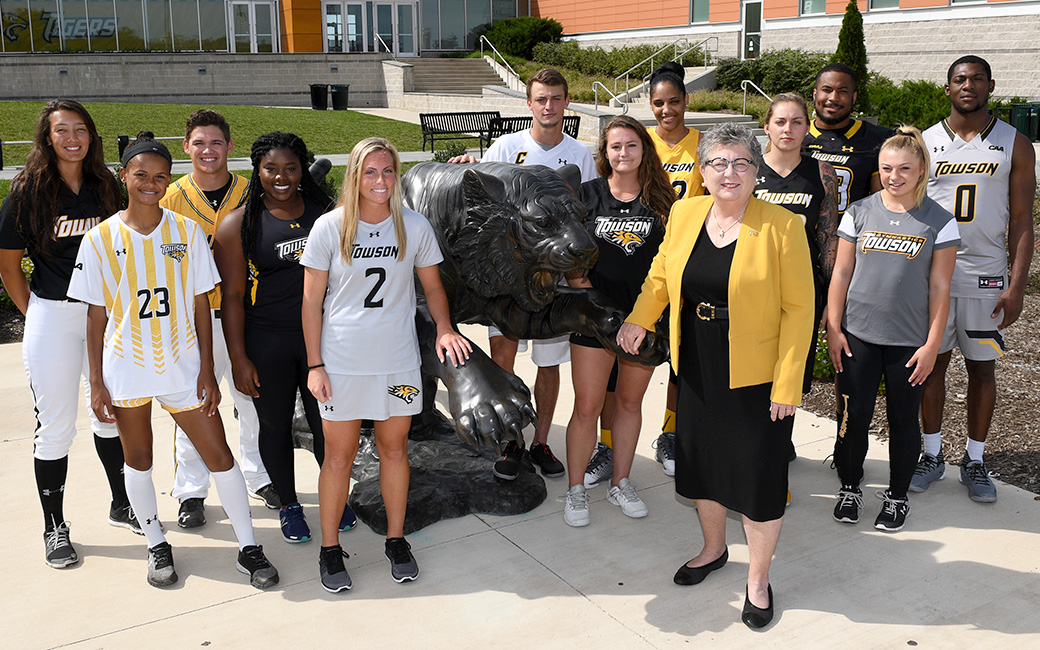 Towson University continues to gain recognition as a national leader in inclusive
excellence in higher education.
This month, Towson University and Towson University Athletics earned the NCAA and Minority Opportunities Athletic Association's 2021 Award for Diversity and
Inclusion. TU will be honored January 14 during the 2021 NCAA Convention, which will be held
virtually.
TU's efforts on diversity and inclusion have been honored in recent months. In 2020,
TU was the only higher education institution in the state of Maryland and one of just
90 across the nation to receive the HEED Award, recognizing the commitment to creating an equitable and inclusive atmosphere. Additionally,
TU has been ranked as one the top schools in social mobility by U.S. News & World Report, Washington Monthly, "Money" magazine and the Princeton Review.
"At Towson University, we have placed diversity, equity and inclusion at the very
core of our mission," President Kim Schatzel says. "This recognition of our athletics
department affirms this institution-wide priority, as well as TU's role as a national
leader in inclusive excellence."
The NCAA/MOAA Award for Diversity and Inclusion recognizes and celebrates the initiatives,
policies and practices of athletics and conference offices that embrace diversity
and inclusion across intercollegiate athletics. This can be achieved through community
service, professional development, hiring practices or programming activities that
enhance opportunities for people of diverse cultures, backgrounds, and experiences.
This is the first MOAA/NCAA award for Towson University.  
"We are thrilled that the Towson University athletics department has received this
national recognition," said Towson director of athletics Tim Leonard. "Our goal is
to foster a climate that is grounded in respect and inclusion for staff, coaches and
student-athletes.
"We take great pride in the gender equity program, headed up by our senior woman administrator
Tricia Brandenburg. The Total Tiger Program, under the direction of Antwaine Smith,
has been a staple of Towson Athletics for years. The program gives our student-athletes
opportunities to engage and interact with the Greater Baltimore area through community
service and has helped turn them into leaders off the field."
Towson Athletics has focused on building an inclusive environment for its student-athletes
and staff through programs and initiatives, assessments and community engagement.
Athletes and staff have been visible and vocal on many fronts.
TU's Total Tiger Program (TTP) continues to be one of the guiding forces for athletics diversity efforts, as it centers
on developing student-athletes through education, advocacy and mentorship activities
in the Baltimore area.
The Total Tiger Program includes a first-generation student-athlete mentorship initiative,
which has helped improve both graduation and retention rates. The athletics department
has also witnessed student-athlete and team NCAA Academic Progress Rate improvements
and a rise in grade point averages through the program.
Student-athletes and coaches have centered on diversity efforts within their respective
sports through the TTP as well. The athletics department also conducts its diversity,
equity and inclusion education and training through the TTP. The athletics department
also began a diversity series that included conversations around current events, perceptions
on campus, recruiting black student-athletes to a predominantly white university and
diverse hiring practices.
"The Towson University athletics staff and student-athletes have demonstrated a consistent
pattern of developing instrumental programming and activities that put a spotlight
on the importance of inclusivity and diversity, and we're proud to honor them with
the 2021 NCAA and MOAA Award for Diversity and Inclusion," said Derrick Gragg, senior
vice president for inclusion, education and community engagement at the NCAA.
"Towson is a role model, as staff and student-athletes have engaged in critical conversations
and they've been bold with their initiatives on campus and in their community, despite
having to navigate these challenging times. They deserve a round of applause for their
hard work and commitment to diversity and inclusion."
TU also took a step-in support of social justice, creating an athletics department
video called "Am I Next," which includes messaging from African American student-athletes
and coaches. The video series was created following the deaths of Ahmaud Arbery, George
Floyd, Breonna Taylor, and other black individuals which generated national attention.
Student-athletes also engaged in non-partisan voting process and registration education
during the fall.
Student-athletes also wrote digital blogs as a part of another series called Her/His
Words, which reflected on personal experiences with racism and bias and how to become
a better ally. The athletics department then created committees where student-athletes,
coaches and staff could further engage with conversation. One of the committees was
formed specifically to plan programming around anti-racism efforts on campus and in
the community. 
For more information on Towson Tigers Athletics and more on its NCAA recognition,
visit TowsonTigers.com.
This story is one of several related to President Kim Schatzel's priorities for Towson University: Diverse and Inclusive Campus.

View more information: https://www.towson.edu/news/2021/ncaa-diversityandinclusion.html
See more articles in category:
Grammar