Transferring to TU was Alex Woodall's 'Best Decision Ever'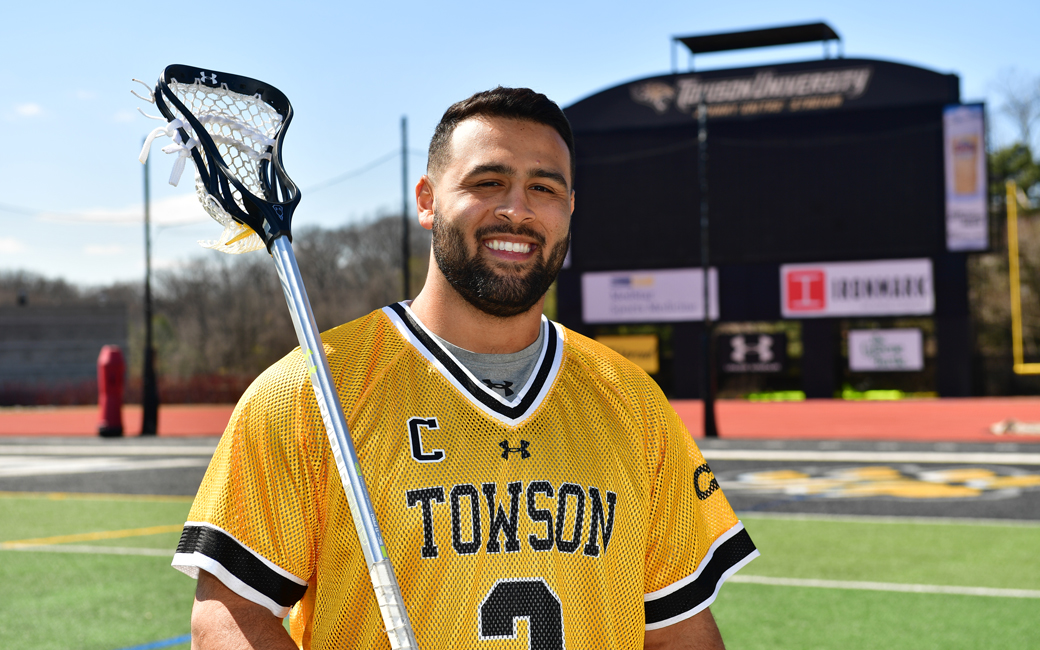 During his time at TU, the men's lacrosse senior has lost 30 pounds and helped the
Tigers reach the Final Four and their first No. 1 ranking
When he was looking at his college options, Alex Woodall felt his best choice would be away from home.
The Annapolis native didn't want to go where he already knew a bunch of people. He
wanted a fresh start. 
So as the No. 10 ranked lacrosse player in the country, Woodall started his academic
and lacrosse careers at High Point University in North Carolina.
But as his freshman year went on, Woodall didn't feel at home. And while he initially
thought Towson University wasn't ideal for him, he began to feel he needed to move
closer to home and become a Tiger.
That only intensified when he watched the Tigers struggle with faceoffs in the NCAA
Tournament. That's when Woodall, a faceoff specialist, truly started to think about
transferring to TU.
"My family and I just sat down and watched that game and they just lost every faceoff,"
Woodall says. "(Towson) had the better team and we thought they should have won the
game, but they just couldn't win the faceoffs. 
"It was then I thought, maybe I should have gone to TU."
It was the summer after his freshman year that Woodall was driving with his friends
and he called TU men's lacrosse coach Shawn Nadelen to see if there was room for him on the Tigers' roster. 
Nadelen told him he wouldn't have a scholarship and he would have to earn his spot,
but there was room for him. There was also one more caveat — he had to fill out an
application on the same day he talked to Nadelen, because it was last day the university
was accepting them.
So Woodall pulled off the road. He and his friends went into a McDonald's and put
together an application inside the restaurant. The rest was history. 
"Transferring was for the best because I want to go to a school that I love," Woodall
says. "I saw other people say, 'I love my school, I love my school,' and I didn't
really feel that at High Point. And now that I've come here, it's one of those things
where I can say that I love Towson University." 
It's easy to see why he's grown to love Towson University. In his three years at TU,
the men's lacrosse team has won a CAA Championship, reached the Final Four of the NCAA Tournament and achieved the first No. 1 ranking in program history. 
But it was tough for his parents for him to leave High Point. Woodall had a good scholarship,
and he was leaving that for just a chance at TU.  So while he didn't have his parents'
blessing, he still contacted Towson University without his parents' knowledge. 
But after he earned a scholarship and found success as a Tiger, Woodall says his parents
are thrilled that he took the initiative to transfer.
"Now I think they're happier than me that I made the decision to come here," Woodall
laughs. "They remind me after a good day or a good game that 'This was the best decision
and we're so happy you came to Towson.'"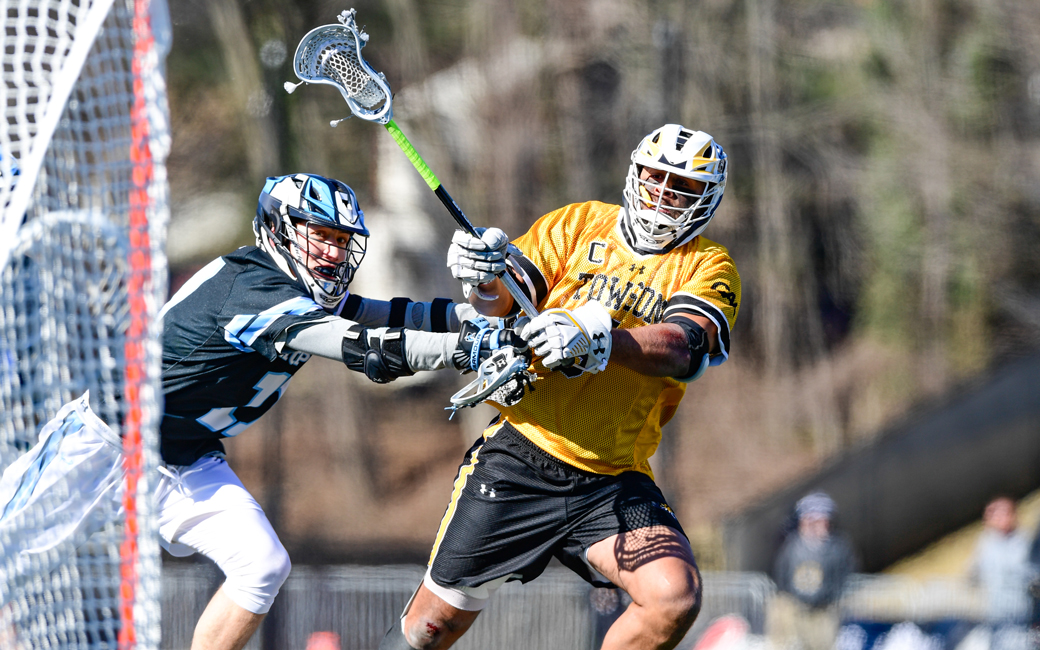 But after a disappointing junior season, the communications major wanted to find a way to help his team. After weighing close to 250 pounds his junior
season, he spent the offseason working on his diet and in the gym with TU alumni Matt
and Brian Vetter. 
The Vetter brothers, who both played lacrosse at TU and were Woodall's seventh-grade
lacrosse coaches, helped him with his diet and also worked out with him in the mornings.
It was through that hard work that Woodall's weight dropped to 220 pounds. 
"It's nice knowing that I made the change and it's not only benefited me but also
my teammates," Woodall says. "I definitely notice it, my team definitely notices it
and I hope to keep it going and help us go far."
The weight loss has helped Woodall continue his success in faceoffs. In fact, entering
Saturday's game against Hofstra, Woodall is just three wins away from setting the
TU record for career faceoff wins.
His effort and success has also reached the external lacrosse community. In early
March, Woodall was selected by the Ohio Machine as the first overall selection in the Major League Lacrosse Draft. 
But most important for Woodall, his teammates saw the change and elected him as a
captain for his senior season. After earning the captain designation, Woodall knows
for sure that transferring three years ago was the right move.
"(Being named captain) was one of the biggest moments of my life and something that
I'll never forget because it's an honor no matter where you are," Woodall says. "Looking
back at the whole story of how I got here, I didn't think I would be a captain.
"To being named captain, and doing the best I can to help us win, I can't express
how amazing these past three years have been."
Want to learn more about Towson University?
Request information here. 
This story is one of several related to President Kim Schatzel's priorities for Towson
University: TIGER Way.
View more information: https://www.towson.edu/news/2019/alexwoodall.html
See more articles in category:
Grammar