The Sky's the Limit | Towson University
A visit to a TU Career Fair led Meaghan McDonald '19 to her dream job.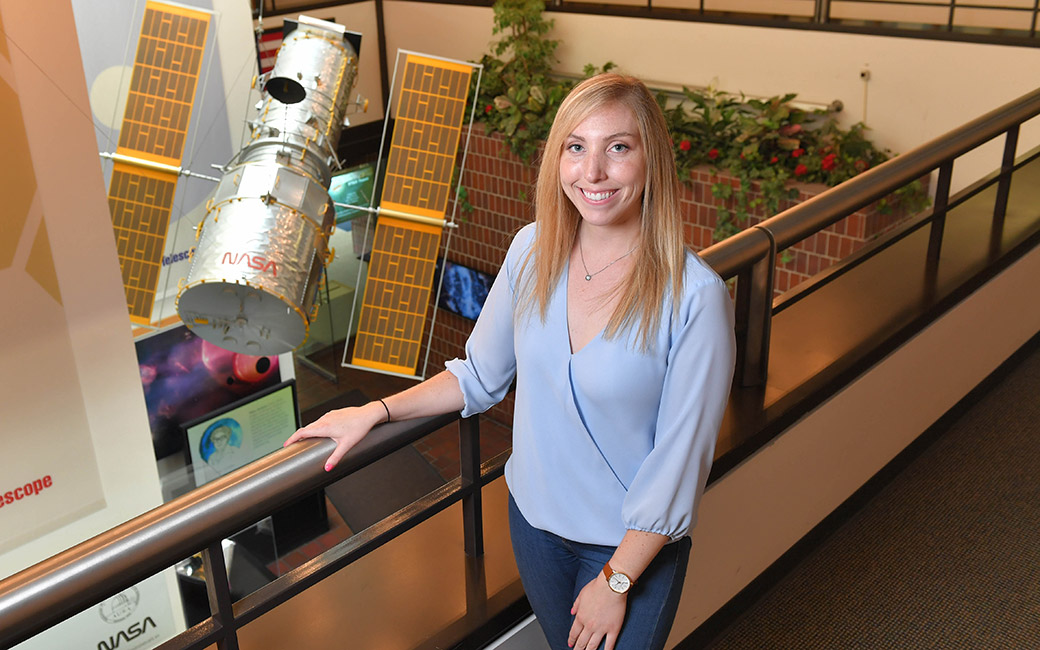 From advertising to astronomy. That's the leap Meaghan McDonald '19 made when she
realized marketing "was not the career I had envisioned for myself." That wake-up
call sent her back to the drawing board to pursue a degree in physics with a specialization in astrophysics at TU.
McDonald quickly connected with Jennifer Scott, professor in the Department of Physics, Astronomy and Geosciences.
"She equipped me with the knowledge and tools necessary to develop into a true astronomy
professional," McDonald says.
She joined Scott's research team to study quasar absorption. "Quasars hold many clues
about the universe," says McDonald. "We analyzed the absorption features of quasars
to determine their composition and gain insight on the characteristics of galaxies
in the line of sight."
Her research experience helped her secure a planetary science internship in summer
2018 at NASA Goddard Space Flight Center in Greenbelt, Maryland, where she mapped dust storms and water ice clouds on Mars.
Using Interactive Data Language programming, she analyzed frequency, position and
other characteristics of dust storms and water ice clouds as "part of an ongoing project
on how these phenomena impact the Martian climate," explains McDonald.
As part of her senior seminar at TU, she was required to attend a TU Career Fair, where she met a recruiter for the renowned Space Telescope Science Institute (STScI), a NASA-affiliated organization based in Baltimore. McDonald left the fair
with the recruiter's business card in hand, and the rest is history.
She is now a research and instrument analyst at STScI, working on the Advanced Camera
for Surveys instrument team to support the development and operations of the institute's
flagship mission: the Hubble Space Telescope.
"TU has made a huge difference in who I am today," says McDonald. "I have, without
a doubt, found the right career this time around."
MORE INFORMATION
Studying physics at TU
Studying physics at Towson University prepares students for careers and graduate study
in fields such as physics, astrophysics, medicine and engineering. 

View more information: https://www.towson.edu/fcsm/departments/physics/about-meaghan-mcdonald.html
See more articles in category:
Grammar