Summer Programs | Towson University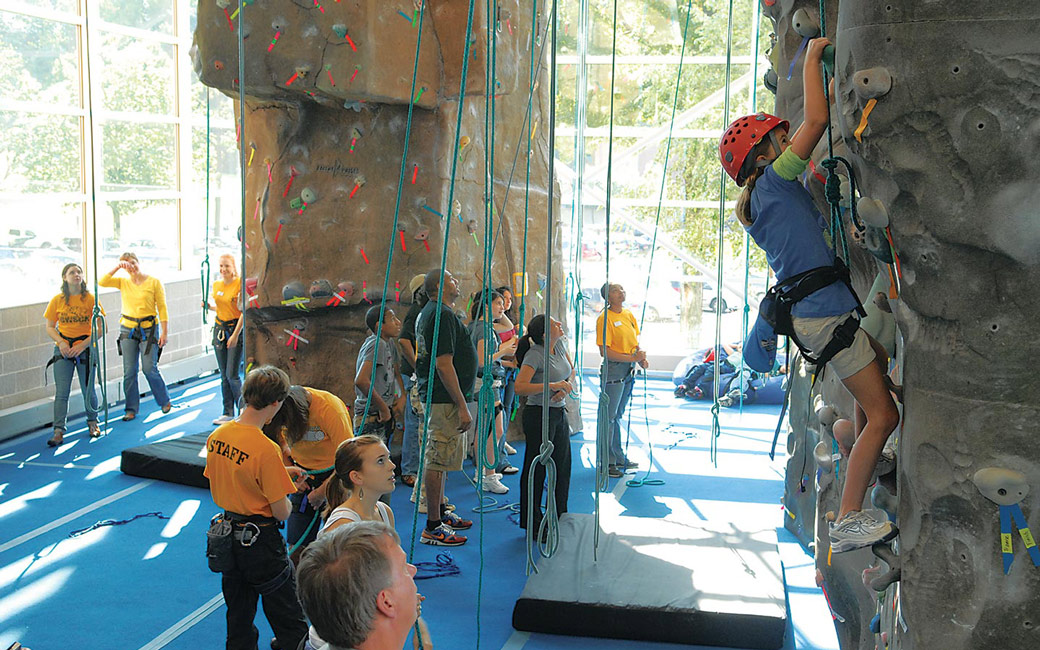 In addition to conference space, smart classrooms and lecture-style classrooms are
available. Each summer program is assigned a dedicated event manager. The event manager
will work closely with you to handle the logistics allowing you the time to concentrate
on your program.
For more information about choosing Towson University as your camp or conference location,
please contact Jeannie Deckelbaum, 410-704-4186, jdeckelbaum AT_TOWSON.
Meeting Facilities
West Village Ballroom
Occupancy: 400 Seated; 500 Reception
The West Village Ballroom is located on the fourth floor of the West Village Commons.
Recently constructed, the room features wall-to-wall carpeting, and the most up-to-date
technology for your sound and presentation needs. The Ballroom is also equipped with
dividers, allowing the room to be split into three smaller rooms. Parking is available
at the adjacent West Village Parking Garage.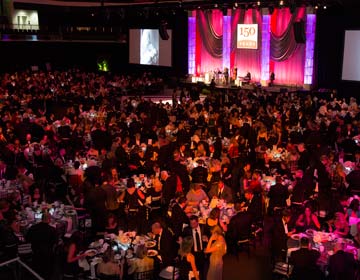 SECU Arena
Occupancy: 1000 Seated
SECU Arena is located on the southwest edge of campus and is a state-of-the-art basketball
facility which when transformed into a banquet venue seats 1000 guests. Large HD jumbotron
and ribbon board enhance the experience along with concourse and adjoining rooms for
VIP guest receptions or green rooms. Nearby guest parking completes this banquet venue.
Sports & Recreation Facilities
 
Burdick Hall is an exceptional facility housing the university's recreational facilities
and proudly named after Dr. William H. Burdick, faculty member of Towson's Physical
Education department from 1919-1925, one of the founders of the American Academy of
Physical Education, and director of the Playground Athletic League (PAL) of Maryland.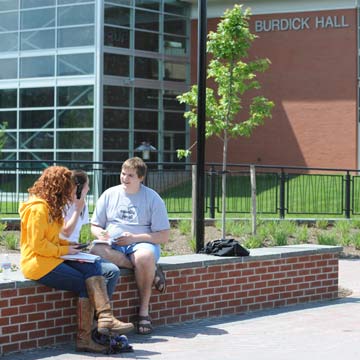 Burdick Hall is near to the University Union and the residence halls.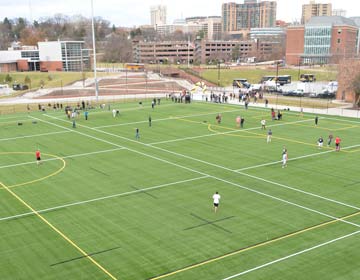 Burdick Field 1 (East Field-Large Field)
Installed in the Fall of 2014, Burdick Field East is a state of the art synthetic
turf field, large enough for a regulation sized football, soccer or lacrosse competition,
or could be split in two, for smaller games or to do drills. Its brand new drainage
system and lights allow for year round use, rain or shine. It's perfect for larger
teams to practice because of the ability to split the field in two (53'x80', 53'x100')
for practice and skills training, then come together for a full on regulation game.
Used year round by intramurals, Burdick Field East is perfect for any outdoor activity.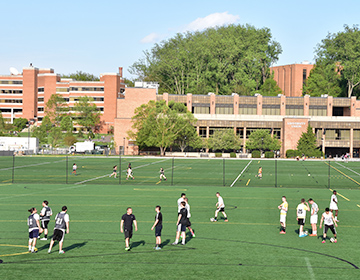 Burdick Field 2 (West Field-Small Field)
Installed in the Fall of 2014, Burdick Field West is a state of art synthetic turf
field, perfect for lacrosse, soccer, field hockey or football with 5 yard endzones.
The field is lined for several different team sports, but can also be used for a variety
of outdoor activities. New lighting and drainage allow for year round use, rain or
shine.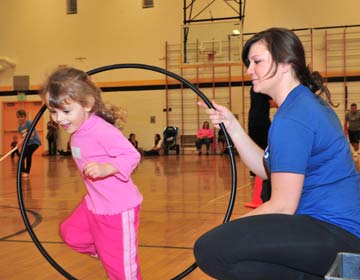 Burdick Gyms (1-3)
Burdick Hall, the indoor Rec Sports Facility, is equipped with three gymnasiums.
Each gym contains six basketball hoops which allows for a regulation sized basketball
court or two auxiliary courts. Gyms 1 and 2 also are lined for two volleyball courts
a piece while gym 3 is lined for six badminton courts. Dance and cheer competitions
are perfect in this facility with high ceilings for stunts and plenty of room to spread
out. A brand new air conditioning system makes the facility a great place to use to
keep out of the heat and elements.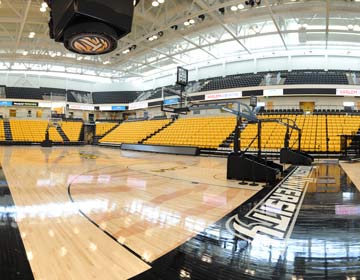 SECU Arena
Occupancy: approximately 5,000 (dependent upon set-up needs).
Sports Options: Basketball, Gymnastics, Volleyball, Cheer Leading
Amenities: center hung video display and score board, LED ad ribbon board, digital
scorer's table, hospitality areas, club seating, four suites, concession stands, team
and officials locker rooms, press room, TV capable.
Ample parking.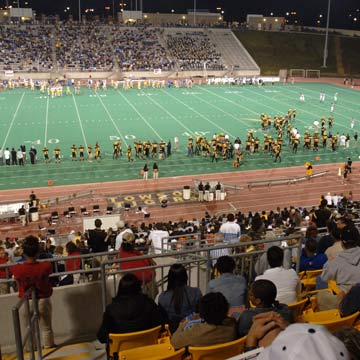 Johnny Unitas® Stadium
Occupancy: 11,111
North Side: 5,423
South Side: 5,688
Sports Options: Football, Lacrosse, Field Hockey, Track
Amenities: video board, hospitality areas, president's suite, concession stands, team
and officials locker rooms, press box, television broadcast capable, radio and coaches
booths, open air camera deck.
Ample parking.
Outdoor Sports Fields Available
Contact the Assistant Director, Towson Center Management for more information.
Phone: 410-704-2763
Summer Residence Halls
 Towson University offers diverse lodging options for conference guests and campers.
Options include one bedroom units (with private bath), suites and apartments. Each
complex features secured card access exterior doors, 24-hour front desk coverage,
individually controlled heat and air conditioning, high speed wireless internet, vending
machines, laundry and parking facilities. Linen is provided for an additional fee.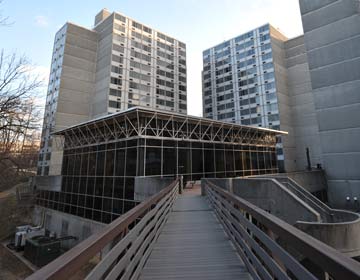 Glen Towers
Located in the center of campus, the Glen Towers, a high rise complex offers air conditioned
suites of two rooms joined by a connecting bathroom. All rooms are double occupancy
and include two extra-long twin beds and a micro-fridge. A large lounge is located
on each floor. The main dining hall is located in the Glen Tower Complex. Convenient
parking is located in Lot 26 next to the Glen Tower Complex.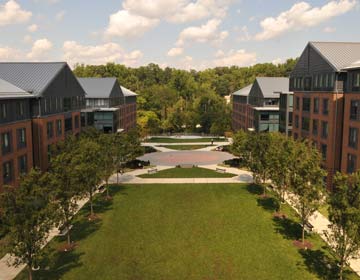 West Village Complex
The university offers upscale low-rise residence halls located in the West Village
Complex. Each air conditioned room features two extra-long twin beds with a private
bathroom and micro-fridge. Additionally, there is a large lounge and smaller gathering
areas on each level to network and relax.
These units are ideal for adults attending a conference. Parking is available in the
West Village Garage.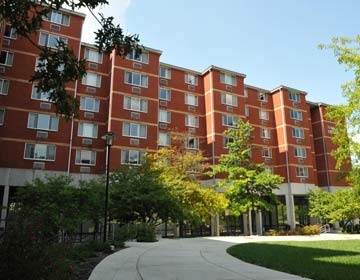 Towson Run Apartments
Located in the West Village Complex, the Towson Run Apartments offer cozy one, two
and four bedroom air conditioned units; each bedroom is furnished with two extra-long
twin beds. The two and four bedroom apartments have two bathrooms. There is a large
combination living-room/dining room area and kitchen. This complex is ideal for extended
stay guests. Parking is available in the West Village Garage.
Summer Dining Facilities
 
We realize that the dining experience plays a major role in the focus and attention
of your conferees and campers. Our dining halls offer all-you-can-eat savory meals
with lots of options—too many to list. Our friendly and very responsive food service
team takes delight in handling special dietary requests.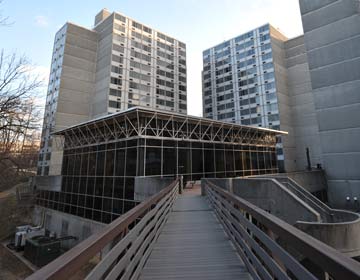 Glen Dining Hall
Nestled in Glen Woods, this dining facility is located within steps of the Glen Tower
Complex and within a few minutes' walk to core academic buildings and the University
Union.
West Village Commons Dining Hall
The West Village Commons Dining Hall will open for groups meeting in West Village
Commons with a minimum of 60 people per meal. Savory meals are served buffet style.

View more information: https://www.towson.edu/campus/planningevents/summer/
See more articles in category:
Grammar