Stepping out of her comfort zone
Caring professors empower teacher-in-training Jacqueline Luciano to step out of her
comfort zone.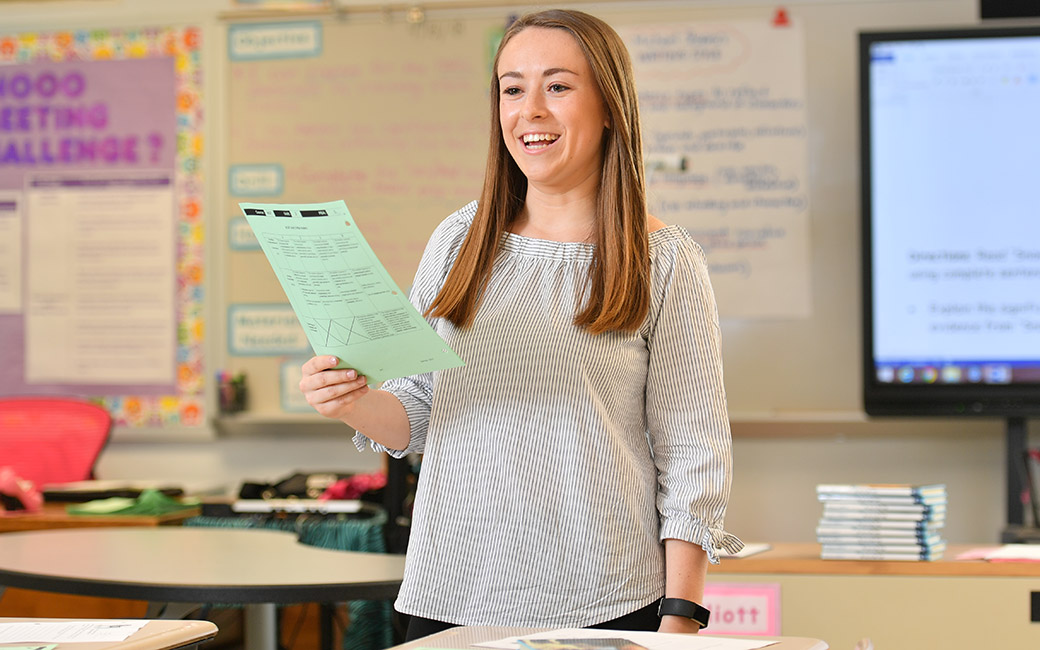 As the oldest of seven siblings, Jacqueline Luciano loves being part of a tight-knit
community.
Maybe that's why she's so happy as an English major in the secondary education program, which she describes as being "like a family."
"We have awesome teachers in the Department of Secondary & Middle School Education who are just so caring and look out for us in every way."
One of those professors is David Vocke, who teaches foundational education courses and supervises students during their
teaching internships.
Luciano remembers how Vocke reached out to her, offering an opportunity to fulfill
classroom observation hours at Baltimore County's Dumbarton Middle School. That experience
grew into a relationship with Dumbarton that has enabled Luciano to continue learning
as a helper with after-school clubs and as a writing tutor, while gearing up for her
full-time internship.
"The connections that I've made through my mentors at Towson," says the junior, "have
expanded my connections in the Baltimore County community" — where she hopes to land
a permanent teaching position after graduation.
Small classes and a cohort of friendly and helpful peers are also elements of the
TU program that Luciano says are helping her realize her dreams.
"I have always been very shy and in my comfort zone," says the Howard County native,
"but these mentors and the faculty I've met in the Baltimore County community, and
my classmates, have given me extreme levels of confidence and empowerment. I am not
the same person I was when I started college, thanks to them."
Want to learn more about Towson University? 
Request information here. 

View more information: https://www.towson.edu/coe/departments/secondary/about-jacqueline-luciano.html?utm_source=dept-pageutm_medium=about-our-people
See more articles in category:
Grammar