Standing up for himself | Towson University
Senior Tim Utzig, who is legally blind, was honored as Student of the Year by the
Baltimore County Commission on Disabilities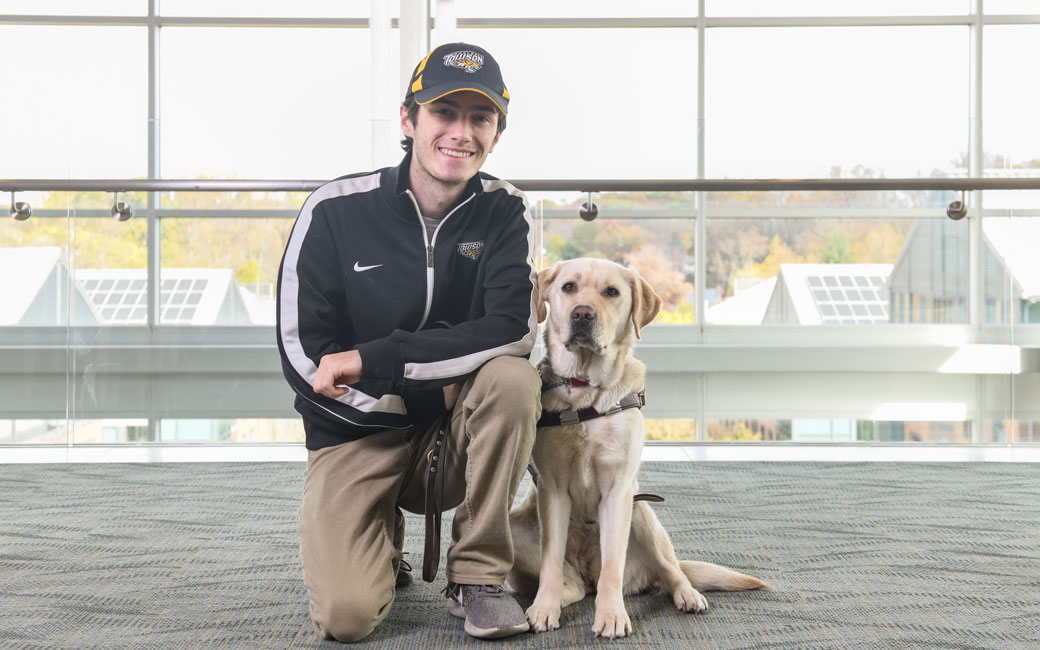 Since he was in high school, Tim Utzig has learned to fight for himself and what he
needs.
In the summer between his sixth and seventh grade years, Utzig was diagnosed with
Leber's Hereditary Optic Neuropathy (LHON), a progressive condition that causes vision
loss.
Now as a senior at Towson University who is majoring in both mass communications and political science, the Arbutus, Maryland native hasn't stopped fighting for his accommodations.
"It's been the hardest thing I've ever had to do in my life," Utzig says about LHON.
"There are aspects of my life today where I'm still adjusting. It's been eight or
nine years later and I'm still adjusting. So, it's going to be something I deal with
my entire life.
"And it's constantly a game of adapting and adjusting to whatever comes up. But I
just have to fight for what I need and fight for my accommodations."
Earlier this year, Utzig was named Student of the Year by the Baltimore County Commission on Disabilities. He was honored during the commission's annual awards ceremony on Wednesday, Oct.
16 at the Martin's Valley Mansion in Hunt Valley. 
The award is given out to a student who attends either a public or private grade school,
high school or college in Baltimore County, and must be an "exceptional role model
not only for students with disabilities, but for all students."
It was a  humbling experience for Utzig, especially since he didn't know he was even
nominated until he won. When he received the letter, he gave it to his girlfriend
to start reading, and thought it was a joke. 
He was nominated by his old orientation mobility instructor from high school, Pam
Williams. It was working with Williams that taught Utzig to self-advocate, because
she was always blunt with him.
"She was one of the most influential people in my life," Utzig says. "She's broke
me out of my shell and gotten me to be more self-confident and more comfortable self-advocating." 
When choosing what college to go to, Utzig had one very important need — transportation.
According to Utzig, what was so attractive about Towson University was that it was
the best campus at helping him move on- and off-campus. 
Whether it was walking or just taking a shuttle, most of his needs could be met within
just five minutes.
And to help with him walking on campus, he now has a special friend who has become
a bit of a celebrity on campus — his service dog Alisa.
Utzig and Alisa were joined together during his sophomore year. And while it is a
challenge sometimes — Alisa is a working dog and Utzig says that sometimes people
try to pet her without asking — he says that having her on campus has changed his
life.
"She's meant the world to me," Utzig says. "I couldn't imagine my life today without
her because she's made my life just that much easier, that much more seamless and
that much more stress-free."
He also credits the work of the Office of Accessibility and Disability Services (ADS) for helping him make his way through his college career. Through working with
ADS, things such as converting textbooks into a readable format for him has been made
college a little easier. 
"It's extremely crucial to have multiple people employed for a disability department,
especially at a university, that know what they're doing with accessible technology,"
Utzig says. "And they work with the students to make sure they are succeeding in college."
One-way that ADS has worked with Utzig was to help him and his friend Muhammad Waheed
start the first Goalball Club team at Towson University.
Goalball participants compete in teams of three blindfolded players who try to throw
a ball embedded with bells into the opponents' goal.
Both picked up the game while attending the Maryland School for the Blind. So, when
Waheed (who is also blind after being diagnosed with Peters Anomaly) and Utzig wanted
to bring the game to TU, they were surprised at the response they received from both
ADS and Campus Recreation. 
"It's been a roller coaster of a ride these four years since we brought it here my
freshman year, pitching it our fall semester as freshmen," Utzig says. "And now here
I am, my fall semester of senior year, and we're still here, and the team is probably
bigger than it's been in a long time."
Along with creating a new club team on campus, his studies have helped him succeed
off-campus as well. This past summer, Utzig had an internship with Analytic Services,
Inc., (ANSER) a non-profit corporation in Aberdeen, Md., that advises the government
in several mission areas. 
The program Utzig worked with helped the government in reaching their United Nations
treaty goal of destroying the United States' stockpile of chemical weapons by 2023.
During his time there he worked on the political end, helping take minute notes for
important conferences and roundtables, setting up events and coordinating them and
helping with research. 
Utzig impressed his bosses so much, they not only extended his internship into the
fall, but they have also reached out and asked him about coming aboard full-time when
he graduates this spring. 
Through being an advocate for himself, Utzig says he has received all these opportunities.
And when asked what advice he would give other students who are visually impaired,
he says he remembers all the times he stood up for himself. 
"It's important to build confidence in yourself," Utzig says. "Being able to self-advocate
is the most important thing you can do. Find something you're passionate about and
really work on that, and yourself, while you're at college."
This story is one of several related to President Kim Schatzel's priorities for Towson University: TU Matters to Maryland, Diverse and Inclusive Campus.

View more information: https://www.towson.edu/news/2019/timutzig.html
See more articles in category:
Grammar