Seth Adelsberger | Towson University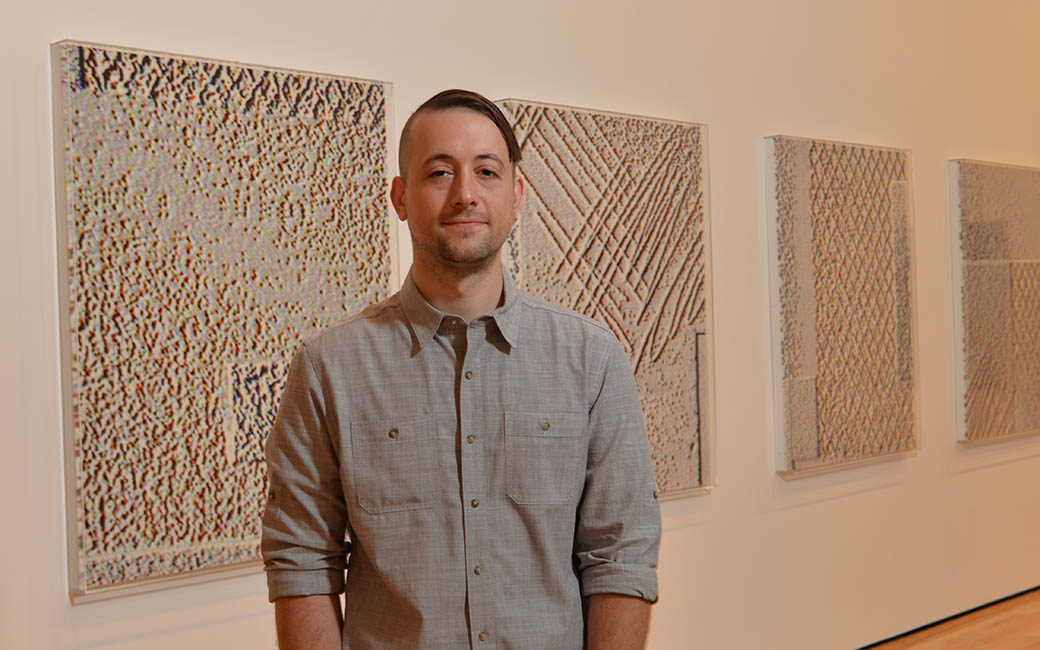 The Baltimore Museum of Art honored Baltimore artist Seth Adelsberger '02 with a solo
show in its Front Room gallery in 2014.  
Front Room: Seth Adelsberger brought 11 new works to the contemporary wing of the BMA. In these works, Adelsberger
explored the process of creating new work, as well as how that work is interpreted
by society.
In his Submersion paintings, Adelsberger applied gesso, a common primer used to seal canvas before
painting, in unusual ways to brightly painted canvases. In this series, he used cyan
and magenta stain as a base, then added thick swaths of gesso to sculpt textured form.
A final stain tinted the white gesso.
When finished, the material and technique become the work itself and the production
process is visible in the final product. Adelsberger says the series "explores the
chemical and scientific process of painting," while using "proper materials in improper
ways."
The works are strikingly beautiful—deeply saturated blues and pink-purples that change
intensity and "seem to glow from within," said BMA Curator of Contemporary Art Kristen
Hileman.
Adelsberger also created a series called the Carpet Sample Set specifically for the BMA show. The work featured commercial carpet squares, the abstract
patterns of which were inspired by 20th-century art movements, Adelsberger explained,
but "over time were absorbed and made commonplace by reproduction."
Following the exhibition, the BMA acquired Untitled (Sample #5) from the series Carpet Sample Set for its permanent collection. 
Local Expression
The BMA may be his biggest honor yet, but Adelsberger is no stranger to acclaim. He
made a name for himself over the past decade, participating in some 50 group and solo
shows, and producing a body of work that earned him the Maryland Arts Council's top
honor for painting in 2008.
Abstract Beginnings
Adelsberger first cultivated his interest in abstract painting and contemporary art
at Towson. Some of his earliest influences didn't just come from the studio, but instead
from an unexpected source: an on-campus job in Cook Library's periodicals section.
"My job was to train people to use microfilm. This was right around the time digital
media was becoming popular, so as you might imagine, I wasn't very busy," he laughed.
He used the downtime to his advantage—poring over back-issues of art magazines from
the '50s and '60s. It's no coincidence those periodicals highlighted the abstract
expressionists whose influence is present in Adelsberger's work, such as Jackson Pollock
and Willem de Kooning.
He also credits his professors and peers with developing his interest and skills,
and showing him the importance of a supportive community.
"Some of my favorite art professors, like Nora Sturges and Trace Miller, still work
at Towson. And I was lucky to have found a really strong peer-critique group. There
were five or six of us in my graduating class that really gelled. We supported each
other, encouraged each other to produce better work. And many of them are still making
work today."
Photo Gallery
By Dan Fox. Photos by Kanji Takeno and Seth Adelsberger.

View more information: https://www.towson.edu/cofac/departments/art/sadelsberger.html
See more articles in category:
Grammar