Physician Assistant Studies (M.S.) | Towson University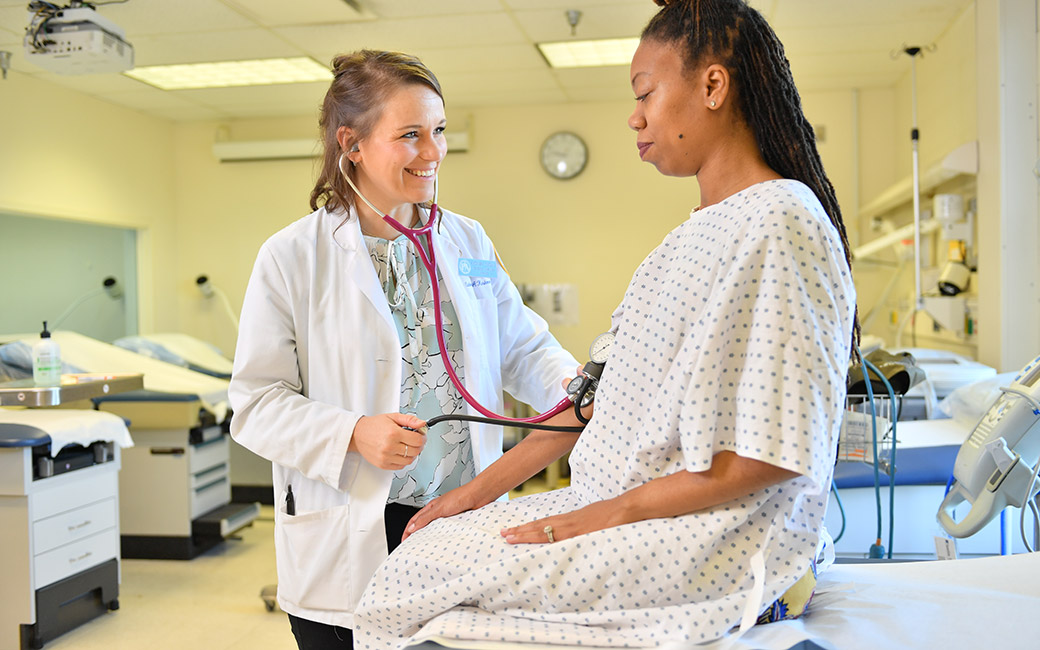 Physician assistants are highly skilled health care providers. This collaborative
program offered through the Towson University/CCBC-Essex is designed for students
with completed bachelor's or master's degrees. Full-time, continuous enrollment is
required throughout the 98-credit, 26-month program.
Program Mission and Goals
The Physician Assistant Studies Program revised its Mission, Vision and Goals for
2019-2020.  Outcomes so far include integrating interprofessional educational  experiences
into the PA curriculum.  PA students participate in the Institute for Healthcare Improvement
(IHI) Towson University Open School Chapter  learning events where they apply principles
related to quality improvement, leadership and team building to improve patient safety
and health outcomes. For additional details on our achievements, please see the summary
of our Mission, Vision, and Goals (PDF) attached. 
Mission
Our PA Program educates and empowers resilient graduates to practice collaborative,
evidence-based medicine in the ever-changing and diverse health care environment.
Vision
Our PA Program is renowned for unparalleled legacy and excellence in PA education
and leadership in developing innovative approaches to interprofessional practice.
Goals
Goal 1: The program will maintain a PANCE pass rate of above 95% with each graduating
class.
Goal 2: The program will achieve re-accreditation by ARC-PA in 2023 and will maintain
this accreditation in subsequent years.
Goal 3: The program will enhance and strengthen the admissions process to create a
diverse student population that is more reflective of the community we serve by the
2021-2022 admissions cycle.
Goal 4: The program will increase the opportunities for our students to experience 
interprofessional, collaborative experiences by the end of the 2020 academic year.
Goal 5: The program will maintain its graduation rate of 95%. 
Application Information
All applicants must be verified in CASPA by August 1, 2021. View degree requirements in the Graduate Catalog.
Student Attrition Information
In compliance with the ARC-PA Accreditation Standards (5th Edition), the program will
provide the most current annual attrition information. 
Current student attrition information 
Professional Accreditation
The program is accredited by the Accreditation Review Commission on Education for
the Physician Assistant Inc. (ARC-PA). The Accreditation Review Commission on Education for the Physician Assistant (ARC-PA)
has granted accreditation-continued status to the Towson University/CCBC-Essex physician assistant program sponsored by Towson University.  Accreditation-continued is an accreditation status granted when a currently accredited
program is in compliance with the ARC-PA Standards. The program's accreditation history can be viewed on the ARC-PA website http://www.arc-pa.org/accreditation-history-towson-university-ccbc/ 
Accreditation remains in effect until the program closes or withdraws from the accreditation
process or until accreditation is withdrawn for failure to comply with the Standards. The approximate date for the next validation review of the program by the ARC-PA
will be Towson University/CCBC-Essex September 2023.  The review date is contingent upon continued compliance with the Accreditation
Standards and ARC-PA policy. 
NCCPA Examination Performance
Individuals who successfully complete the program are eligible for certification by
the National Commission on the Certification of Physician Assistants (NCCPA). Graduates
of the Towson University/CCBC-Essex PA program have consistently scored well on the
Physician Assistant National Certifying Examination (PANCE), and have achieved a 100%
first time pass rate for the classes of 2014 and 2015, surpassing the national exam
pass rate average.
For more information please view the NCCPA PANCE Exam Performance Summary Report.

Why Towson University?
A Strong Alumni Network
Join a strong network of successful alumni around the country. More than 1,000 program
graduates are employed in a wide variety of medical settings in regional, national
and international locations.
 A History of Success

The oldest and most established program in Maryland, the CCBC-Essex physician assistant
program began in 1972 as a cooperative effort with the Johns Hopkins University and
Franklin Square Hospital. Now a collaborative effort of CCBC-Essex and Towson University,
the program has undergone a dynamic evolution in its 40-year history. 
A Vital Role
Make a direct impact on patients and their families. Working as part of the medical
team, physician assistants practice medicine by performing patient histories and physical
examination, ordering or performing laboratory tests, and analyzing medical data to
formulate diagnoses and develop care management plans.   
Ready to get started? Here's how to apply.
Apply Now



View more information: https://www.towson.edu/pa
See more articles in category:
Grammar