Neighborhood Relations Initiatives | Towson University
Our neighborhood relations outreach includes partnerships with local police, the Greater
Towson Council of Community Association, the Towson Chamber of Commerce, and more.
 
Community & Police Partnerships
Towson University Police Department, Baltimore County Police Department and the Division
of Student Affairs Office of Student Conduct and Civility Education work closely together
proactively to keep Towson students safe and responsible on and off-campus. 
Community Police Patrols Grant
Towson University provide police officer grant funding to the Towson precinct of the
Baltimore County Police for community patrolling for every weekend from opening weekend
in the fall through Halloween weekend, and once again in the spring during Tigerfest
weekend. Funding allows extra-duty police personnel to focus patrols in local campus
communities.
Underage Drinking Task Force
Local grant funds enable the TUPD and BCPD to team up on the Underage Drinking Task
Force. Each semester our police officers work together to identify problems with underage
alcohol consumption, fake IDs and DUI check points.
Read the 2-page report summary (PDF)  highlighting the positive differences the university's
Alcohol, Tobacco, and Other Drug (ATOD) programs and policies are making in student
perceptions and behaviors.
K-9 Patrol Unit
TU Police Department's K-9 Unit, consisting of Cpl. Andrew Cline and Fillmore, a scent
trained black Labrador retriever. Fillmore is trained to search for illegal drugs
on our campus and as needed within proximity to our campus to assist BCPD.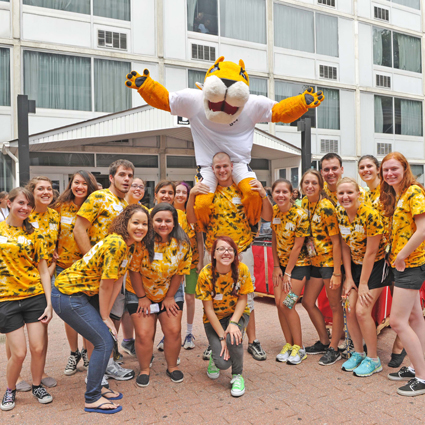 Off-Campus Living
Off-Campus Living orients students with Towson University and the greater Towson community,
preparing students for successful transitions, and facilitating student success through
education and resources about living off-campus, engaging with the community, and
being safe. 
 Learn More about Off-Campus Living
Community Ambassador Program
The CA program consists of a student community ambassador who, similar to an on-campus
Resident Assistant (RA), works with the students living in the neighborhood, helping
them understand expectations for living well in the community. Community ambassadors
talk with student residents about neighbors' expectations and community concerns like
noise, trash, and party behavior. Ambassadors also plan fun events for students and
neighbors. After a pilot run in one community during the 2009-2010 academic year,
the Community Ambassador program has expanded each year to include new local neighborhoods.  
The Big Event and Town & Gown Clean Up Days
The Big Event is Towson University's largest day of community service where Towson
University students give back to the Towson community by helping out local homeowners
and non-profits. After nine years, Towson University's Big Event has grown to encompass
over 2,000 students and over 200 different project sites. The 2019 Big Event will be held on Saturday, April 13th, starting at 8 a.m. in SECU Arena.

The entire Towson community partners twice a year, once in the fall and again in the
spring, for the Town & Gown Clean-Up day to help improve working and living conditions
in Towson. Beautification efforts include painting, garden bed clean-up for local
streetscapes and neighborhoods.

View more information: https://www.towson.edu/campus/programs/relations/initiatives.html
See more articles in category:
Grammar