Michael McEwen | Towson University
Michael McEwen hit the jackpot during his freshman year when he enrolled in Writing
for the Environment. "The course focused on two areas of great interest to me," says
McEwen.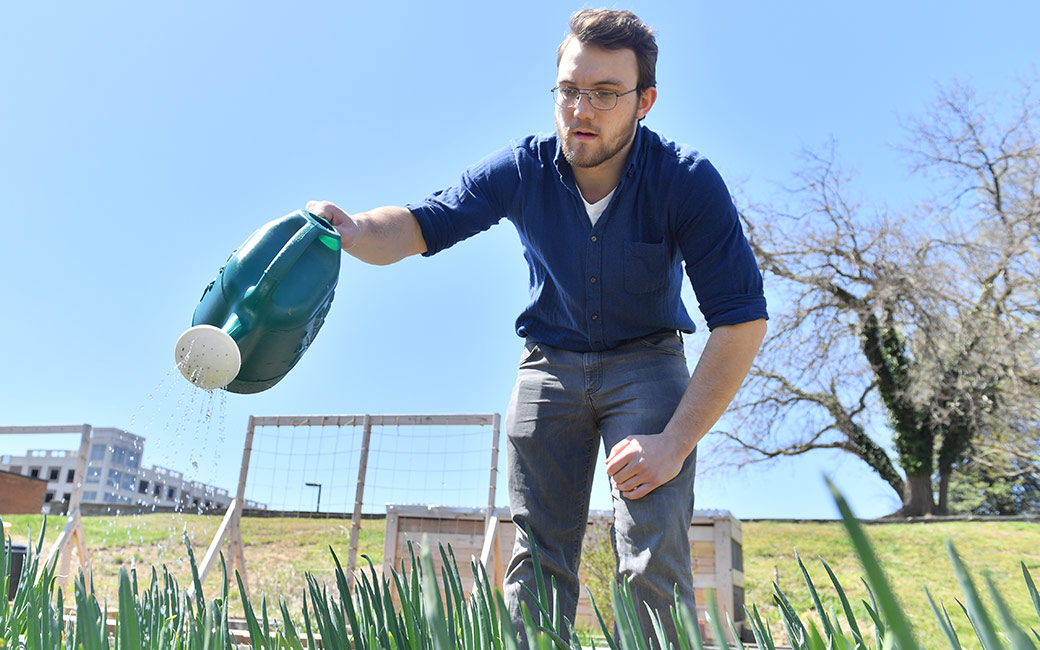 Benjamin Warner, who taught the course and is a lecturer in the Department of English, was the first person to tell McEwen that he was a gifted writer. "Having someone
I respect respond so positively to my work and treating my writing so seriously was
very encouraging," says McEwen. "It has been an enormous benefit to me to work with
faculty members who are interested in me as a person beyond the classroom."
Warner, who serves as the TU Urban Farm advisor, also prompted McEwen to volunteer for four years at the farm, which is nestled
behind the TU administration building parking lot. "Students can grow their own food
at the farm," describes McEwen. "You can sit in a circle on tree stumps and talk about
food and environmental issues surrounded by beautiful sunflowers."
Originally an education major, by the end of his sophomore year it was clear that
writing was McEwen's passion. "I come from a heritage of writing," he admits. The Garrett County Republican newspaper, which was recently sold, had been owned by his family since the early 1900s. "My
best peer editors were my family members."
McEwen also tutored fellow students at the TU Writing Center for three years, where he was one of the original writing fellows. "As a fellow,
I served as an intermediary between students and professors, working inside and outside
the classroom to help students improve their writing," he explains.
Building on the skills he gained as an English major, McEwen is now pursuing a Master of Fine Arts degree in creative writing and teaching
writing to undergraduates at the University of Kentucky.
Want to learn more about Towson University? 
Request information here. 

View more information: https://www.towson.edu/cla/departments/english/about-michael-mcewen.html?utm_source=dept-page&utm_medium=about-our-people
See more articles in category:
Best