Making sure all students feel loved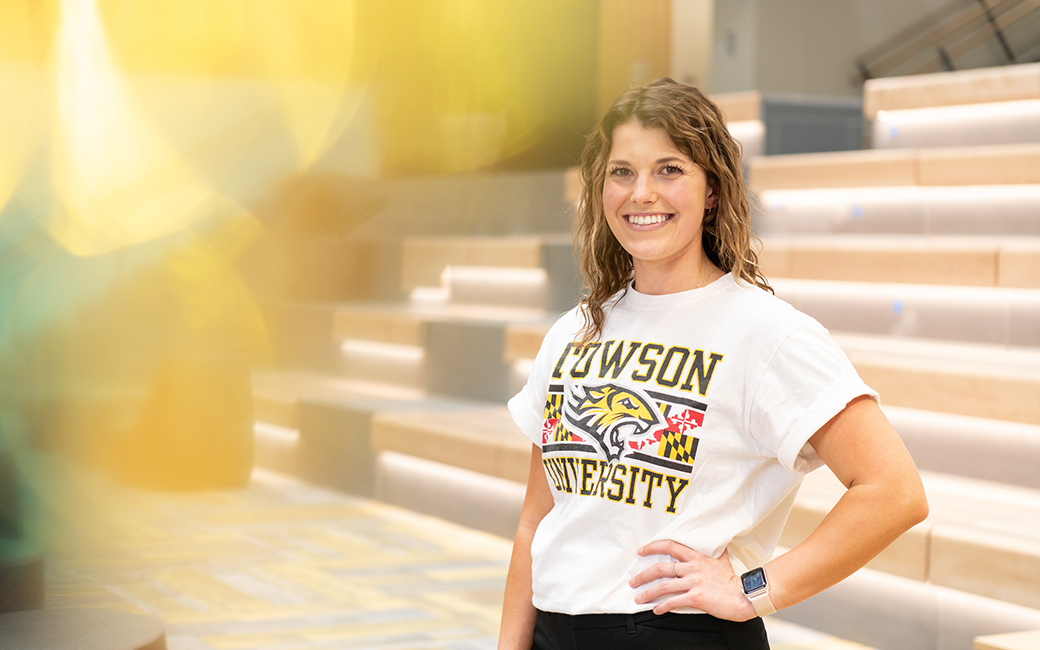 For Erin Sherlock '21, transferring to TU was "the best decision of my life"
Since transferring to Towson University, Erin Sherlock '21 has tackled countless challenges
and come out on top.
In her final year of student teaching as an elementary education and special education (EESE) major, Sherlock interned alongside Baltimore County Public School teachers
as they quickly pivoted to deliver remote and hybrid education to students during
the novel coronavirus pandemic.
And as the president of the TU Panhellenic Association, she helped Greek Life organizations keep their members safe and healthy while connecting and supporting each other remotely.
Sensing a panic spreading through Greek Life members as spring events faced uncertainty,
she jumped into action to transition planned events to a virtual format and assure
the Greek community wasn't going away, even though the experience might look different. 
"I've become a lot more confident in who I am and my ability to handle these types
of situations," she says. "And I was able to ensure that I was accommodating to everyone
and making sure every single one of our members felt loved in the Panhellenic community,
as well as the Greek community overall."
She credits TU with providing opportunities to develop her communication and leadership
skills while building lifelong friendships. And she's thankful to her sorority, Kappa
Delta, for helping her find her community as a transfer student.
"I dealt with so many hardships, but it was an honor," she says. "I felt very honored
to be in the position I was in and, on top of that, to make such incredible friendships."
Because of this, Sherlock says transferring from a school in North Carolina was "the
best decision of my life, for sure."
She has always known she wanted to be a teacher. But working with students with special
needs as a middle school student in Carroll County Public Schools (CCPS), she found
her true calling.
"I was in a life skills classroom with students with autism, and I connected with
them like no other connection I had ever had," she says. She continued the work throughout
high school and in the College of Education.
The internships offered through the EESE program have been the most impactful academic
experience for Sherlock.
"I've had the ability to intern at so many different Baltimore County schools, I have
mentors who I still talk to and hang out with and that's just something I'll never
take for granted, because they will be there for me throughout my career," she says.
"I'm really thankful for all of my internships."
This summer she will return to CCPS as a special education resource teacher. "I feel
very prepared," Sherlock says. "Through my leadership experiences, my mentors and
my advisers, I am very ready to take on a full-time job and career."
At Commencement, Sherlock is looking forward to marking the culmination of her undergraduate
education with her close family and friends after a challenging year. 
She's especially looking forward to sharing the moment with her parents, who she says
are her "best friends." 
"They are my No. 1 fans. They have been through everything with me. And I'm doing
this for them," she says.
"I think it's going to be an incredible sense of closure," she says. "Although, it's
not the end of my education, everything I've accomplished is being recognized, and
I am really happy with where I'm at. It's like the ending of a good chapter."
Eventually, she hopes to return to TU as a graduate student to pursue a master's in
special education with a focus on autism spectrum disorder.
"I love teaching, and I love creating passion within kids and making sure they know
that they're loved."
Get to know more TU grads
Towson University kicks off a week of Commencement celebrations on Monday, May 17 with ceremonies honoring the spring, summer and winter 2020 graduates
in the College of Health Professions, College of Business & Economics and College
of Fine Arts & Communication.
Linda Tsassong '20
College of Health Professions
When Linda Tsassong looks back on her time at Towson University, she'll remember the
relationships she formed most—classmates and faculty alike. 
"I don't think it would have been the same without them. We're all going through this
rigorous program together," she says. "Having them made this much easier." 
The nursing major decided on her career path late in high school. After going through the program at
TU, she is certain it's where she's supposed to be. 
"Nursing is not just a science class. It's applicable and real life," she says. "It's
a broad field, so with just one degree I can do so many things. I love that." 
Terri Dodson '20
College of Fine Arts & Communication
Terri Dodson always wanted to finish college, but family and work came first. But
after watching her daughter Kalin graduate from Towson University in 2017, Dodson
was inspired. She was also given a little push from Kalin.
 
In 2018 she started back to school, this time at TU as a communication studies major. After what seemed like forever—she was taking one class a term while still working
full time—she was officially a college graduate at 58.
 
"My journey at Towson has been really great," Dodson says. "The communication studies
faculty has been amazing, and even my fellow students have been so helpful. If I had
trouble understanding something, they wouldn't hesitate to help me."
Olivia Lubarsky '20
College of Business & Economics
As a Towson University student, Los Angeles native Olivia Lubarsky was on the gymnastics
team, served as president of the Student-Athlete Advisory Committee and worked in
Annapolis as part of the Governor's Summer Internship Program.
 
But what might be her most impressive achievement was creating the Own Your Roar initiative, a mental health awareness campaign focused on issues that affect student-athletes.
 
Through the initiative, she became a member of Mental Health America's Collegiate
Mental Health Innovation Council, and in February, she was a featured speaker at TEDxSanLuisObispo.
 
"All my professors, the athletic administration and my fellow student-athletes are
so passionate and driven," Lubarsky says. "I would not have gotten any of this done
without them. My heart will always belong to Towson."
#TUproud
We're proud of all our graduates and we're eager to celebrate their achievements,
together.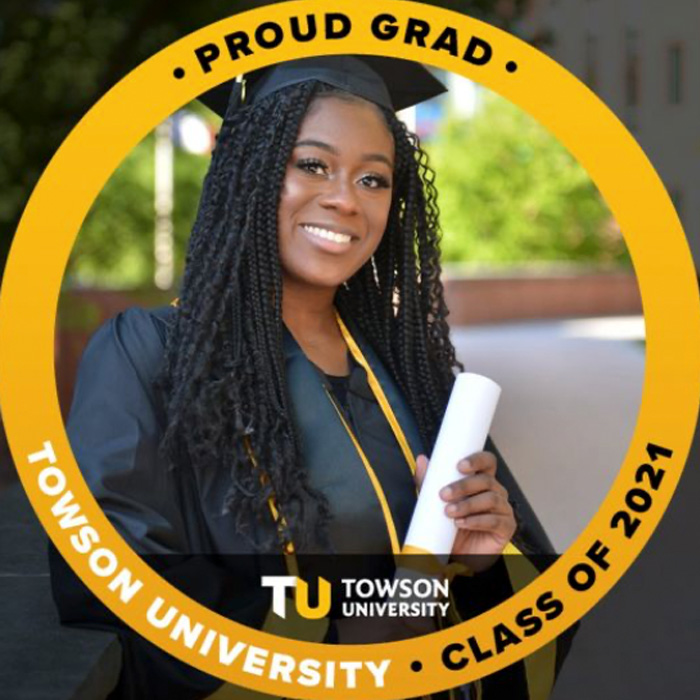 A live stream of the ceremonies will be broadcast on www.towson.edu and live updates will be shared all week on TU's Instagram, Facebook, Twitter and Alumni Instagram accounts.
You can join in on the celebrations too. Use #TUproud when sharing photos on Instagram
or Twitter, and we might share them from our pages.
For more information, social media graphics, profile picture frames and more, visit
Commencement.

View more information: https://www.towson.edu/news/2021/commencement-erin-sherlock.html?utm_source=social&utm_medium=facebook&utm_campaign
See more articles in category:
Grammar