Joan Jacobson Dance Collection | Albert S. Cook Library
About the Collection
The books in this collection span the 20th century and include biographies and memoirs of many of its dance legends: Isadora Duncan, Martha Graham, Ruth St. Denis, Merce Cunningham, Judith Jamison, Alvin Ailey, Margot Fonteyn, Rudolf Nureyev, Vaslav Nijinsky, Agnes de Mille, Tamara Karsavina, Anna Pavlova, Fred Astaire, August Bournonville, George Balanchine, Jerome Robbins, and Frederick Ashton.
There are also numerous books of early dance photography and dance anthologies by critics and historians in the United States and Europe, as well as encyclopedias and other dance reference books.   All the books in this collection are in English.
About Joan Jacobson
Joan Jacobson has been a Baltimore journalist for more than 40 years. While writing news stories for the Baltimore Evening Sun in the 1970's, she also became the newspaper's dance critic. For more than a decade, she wrote about the companies and choreographers of Baltimore's vibrant dance scene, covering such groups as the Maryland Ballet, Path Dance Company, Phoenix Repertory Dance Company and the Naked Feet Dance Company. She also reviewed performances at the Kennedy Center in Washington, D.C. of internationally known companies like the New York City Ballet, the American Ballet Theatre, and the Paul Taylor Dance Company.
In addition, she interviewed and wrote profiles of such legendary artists and choreographers as Agnes de Mille and Mikhail Baryshnikov and of prima ballerinas Natalia Makarova and Cynthia Gregory.
A devoted dance fan with no formal training as a dancer or historian, she collected 300 dance books, intending to educate herself so her feature articles and reviews would be well informed. In particular, she immersed herself in the dance history of the early 20th century – a critical turning point when the art form was reinvented by the Ballet Russes in Europe and modern dance pioneers in New York.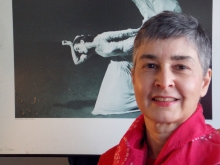 Photo by Bill Barry
Explore the Collection
Items in the Collection
Selected Annotated Bibliography
 
Location: 
Special Collections
Stacks

View more information: https://libraries.towson.edu/university-archives/collections/joan-jacobson-dance-collection