Hannah Burdge | Towson University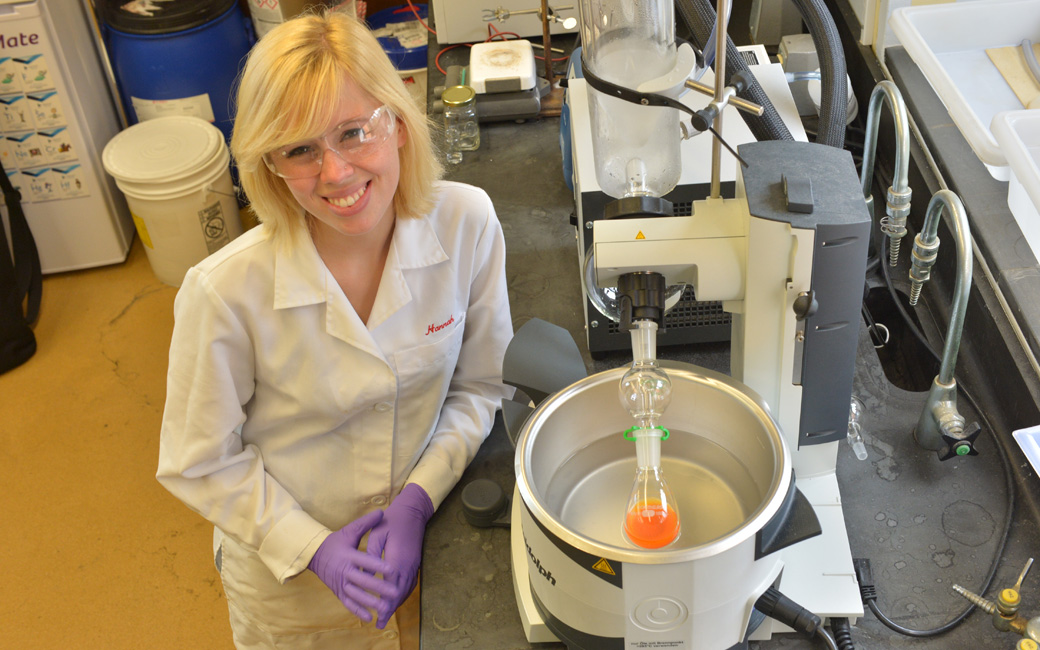 TU senior and Honors College student Hannah Burdge, one of nine students nationwide to receive an American Chemical Society Division of Organic Chemistry Summer Undergraduate Research
Fellowship, spent part of her summer at the world-renowned Scripps Research Institute in San Diego.
"I was exposed to so many amazing minds working in organic chemistry," says Burdge.
"It was an exciting opportunity to test my knowledge of the field."
The fellowship was a result of yet another opportunity afforded to Burdge. She presented
a paper at the 251st American Chemical Society National Meeting and Exposition in
San Diego and met an award-winning scientist who shares her research interests in
organic synthesis and national products chemistry.
"I introduced myself, and he put me in touch with Ryan Shenvi, who took me on for
the summer with his group at Scripps," recounts Burdge, who has also presented her
work at the 252nd American Chemical Society National Meeting and Exposition, the Undergraduate Research Symposium in the Chemical and Biological Sciences at the University of Maryland, Baltimore County, and the TU undergraduate research forum.
"Research is all about independent problem solving, which has always appealed to me.
I love the process of laying a project out on paper, outlining the steps, and following
the route," says Burdge. "I couldn't have done any of this without faculty support.
The faculty are always looking out for your best interests."
Burdge has worked on two research projects at Towson University. The first, with associate
professor Barry Margulies, focused on developing a biodegradable implant to deliver
herpes virus drug treatments and allowed her to interact regularly with a Rockville,
Md.-based research company collaborator. Her work with assistant professor Keith Reber
focused on the total synthesis of natural products with promising biological activity.
Both projects were supported by TU undergraduate research grants.
"Towson has a lot of amazing research opportunities, where you can get real, hands-on
experience in a variety of scientific fields," says Burdge.
She also serves as a teaching assistant for organic chemistry courses, leading recitation
sessions, holding office hours, and supervising students in the lab. "There are 40
students in the class and 40 possible ways to solve a given problem," says Burdge.
"Teaching for me is another independent problem-solving experience."

View more information: https://www.towson.edu/fcsm/departments/chemistry/hburdge.html
See more articles in category:
Best