Gymnastics team to compete in NCAA regional championships
Record-breaking season sees Tigers compete in regionals for first time in two decades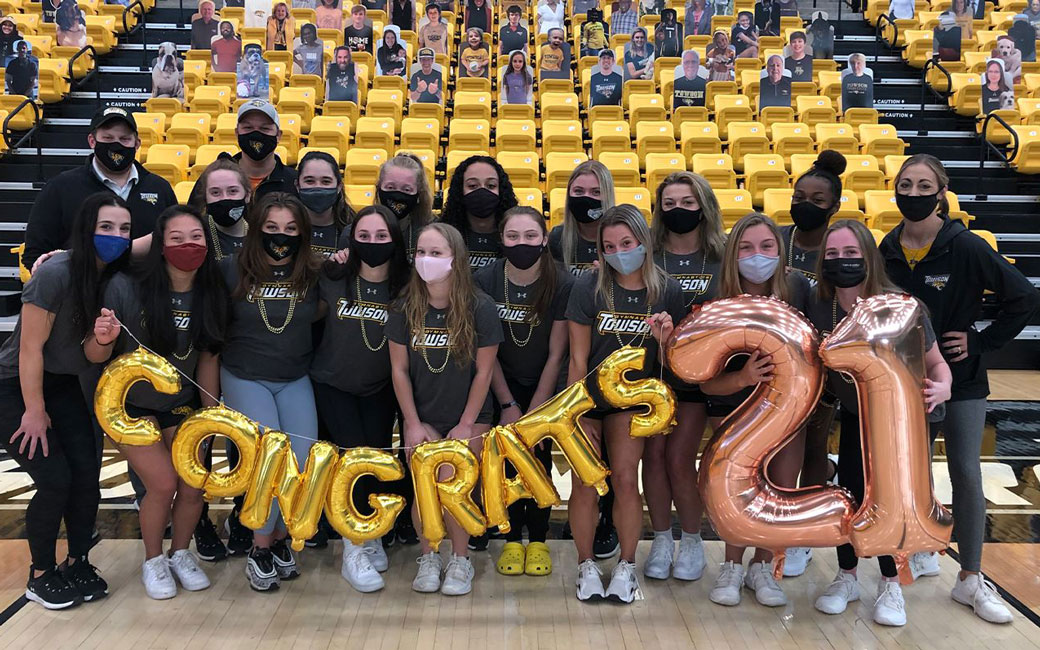 Fifteen of the 17 members of the Towson University gymnastics team had not been born yet the last time TU made the NCAA regionals. Starting next week,
the current TU team is ready to break this 21-year drought.
The Tigers will compete in the Morgantown Regional at West Virginia University and
have qualified for a bye into the second round on Friday, April 2. TU will compete
at 1 and 7 p.m., and will open the competition on vault, bars, beam and floor.
Other teams competing in the region are Michigan, California, Brigham Young, UCLA,
Ohio State, Kent State, Penn State and West Virginia.
After having last season end prematurely, head coach Jay Ramirez told his team before
this season started that it was going to take "a lot of duct tape, a lot of pivots,
so let's just grit it, bear it and make it happen."
The team has made it happen for Ramirez. When he took the job two years ago, TU was
ranked No. 58 in the country. Now heading into its first regional in two decades,
the Tigers are 28th. 
"It's been exciting to see them understand their potential, come to the gym and do
the daily grind," Ramirez says. "We've been working day in and day out and, having
this happen, it's a nice feeling, but it's not something that was out of the blue.
We've been on a steady climb throughout the season." 
The Tigers held a watch party in SECU Arena on Monday, March 22, to see where they
would end up. Nikki Borkowski, a junior from Toledo, Ohio, thought it was pretty cool
to see the Tigers finally make it as a team.
"I'm grateful that I've been a part of this team, a part of its success and seeing
how much we've grown," Borkowski says. "I'm really excited to show everyone all of
our hard work. It's been there throughout this whole season, but I'm really excited
for it to be on more of a larger scale."
This season the Tigers posted five of their 10 ten scores in program history, recorded
their highest national qualifying score (NQS) in school history at 196 and defeated
their rival Maryland for the first time since the early '90s. In fact, that NQS was
the basis for their invitation to regionals; the NCAA chooses its top 36 teams based
on NQS.
The Tigers were also a force in the Eastern Atlantic Gymnastics League (EAGL), finishing
second overall after being predicted to place seventh in the preseason. TU ended the
season with more EAGL weekly awards than any other season in history and picked up
seven first team All-EAGL awards while adding 11 second team All-EAGL honors.
The Tigers finished third at the EAGL Championships on Saturday, March 20, with the
highest championship score in TU's history (195.875).
Emerson Hurst was the EAGL beam champion, and Allison Zuhlke earned EAGL Rookie of the Year. Assistant coach Ashley Sauer was named EAGL Assistant Coach of the Year, and Ramirez received EAGL Head Coach
of the Year honors. Seven gymnasts were named to the EAGL All-Tournament Teams.
"Everybody is contributing. Everybody is a cog in the wheel, and everybody is pulling
their own weight and making that wheel go," Ramirez says. "I'm so proud of this team;
they've really rocked it this year."
Don't let data worries keep you from Twitter.
https://t.co/vt2K81Cnf3

— Twitter (@Twitter) Instagram, Facebook and Twitter accounts.



View more information: https://www.towson.edu/news/2021/gymnastics-ncaaregionals.html
See more articles in category:
Grammar