Go team Towson | Towson University
From TU's Office of the President to SECU Arena, William "Alex" Thomas '19 made his
mark on and off the court.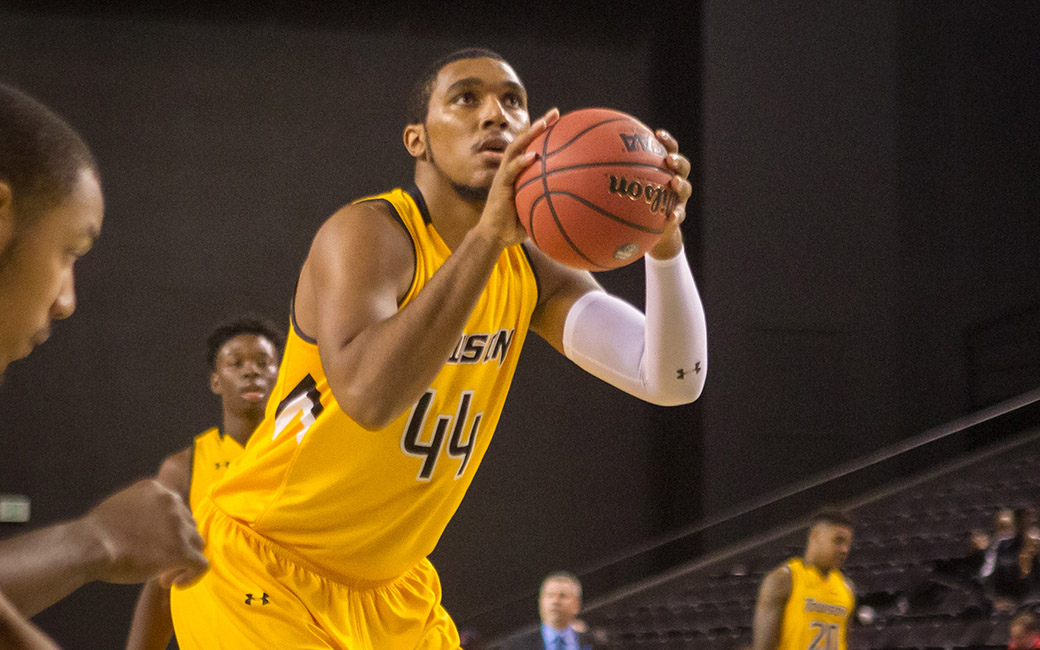 Collegiate basketball is a demanding sport with a long season requiring lots of road
trips and time away from classes. That did not stop William "Alex" Thomas from earning
a place on the Dean's List and securing a position as a presidential ambassador.
Thomas, who began playing basketball as a sophomore at Coastal Academy in northern
New Jersey, started as forward for the majority of TU's men's basketball games during his four-year career until sidelined by a hip injury midway through
his senior season.   He was among 63 nominees for selection to the National Association
of Basketball Coaches 2019 Give Back Team.
Thomas gave back to TU and the surrounding community in a number of ways, including
hosting a clinic for individuals with autism from TU's Hussman Center for Adults with Autism and volunteering at West Towson Elementary School. In addition, he helped lead a
basketball clinic for boys when the Tigers traveled to Belfast, Northern Ireland in
2017.  He also was identified for TU's Leadership Enhancement and Development Tiger
Program for student-athletes in recognition of his leadership capacity and served
on the Student-Athlete Advisory Committee.
His role as a presidential ambassador required attending Board of Regents' dinners
and other TU special events, representing TU to donors, visitors and other key guests.
"It was a great experience and good networking tool," says Thomas. "I had met many
of the guests at basketball games, so it was nice to see familiar faces."
Originally a family studies major, Thomas looked to Bethany Willis Hepp for academic direction and to Associate Head Basketball Coach Kevin Clark for insight and advice about everyday problems. "She was one of my go-to professors,"
says Thomas. "And he was a reliable resource for my everyday problems."
But it was his mother's advice he followed to "find a career you enjoy or love" when
he changed his major to communication studies. Thomas recently accepted a position as a recruiting specialist at Maxim HeathCare
Services and will be pursuing a master's degree in communication management at TU.
Want to learn more about Towson University? 
Request information here. 

View more information: https://www.towson.edu/cofac/departments/communication-studies/about-alex-thomas.html?utm_source=dept-page&utm_medium=about-our-people
See more articles in category:
Grammar