Glory Kim | Towson University
Major: Electronic Media and Film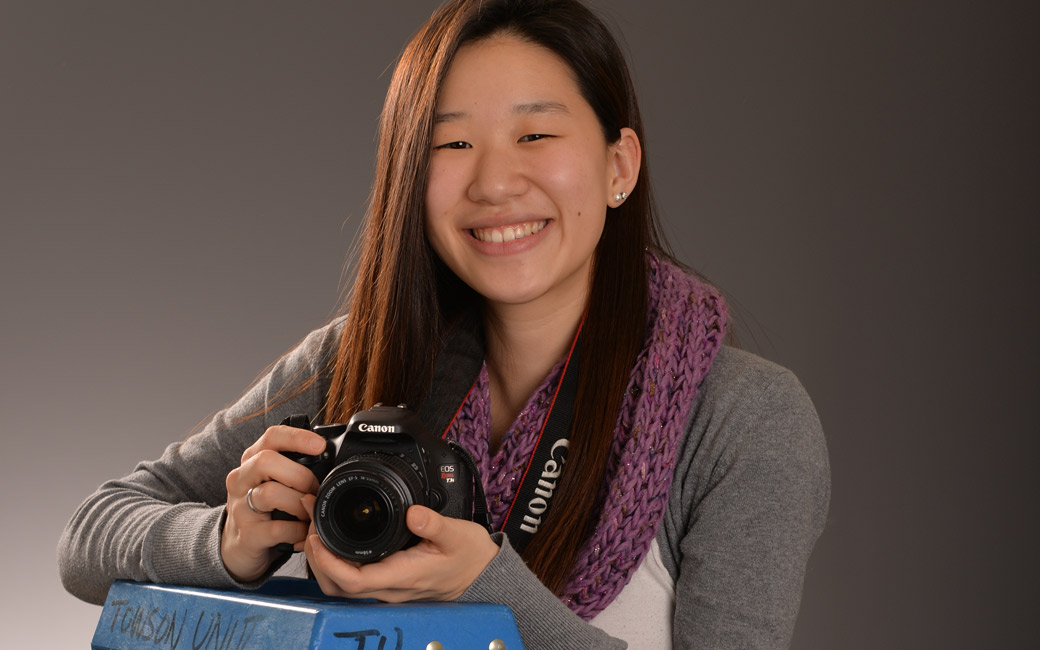 What do you do if you're a film student who adores her school?
Organize 100-plus friends and make a lip dub video, of course.
Just ask Glory Kim who did it for Towson University during the final semester of her
senior year.
"I wanted to give back to the school that I absolutely love!" says the recent alum,
who created a professional-quality music video featuring Towson students lip-synching and dancing their way across campus to the
Tiger-appropriate Katy Perry hit, "Roar."
The Rockville, Md., native chose to attend Towson because of its renowned electronic
media and film department, which she says prepared her for a career that started rolling
immediately after her 2015 graduation. Classes that gave her the specific knowledge
with in-demand film editing software, plus on-the-job experience working for Undergraduate
Marketing meant she could hit the ground running as a full-time media producer at
the University of Maryland, College Park.
But her dream is to make it big on YouTube.
And she's well on her way.
Together with boyfriend Matt Brooks '15, Kim spends most of her free waking hours
producing videos for the couple's YouTube channel.
Known as Slice N Rice ("he got the slice, she got the rice") Kim and Brooks post new videos every Wednesday
and Sunday, featuring hilarious vlogs, comedy sketches and couples challenges.  The
duo's smart sense of fun, positivity and cutting-edge videography have garnered them
hundreds of subscribers. They're even starting to get recognized for their work, admits
Kim humbly, at YouTube conferences across the country.
It's not always easy doing a full day's work and then coming home to another eight
hours of film editing, but, says Kim, she wouldn't have it any other way.
"I love where I am right now."

View more information: https://www.towson.edu/cofac/departments/mediafilm/gkim.html
See more articles in category:
Grammar