From Tiger soccer to Team USA handball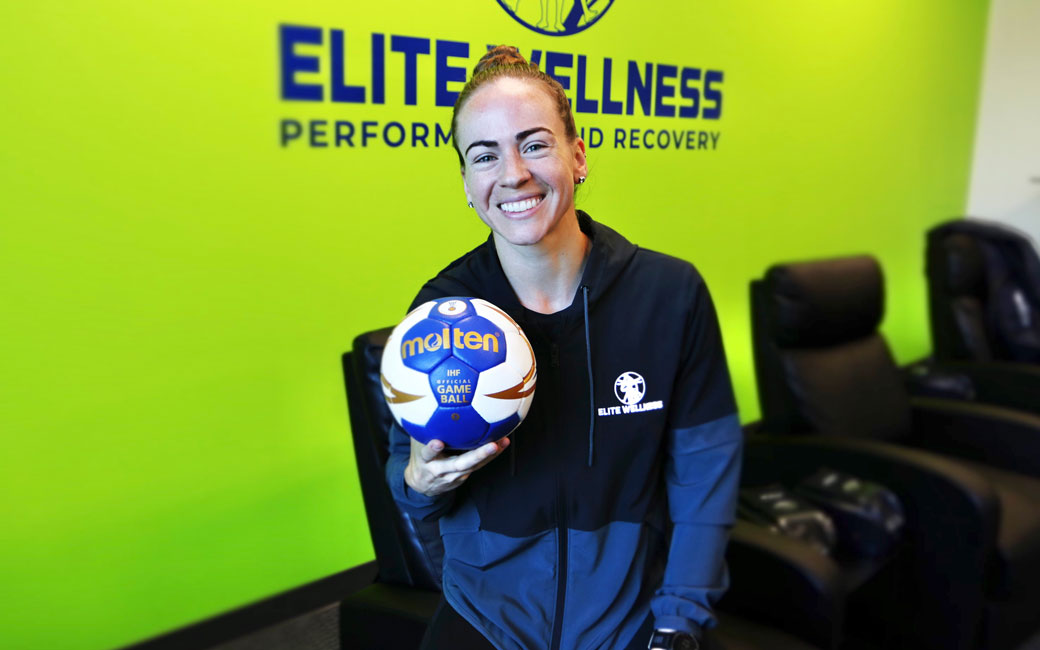 Many people dealt with the COVID-19 pandemic's isolation by learning to bake bread,
finishing a long-postponed screenplay or honing a new musical talent.
McKenna Smet '13 discovered a new hobby: handball. More impressively, the former Towson Tiger soccer player earned a spot on the U.S. women's national team's preliminary roster.
Not bad for someone whose first game action came during a tryout with the country's
top players.
"On the first day, I thought, 'I was fit, I was tall and I look like a lot of the
top European players,'" Smet recalls. "But when I started playing, I was not prepared
for how aggressive the sport is and how exhausting it is. You have to sprint, you
have to catch, you have to throw and you sometimes get an elbow or a knee.
"But it was just awesome."
Handball is one of the most popular sports in Europe and has been a summer Olympic
fixture since 1972 (for men) and 1976 (for women). It is a fast-paced sport in which
two teams of seven players aim to throw a ball into the other team's goal—with their
hands.
Basically, the exact opposite skill set Smet employed as a soccer player, first at
Montgomery Community College then TU.
After graduation, Smet started working as a personal trainer before opening Elite Wellness Performance and Recovery, in Ashburn, Virginia.
"It's so cool to see the trajectory from my time at Towson University to where I am
now," Smet says.
She kept looking for ways to compete after college. Smet tried triathlons, power lifting
and CrossFit, but nothing stuck.
One day in 2018, while throwing a football with one of her clients, they told her
that she would be a great handball player. Two years later, the client was still insisting
she learn more about the sport.
During the pandemic, Smet started to investigate handball. But many leagues and teams
across the country were paused.
So she looked internationally. This past December, she made her annual journey to
Brazil to visit family.
This time, though, she added an extra wrinkle: Smet found someone who could teach
her handball. It was on a Brazilian beach in the middle of December that Smet held
a handball for the first time.
Through her newly formed international contacts, she got in touch with a coach in
Orlando, Florida, who spent a weekend teaching her the ins and outs of handball. The
following weekend, the U.S. women's national handball team was having tryouts in Boston.
Smet was blunt with her new coach. She asked if she should even attend the tryout.
"He told me to go for it," she says. "He's like, 'Worst case is you're not going to
make the team. But you know, at least you went and you tried.' And I said, 'You know
what? This is the craziest thing I've ever done, but I'm just going to go.'"
As the tryouts continued, the coaches asked if she would be interested in trying out
at goalie—a position she didn't even play in soccer.
She answered with the phrase every coach wants to hear: I'll play any position you
want me to.
"So there I was, standing in goal against the U.S. national handball team's starters
coming at me," Smet says. "I had to keep telling myself to keep my eye on the ball
and don't be afraid. I just totally went to another level.
"At the end of it, in front of everyone trying out, one of the coaches said, 'McKenna
is the MVP of this tryout because she is the only one brave enough and crazy enough
to stand in that goal.'"
Smet begins her U.S. national team journey this week, traveling to Spain for training
camp to prepare for the North American and Caribbean Handball Confederation (NACHC)
qualifying tournament in Illinois this August.
Stay up to date on U.S. women's national handball by checking out its Instagram, Facebook and Twitter. You can also follow Smet's professional journey through the Elite Wellness Performance
and Recovery's Facebook and Instagram accounts.

View more information: https://www.towson.edu/news/2021/mckenna-smet-ushandball.html
See more articles in category:
Grammar