Food Service Payments | Towson University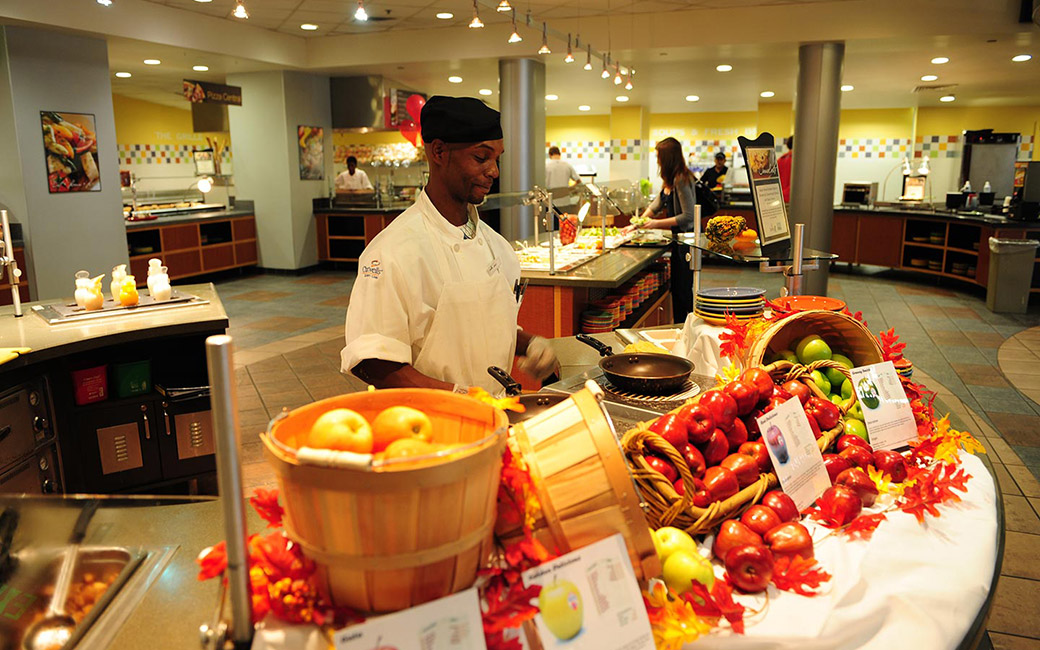 Allowed Purchases and Approval of Costs
University funds may be used to purchase food services, where necessary and reasonable,
for university-hosted meetings, receptions and conferences, as well as meetings of
campus-sanctioned committees. The President's Office provides a list of campus-sanctioned
committees to both Financial Services and Dining Services.
Food catering costs will not be paid or reimbursed for departmental meetings or social
gatherings. However, a non-sanctioned event may be covered with the pre-approval of
the department supervisor and the divisional vice president (or designee). See the
Exception Authorization Form (PDF).
Dining Services contract has a "right of first refusal" clause for providing all food
catering service on campus. This means all food or catering services costing more
than $100 must be provided by Dining Services. However, Dining Services will issue
a written waiver if they are unable to provide the requested service.
Cost of food service provided for conferences, receptions, or meetings must comply
with the following guidelines:
Lunch or two breaks is allowed for a meeting that is four hours or longer.
One break is allowed for a meeting that is two hours or longer; the allowable cost
for one break is half of the USM lunch allowance.
Dinner is allowed for sanctioned or pre-approved meetings that begin or extend beyond 5
p.m.
Breakfast is allowed for sanctioned meetings that begin before 9 a.m.
The cost of alcoholic beverages is not allowable under any circumstances.
Business meals (meals that are not a part of a conference, meeting or entertaining
of candidates) are allowable only to university administrators who have prior approval
by the President's Office. The cost of meals must not exceed the allowances approved
under the USM travel policy. Please see the Travel & Meal Expense Reimbursements page for more information.
Payment By Invoice for Food Services
The state's General Accounting Division requires that all invoices for the purchase
of food or catering, including business meals, be supported by a list of individuals
served. The list must indicate each individual's affiliation with the university/USM/state
(employee, visitor, paying guest, prospective student, etc.).
The Food Service/Catered Event Attendee Attachment Form (PDF) must accompany all invoices from Dining Services or any invoice from a vendor supplying
food or catering services.

For large groups where obtaining names is impractical, only the names of university
employees are required along with a summarization by type of other individuals served
(e.g., 100 students and parents attending admissions open house).
Invoices which do not include this supporting documentation are unacceptable to the
State Comptroller's Office and will be returned to the department unpaid.

If food service is a part of the cost of attending a conference, a copy of the conference
brochure documenting this fact may substitute for the Food Service/Catered Event Attendee
Attachment Form.
All invoices from Dining Services must be accompanied by a copy of the special function
order form. This form is the signed contract for services between Dining Services
and the organization holding the function.
Visa Payments to Chartwells
The university Visa procurement card can be used to pay for catering services ordered
through Chartwells. All purchases must meet university catering policy requirements.
Present your Visa card number and expiration date to Chartwells when placing an order
(for $5,000 or less).
Chartwells
Chartwells will process payment against your card after the event occurs and will
mail you a copy of the special function order form and a Visa receipt.
As supporting documentation for the purchase – enter the expense on your Visa procurement
card purchase log, retain a copy of the special function order form and the Visa receipt,
and retain a list of attendees.
If you need assistance, contact the Financial Services help line at 410-704-5599 (choose
option one).


View more information: https://www.towson.edu/financialservices/accountspayable/foodservice.html
See more articles in category:
Grammar