Finding her voice | Towson University
Since discovering classical music in high school, Victoria Delgado has set her sights
on a career in the field.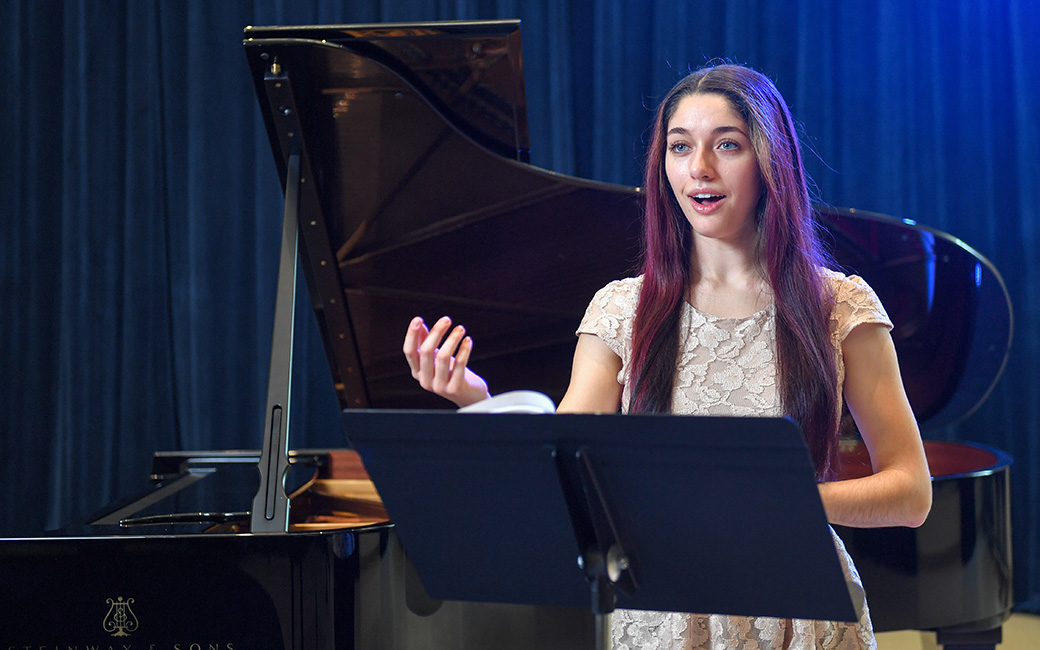 As a high school sophomore, Victoria Delgado began taking weekly voice lessons with
Malinda Haslett, who held a teaching position at Towson University. When it came time
to apply to college, TU was high on her list. "My voice teacher paved the way for
me," recalls Delgado.  
Today Delgado is pursuing a Bachelor of Music in classical vocal performance. She acknowledges that being a music major has its challenges. "You have to balance
your course load with rehearsals, solitary practices and extracurricular activities. It is a learning experience on managing
time and balancing one's life."
Still, in addition to starring in a TU production of "The Pirates of Penzance," which
was pre-empted by the COVID-19 pandemic, and several other performances and concerts,
Delgado has worked at the TU Writing Center and is planning to establish a TU Opera Club this fall. Her work in and out of the
classroom has earned her four TU talent awards, the Presser Undergraduate Scholar Award, and first prize in the Sidney Lieberman Scholarship Competition.
"It is hard to fully express how grateful I am for my faculty members' support," says
Delgado, who takes private voice lessons with Courtney Kalbacker, director of Music for the Stage and a lecturer in vocal studies. "We know and trust
each other, and that is what is needed in cultivating someone's voice." 
Delgado recently presented a research paper to Honors College peers on how Sigmund
Freud's contributions to psychology inspired several European composers. Her paper,
titled "Vocal Music of La Belle Époque: Freudian Reflections Through Poetry" (PDF), draws these connections through Freud's influence on past and contemporary poetry.
Next up she will explore what influences individuals to enjoy different forms of operatic
performance.
Want to learn more about Towson University? 
Request information here. 

View more information: https://www.towson.edu/cofac/departments/music/about-victoria-delgado.html
See more articles in category:
Grammar