Finding calm, community through coloring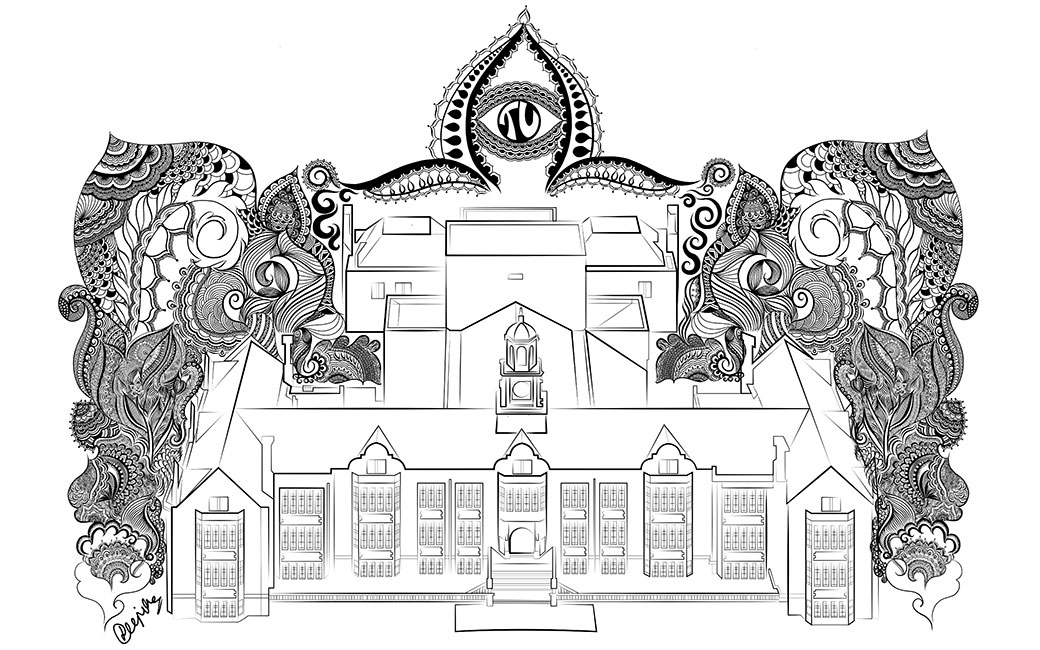 To help keep the Tiger community engaged and connected during the novel coronavirus
pandemic, Deepika Chauhan '20 designed coloring pages based on popular images of Towson
University for download on the #TUtogether webpage.
A graphic design major, Chauhan interned at Creative Services within the Division of University Marketing & Communication from May 2019 until her recent graduation. It was through this internship the idea
to create the designs was born.
Tasked with making a design or activity that would engage the community, Chauhan decided
to make coloring pages of campus. In them, she combines iconic TU imagery with her
own personal style.
She began with the tiger head design, which is loosely based on a photograph of a
tiger statue on campus. Using the image as a reference, Chauhan sketched the face
then used a fine-tip marker to add intricate geometric patterns.
While she had never designed coloring pages before, Chauhan often finds herself making
patterns. "I used to make patterns whenever I was in art classes or Core classes;
it helps me concentrate better."
In the coloring page depicting Stephens Hall, Chauhan combined an architectural-style
rendering of the building made in Adobe Illustrator with intricate patterns created
using a stylus on an iPad.
Chauhan also created a coloring page design with less detail that would appeal to
adults and children. Based on a photo taken by Alexander Wright '18, assistant director
of photographic services, of his dog, Carla, sitting in front of the TU sign at the
intersection of Cross Campus and Osler drives.
Don't let data worries keep you from Twitter.
https://t.co/vt2K81Cnf3

— Twitter (@Twitter) August 13, 2018
In addition to sharing her work with the TU community, Chauhan's internship helped
her gain the experience needed to land a full-time job.
After falling in love with coding in a web design course, Chauhan took every opportunity
to improve her skills. "At Creative Services, I asked them for the projects that would
be closest to coding, and I started coding emails for all the Towson community," she
says.
She was hired as a front-end developer at Tray, Inc., a printing company based in
Glen Burnie, Maryland. "I told them everything I did at Creative Services, and they
were really impressed by the work and experience it offered. I got hired right away."
Download the coloring pages and share your creations on social with #TUtogether.

View more information: https://www.towson.edu/news/2020/alumna-coloring-pages.html
See more articles in category:
Grammar