Examining Jewish identity through the CW's "Crazy Ex-Girlfriend"
Assistant professor Jennifer Caplan guest edited an issue of the "Journal of Modern
Jewish Studies" about the TV series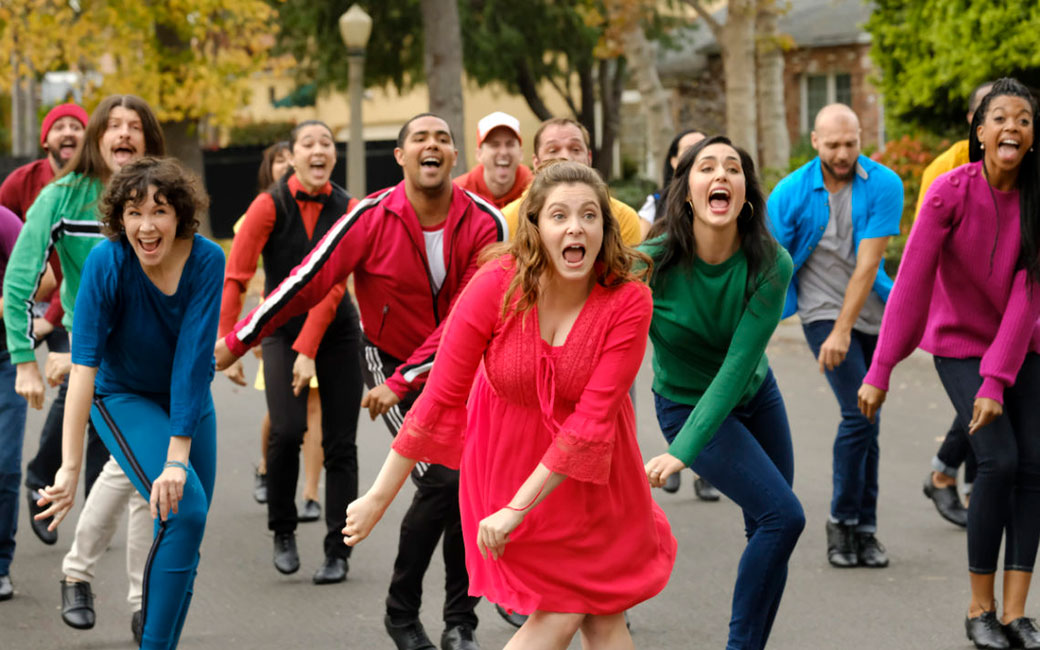 For Towson University assistant professor Jennifer Caplan, "Crazy Ex-Girlfriend" is
more than a musical comedy-drama about a woman who spontaneously follows her ex across
the country. It's also a chance to examine topics like Jewish identity, mental health
and feminism through the lens of pop culture.
In the first season of the show, which aired on the CW from 2015–2019, main character
Rebecca Bunch (Rachel Bloom) faces off with her childhood rival in the hip-hop inspired
musical number "JAP Battle."
The lawyers and self-proclaimed "shebrews" battle it out in a rap, one-upping each
other by flaunting their GPAs and membership in the ACLU while referencing Birthright,
the Jewish fraternity AEPi, and mothers who egged them on like "Seder plates."
In an essay published in the "Journal of Modern Jewish Studies," Caplan uses "Crazy
Ex-Girlfriend" to argue in favor of abandoning the "JAP" or "Jewish American Princess"
as the primary archetype for Jewish women.
Published in January 2020, Caplan's article "Rachel Bloom's gaping MAAW: Jewish women,
stereotypes, and the boundary bending of Crazy Ex-Girlfriend," pushes readers to rethink
continuing to call Rebecca a modern or contemporary JAP, and instead to see her as
something new, which Caplan labels the MAAW, or the Modern Ashkenazi-American Woman.
Caplan, who studies expressions of Jewish identity in popular culture, guest edited
the issue, "Thinking About 'Crazy Ex-Girlfriend,'" which features a collection of five essays looking at the show from diverse perspectives.
In late July, she discussed the article as a guest on "Unorthodox," a podcast from Tablet magazine.
In TU's Department of Philosophy & Religious Studies, Caplan explores these ideas with students in RLST225: American Jewish Humor, which
she plans to offer again in spring 2021.
We spoke with Caplan about guest editing the "Journal of Modern Jewish Studies" and
her interest in pop culture.
When did you first become interested in Jewish identity in pop culture?
When I was a kid in the '80s and '90s, I started to notice there was this whole narrative
of what people were calling cultural Judaism. It was around the time "Seinfeld" premiered.
People said they were "just" cultural Jews, and it always had that modifier "just"
associated with it, because these characters didn't go to synagogue or keep kosher.
When I went to graduate school, I started to think about, why was that a "just" or
"less than" way of being Jewish in America?
When I started to research it, I found that all of those people who were written off
as being "just" cultural Jews had a strong Jewish identity, but weren't being counted
in those who go to synagogue.
When the Pew Research Center did a profile of Jews in the U.S., one of the things they found was that a statistically even number—something like
43% versus 42%—said some sort of involvement in the state of Israel was the key element
that makes them Jewish. And the other group thought a sense of humor was what makes
them Jewish.
When I saw that, I thought, this is something we need to pay attention to. This is
how people are constituting what it means to be Jewish, and we should be looking at
that.
What makes the series ripe for scholarly study, and how did you end up editing the
journal issue dedicated to it?

I think it is partly the music, because that's just not something you get in most
TV shows. The songs are so clever and the writing is so smart.
The character of Rebecca Bunch, she's one of the few examples of normal millennial
Jews on TV. Another example might be [the Comedy Central series] "Broad City," but
those characters are so overdone. Rebecca, however, seems like someone you might actually
meet in the real world.
Back in 2017 I was on a panel about "Crazy Ex-Girlfriend" at the Association for Jewish
Studies annual meeting, and I got contacted about doing a collection of essays out
of that panel. All of the essays in the collection approach the series from a different
perspective. We had one essay comparing songs in the Bible with songs in "Crazy Ex-Girlfriend,"
and another looking at the Gospel of Mark through the lens of "Crazy Ex-Girlfriend."
What do you hope readers take away from your essay, and from the collection in general?
I am really concerned about the continuation of the JAP stereotype in culture. Both
how damaging that can be and the intellectual inconsistency in the fact that the JAP
stereotype rose in the '60s and '70s and represented a certain type of woman. Fifty
years later, we're still using the same damaging label for Jewish women, but it doesn't
even mean the same thing anymore. And those original women are still around. How can
those people still be JAPs if people like Rebecca can now be called JAPs? They are
not the same at all.
With my article, I wanted to push for us to think of a different way to describe young
Jewish women. Let's move past that, and let's give women the opportunity to be something
other than JAPs.
I hope readers take away from the issue in general that pop culture is something you
can take seriously from a lot of different angles. There's a rich amount of material
that can be mined from something you might think is a fluffy little TV show at first
glance. 

View more information: https://www.towson.edu/news/2020/crazy-ex-girlfriend-jewish-studies.html
See more articles in category:
Grammar