Erica Ferguson | Towson University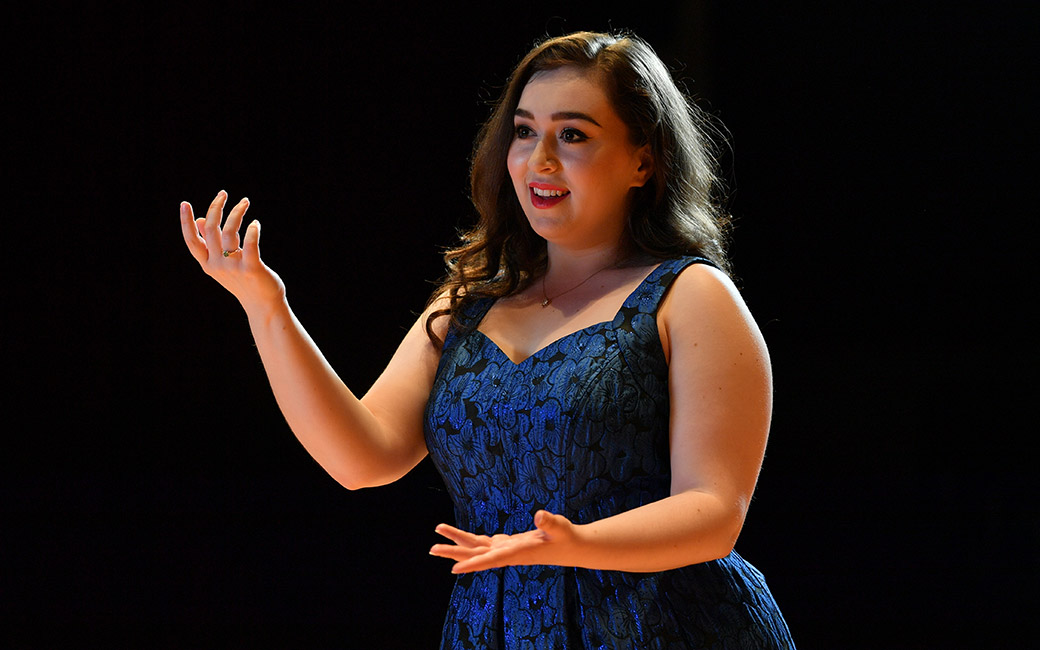 Where else but Towson University would a voice performance major have the opportunity to perform three leading roles in fully staged operas as an
undergraduate?
Probably nowhere, guesses Erica Ferguson, who did just that.
She should know.
Ferguson had her pick of prestigious music schools when deciding where to go for college
but chose TU's music department for the "countless opportunities."
"Towson is a special place for harboring young talent," says the Montgomery County
native.
Valuable chances to perform also include weekly master classes where students get
feedback from faculty and industry professionals, says Ferguson.
"You can premier new pieces of music weekly, if you want," she adds, "in front of
an audience."
And while Ferguson considers playing the countess in Mozart's Le Nozze di Figaro her career highlight at Towson University, she treasures the memory of getting to
participate in a very different kind of performance opportunity — TU's "Opera in a Can," an outreach program offering 30-minute children's operas at regional schools, libraries
and community centers.
Besides the stage time, the one-on-one time with TU music faculty is a major benefit
of the program, explains Ferguson.
"The professors here are ready to help you. At the end of the day, they want you to
go out and have a career."
A close relationship with her voice teacher, voice performance division leader Teri Bickham, has been instrumental in her success, says Ferguson. 
"She has been my biggest supporter and my biggest advocate."
Ferguson says that support and the training she received helped her get acceptance
to the exclusive Maryland Opera Studio with a graduate assistantship.  
"It's exactly what I want," she says. "I'm very excited."
Want to learn more about Towson University? 
Request information here. 

View more information: https://www.towson.edu/cofac/departments/music/about-erica-ferguson.html
See more articles in category:
Grammar