Darnell Morris-Compton | Towson University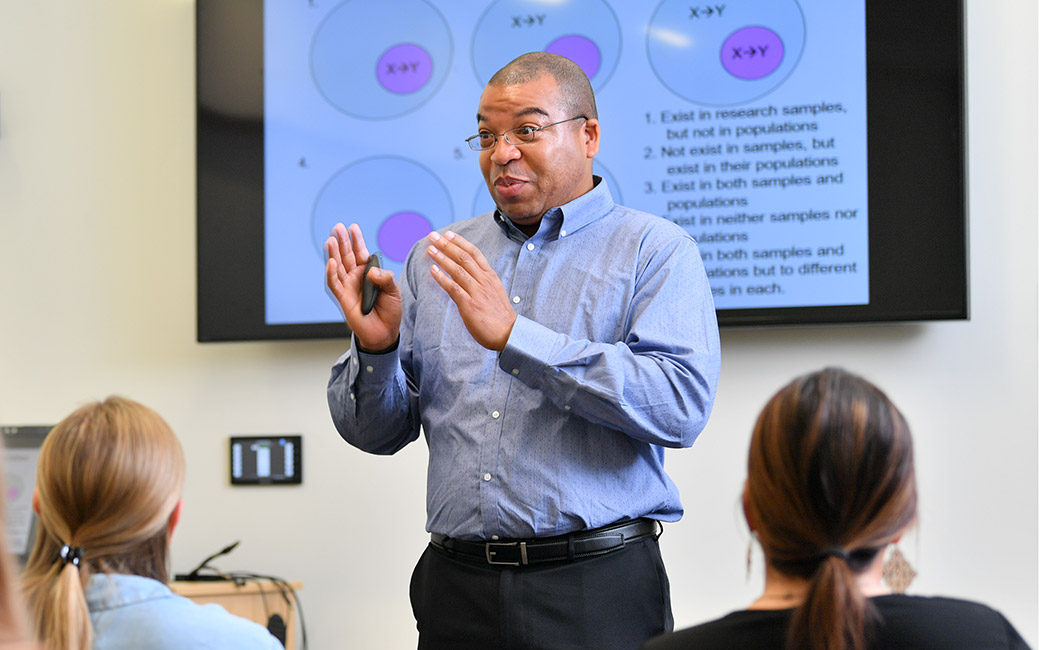 Darnell Morris-Compton, a former social worker and Peace Corps volunteer, brings his
passion for service to his classes at Towson University.
He served in Turkmenistan and Kenya in the Peace Corps and as a social worker in Baltimore, where
he helped individuals, families, communities and community-based organizations solve
problems in their neighborhoods and schools.
Now, as an educator at Towson University, Morris-Compton teaches FMST 387: Community
Services for Families in the Department of Family Studies and Community Development.
"It's a service-learning class where we organize students into groups of three to
five and connect them with an agency that provides a service to the community," he
explained.
Students choose from over 80 approved internship sites located in Baltimore City,
Towson and surrounding areas. "These internships give students an opportunity to link
concepts of community development from the classroom with their experiences from the
field," Morris-Compton added.
Morris-Compton finds it most rewarding when his students "get it" and "see it."
"What I mean by 'get it' is when actively engaged students begin to understand the
concepts taught in class. When they connect theory to the real world, or when they
understand a concept, that makes my job rewarding," Morris-Compton explained. "When
students go out and make a meaningful connection of content in their service-learning
experience, then they begin to 'see it.'"
"By engaging in service-learning, I get to teach students how to help others, while
helping others at the same time," Morris-Compton stated.
Morris-Compton also enjoys when his students show interest in the class material and
engage with each other. "Students are no longer sitting in a seat next to a stranger,
recording someone talk for a few minutes only to wash, rinse, and repeat three times
a week for the course of the semester," Morris-Compton said. "Strangers become friends,
and study groups form, in addition to social groups. Connections are made. Resources
are shared."
When his students see how their course content, life and profession all connect, Morris
Compton feels fortunate to witness academic and social integration.
"Students ask questions about the profession, not just about the upcoming exam or
assignment. Students want to talk to faculty before class, during class, and after
class about the material to understand it better. They want to know about life after
college," he said. "This is how students begin to build social capital and social
networks…I cannot make them do that. It has to happen organically."
Morris-Compton invites students, especially those interested in service-learning,
to connect with him. "I will talk to anyone who wants to listen about joining the
Peace Corps, social work (the profession or graduate school), or my 3-year-old daughter,
Melody."

View more information: https://www.towson.edu/cla/departments/familystudies/dmorriscompton.html
See more articles in category:
Grammar