Dancing for a lifetime | Towson University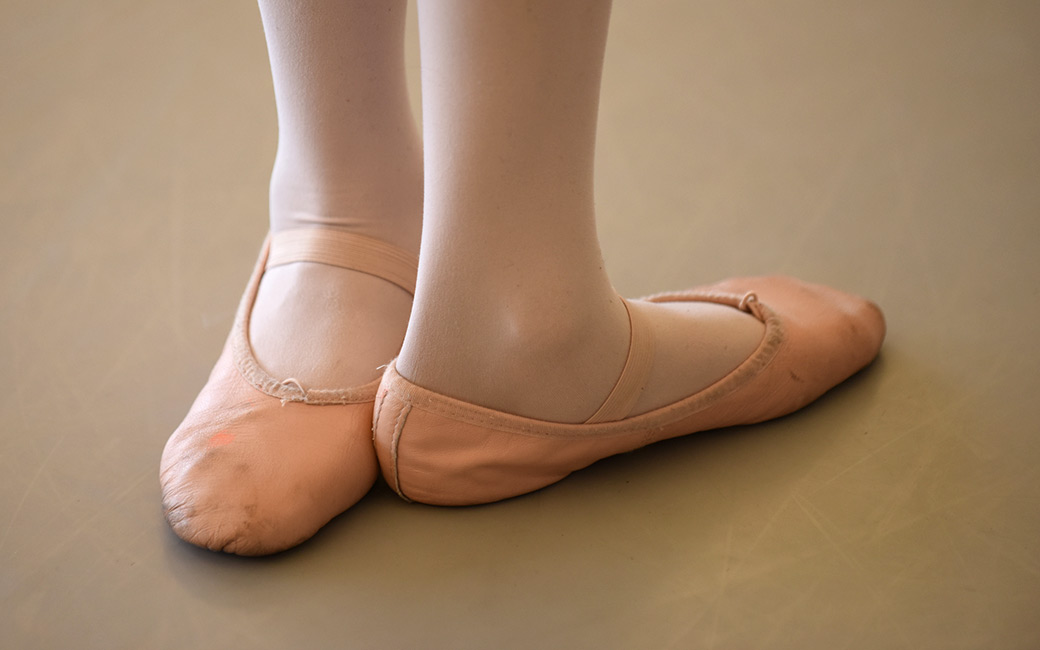 Gail Melfi spends her Monday evenings setting up a home studio to teach adult ballet
classes over Zoom. 
Since Towson University's Community Dance Center pivoted its adult dance programming to Zoom in summer 2020, Melfi has equipped a
room in her home with a ballet barre and studio lighting to optimize the virtual experience
for her students.
"I didn't fully realize how dedicated our students were and how much people love Towson
and our community dance program until we went virtual," says Candice Webster, director
of education for the TU Community Dance Center.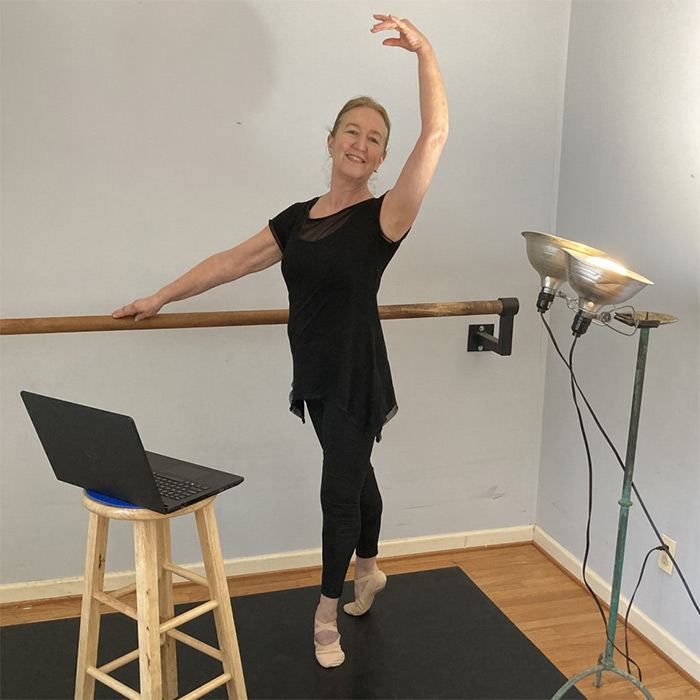 In fact, the Community Dance Center's decision to offer adult ballet, tap and modern
dance classes over Zoom came at the request of its students.
After fielding questions about whether the center would offer virtual classes during
the COVID-19 pandemic, Webster and her team launched a six-week session in June to
test out the concept. The response was overwhelming.
"Since we've gone virtual this summer, our adults have stuck by us," she says, noting
that 68 students registered for the first online session. "They love their teachers,
and it's an escape for them. They know each other now, and they've built a real community."
With limits to traditional in-person opportunities for exercise and creative movement,
adult dance students have found comfort and community through the center's virtual
classes.
"Dance for me has always been a joy, and to be able to continue under the current
challenges has been uplifting in mind, body and spirit," says Debbie Wilson, a longtime
adult ballet and tap student. "[Instructors] Gail [Melfi] and Tracie [Burton-Hooper]
bring us the opportunity to dance each week as well as to connect with our fellow
dancers that we miss seeing in the studio. We have our own dance Zoom community going."
When moving curricula online, the Community Dance instructors worked hard to deliver
virtual classes at the same professional level that students experienced in the Center
for the Arts studio.
"Anyone can offer a virtual dance class, but our students expect to have that high-caliber
experience," Webster says, pointing to instructors who have gone above and beyond,
outfitting home studios and modifying curriculum for smaller spaces to optimize the
student experience. 
The six-week spring session started Feb. 20 and runs through April 1, with weekly courses in beginner and intermediate
ballet, beginner tap and beginner modern dance. Classes run for 60 – 75 minutes on
evenings and weekends and cost $10 – $12 per class.
In addition to the adult dance programming, the Community Dance Center hosts free
masterclasses with guest artists and leading industry professionals. On March 7 at
11 a.m., artistic director Carolyn Dorfman will lead a masterclass via Zoom on the
Dorfman Technique, connecting to the power of the unique individual in relation to
the broader ensemble or community.
Support Community Dance
Your donation to the TU Community Dance Center supports excellence in dance education
for children, adults and professionals.
An extension of the TU Department of Dance, the Community Dance Center is accredited
by the National Association of Schools of Dance. Its comprehensive curriculum, renowned
faculty and highly trained instructors offer excellence in dance education for children,
adults and professionals.
The Community Dance Center added adult programming in 2010 to better support the dance
department's mission of advocating dancing for a lifetime.
View more information: https://www.towson.edu/news/2021/community-dance-center.html
See more articles in category:
Grammar