Congratulations, Tigers, on a fantastic season!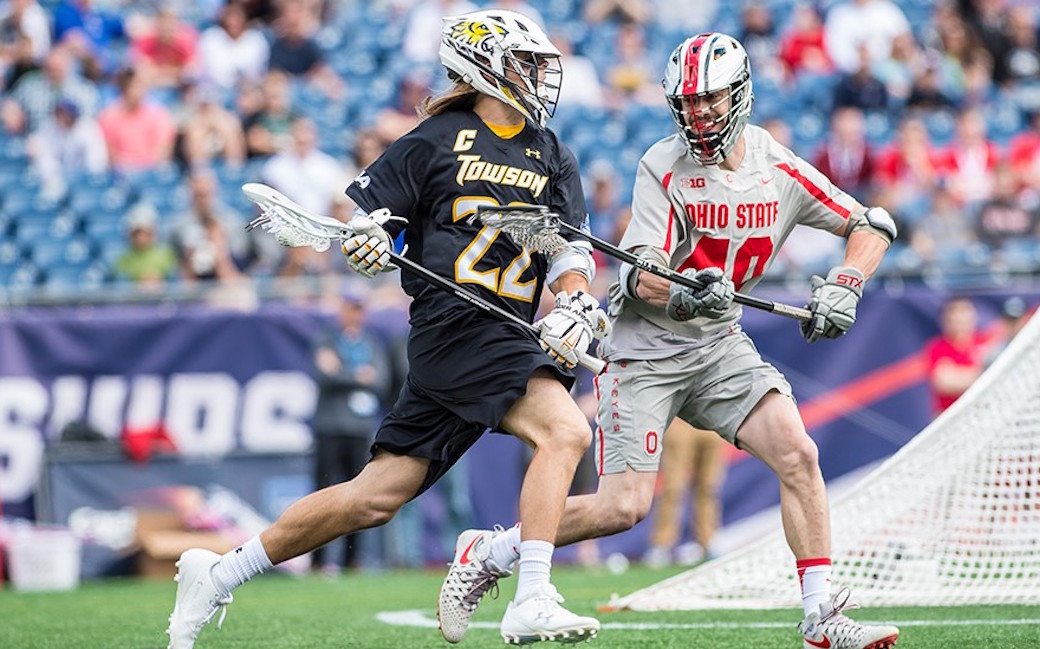 Towson University men's lacrosse reached the NCAA semifinals—the last unseeded team
in the bracket—and finished 12-5 after a heart-breaking loss to No. 3-seeded Ohio
State, 11-10.
Towson University sends its congratulations to the TU men's lacrosse team on a fantastic
season after the Tigers went 12-5 and became the only unseeded team to reach the 2017
NCAA Championship weekend in Foxborough, Massachusetts. 
TU fell to third-seeded Ohio State in the 2017 NCAA semifinals on Saturday, May 27,
at Gillette Stadium. It marked Towson's third appearance in the Championship Weekend and first since 2001.
 
No. 11 Towson (12-5) got off to a strong start, holding the lead through the first
three quarters. It was not enough, as Ohio State (16-4) used three-straight, fourth-quarter
goals to earn the 11-10 comeback win over the Tigers.
Senior Ryan Drenner led the Tigers with four points on three goals and one helper. He finished his career with 127 points, which ranks seventh all-time. Drenner also posted
his fifth hat trick of the season and extended his point streak to 30-straight games.
His moved into a tie for ninth-place for career goals with 92, matching Brad Reppert
(1998, 2000-02).
Drenner's helper on Towson's first goal of the game gave him 80 assists for his career.
He becomes just the seventh player in Towson history to reach the 80 career assist
mark and the first to do so in 14 seasons. Ryan Obloj was the last Tiger to do so,
tallying 85 helpers during his career (2000-03). Drenner is tied for fourth in CAA
history for career assists.
Senior Joe Seider also finished with three goals, for his third hat trick in as many
NCAA Tournament games. His goal with 13:58 left in the second quarter was his 125th goal of his career, tying him with Kevin Sturm (1995-97, 1999). Seider broke the
tie one minute later to finish his career with 126 goals.
Tyler Mayes tied the program's single-season caused turnovers record with 40. It took
just 15 seconds into the game for Mayes to record the tying caused turnover. He is
tied with Ted Turnblacher's single-season program best set in 2005.
View more information: https://www.towson.edu/news/2017/congratsmenslacrosse.html
See more articles in category:
Best