Chance encounter reconnects alum and TU, results in $1M gift
Tom Beyard '77 finds passion in giving to TU women's basketball, athletic program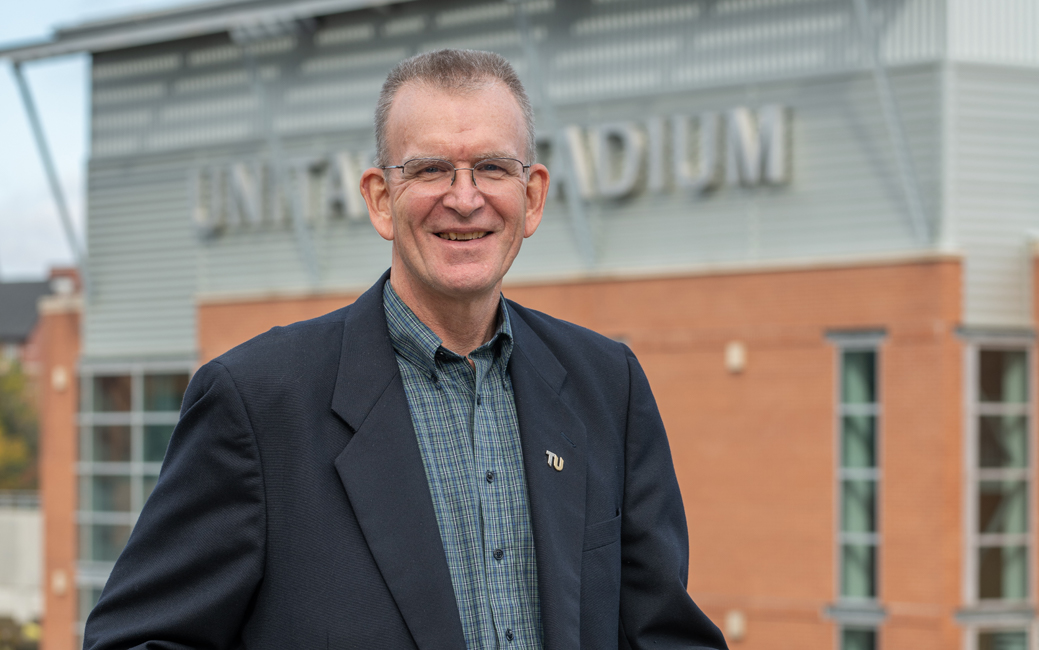 Tom Beyard '77 doesn't characterize himself among the best alumni since he lost touch
with Towson University for more than 40 years. But a chance encounter, through the
Maryland National Guard and TU Athletics, reconnected him with his alma mater in 2014,
and he has been a loyal ambassador for the university and Department of Athletics
ever since.
Beyard, who retired in 2019 as a command sergeant major after 37 years of service
to the National Guard, recently established a bequest to create the CSM (Ret) Thomas
B. Beyard '77 Endowed Athletics Scholarship and support the Women's Basketball Enhancement
and the Athletics Capital Projects funds. He is showing that it is never too late
to reconnect and give to the university.
"I just turned 65 and started thinking more about the future," says Beyard. "Now's
the time TU needs all the support it can get. I decided I was going to make my commitment
now to be a good example to others."
Beyard has bonded with the women's basketball program, which is led by coach Diane
Richardson, because he admires their hard work.
Richardson describes Beyard as "part of our family."
"Not only has he been a tremendous supporter of our program in so many ways, but our
student-athletes consider him part of the team," Richardson says. "They look for him
in his seat at every home game. His presence gives our team so much life and joy,
and we are so appreciative of his time and commitment to our competitive excellence.
He has really made a difference in the student-athlete experience here at Towson."
Inspired by the Sgt. Major Wardell Turner '89 Scholarship, created in 2015 in honor
of the former football defensive back killed in action in Afghanistan, Beyard presented
the idea of honoring a Maryland National Guard soldier killed in Afghanistan—former
wrestler Major Robert Marchanti II '89.
The Marchanti scholarship now exceeds $40,000.
Tim Leonard, TU director of athletics, says Beyard's reconnection with TU has changed
lives.
"I am extremely grateful for the opportunity to get to know Tom over these past several
years," Leonard says. "Through the relationships he's built with the athletic staff,
Tom has identified with our efforts to build teams through sacrifice, dedication,
discipline and hard work—values that truly resonate with him. We are all appreciative
of Tom's generosity, but, most importantly, we are thankful for his friendship and
the joy he adds to our lives."
Beyard's view of philanthropy focuses on more than just money. He views it as the
effort in helping others. " Sometimes it's know-how; sometimes it's grunt work; sometimes
it's money," he says. "Everybody has something to contribute."
To create a bequest or planned gift, contact Director of Major Gifts & Planned Giving
Kathleen Hider at khider AT_TOWSON.
This story is one of several related to President Kim Schatzel's priorities for Towson University: TU Matters to Maryland; Culture of Philanthropy and Strategic Plan Alignment.

View more information: https://www.towson.edu/news/2020/beyard-reconnects-tu-gives.html
See more articles in category:
Grammar