Career Connections | Towson University
What began as a summer internship for Danielle Naumann '20 culminated in a full-time
position with a local management consulting, audit and tax firm.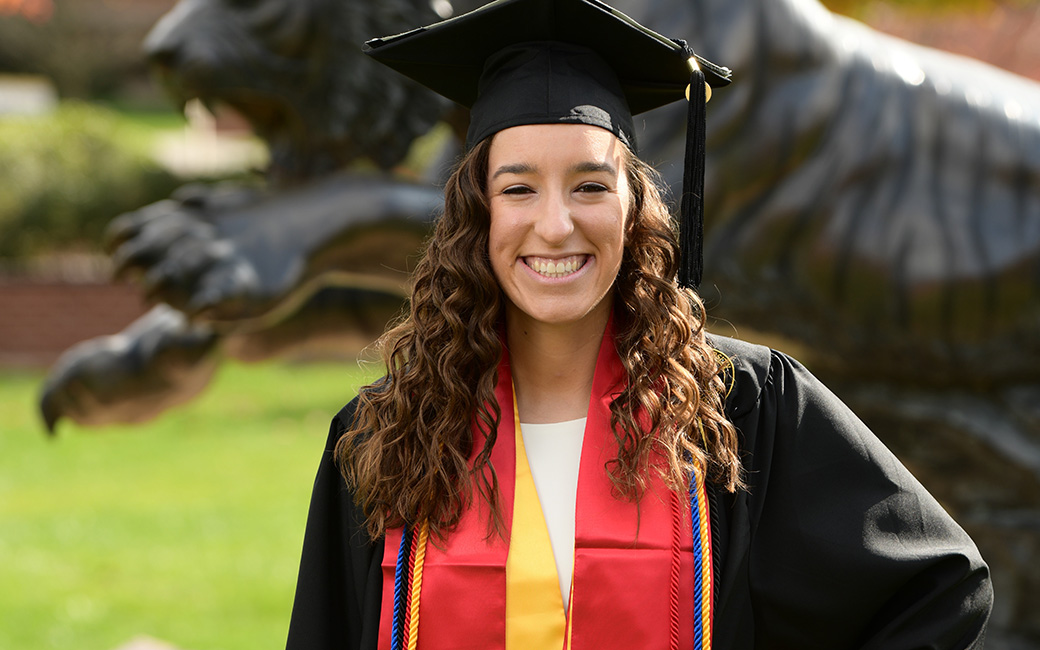 Accounting major Danielle Naumann '20 spent summer 2020 studying for the certified public accounting
(CPA) exam, "the next step on my journey," explains Naumann, who begins working in
contract compliance and audit services for SC&H Group in Hunt Valley, Md., later that
year. 
She credits her involvement with Beta Alpha Psi (BAP), the International Honor Society for Accounting, as key in her successful job search.
As president of BAP, she worked with members and private, public and nonprofit organizations
throughout the region. When COVID-19 struck, Naumann was quickly on the phone with
Accounting Assistant Professor Mehrzad Azmi Shabestari, faculty advisor to the society, to cancel some events and transition others to virtual
formats. "In a short period of time, we had to make major adjustments," recalls Naumann.
"We arranged online services to allow society members to continue to network," says
Naumann, who worked with representatives from other student organizations to offer
students a money management workshop. "A representative from Morgan Stanley Wealth
Advisers met with students to talk about how to save money, invest, and whether to
rent or buy a place to live." Naumann also offered a college preparation workshop
to business students at her alma mater, Dulaney High School in Baltimore County.
Her experience as vice president for finance for Alpha Gamma Delta sorority added
to her skill set. "I created a budget, worked with different committee heads, distributed
funds and oversaw how committees used the funds," says Naumann.
A member of Beta Gamma Sigma, the International Business Honor Society, Naumann claims, "Four years later, I realize
my leadership involvement will help me be a better manager in the work world."
Want to learn more about Towson University? 
Request information here. 

View more information: https://www.towson.edu/cbe/departments/accounting/about-danielle-naumann.html?utm_source=dept-page&utm_medium=about-our-people
See more articles in category:
Grammar