Burdick Turf Fields | Towson University
The 200,000 square foot turf fields offer a variety of sport and recreational opportunities. 
The fields are used primarily for Campus Recreation programming, but are accessible
for open recreation at designated times.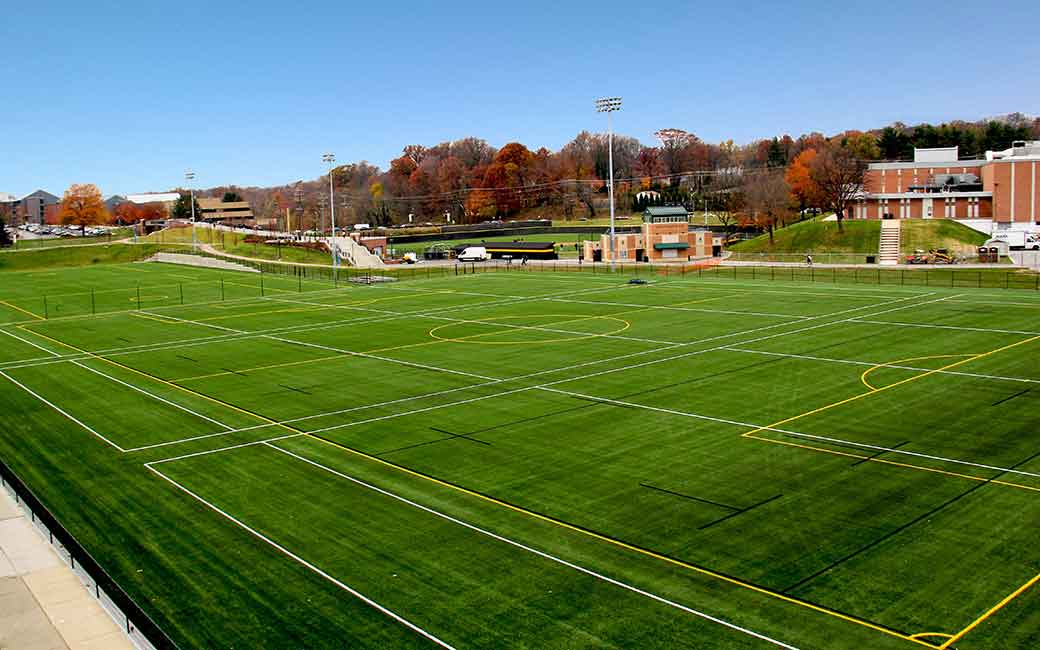 Entrances to the turf fields are located along the Union Parking Garage, near the
first floor entrance to the University Union, and in the northeast and northwest corners
by the bridge. 
The turf fields have inlaid lines for the following sports:
3 – Flag Football Field
1 – Men's Lacrosse Field
1 – Women's Lacrosse Field
1 – NCAA Soccer Field
1 – International Rugby Field
University and community organizations may reserve or rent the turf fields.  Visit
Facility Reservations & Rentals to learn more. For questions about hosting an event on the turf fields please contact
campusrecevents AT_TOWSON.
Turf Field Complex Usage Guidelines & Prohibited Items
Guidelines
All users must be current Towson University students, faculty, staff, household, and
alumni members or guests of patrons. Towson OneCards may be verified at any time by
Campus Recreation staff and/or other University officials.
Campus Recreation programs and events have priority usage of the field.
Use of the field during informal recreation is on a first-come, first-serve basis,
unless the field is reserved. If others are waiting, please be respectful and limit
pick-up games to 30 minutes.
When the field is indicated as being closed, usage is prohibited by all use groups.
Access to the fields is limited to available gates. DO NOT climb fence.
Participants must show sportsmanship at all times-profanity and fighting will not
be tolerated and may result in judicial action.
Participants must be fully clothed at all times including shirts, shorts/pants, and
appropriate footwear.
All waste should be placed in appropriate containers.
No unauthorized marking of the field (tape, chalk, paint) at any time.
Tailgating is not permitted.
The use of sports goals and nets on the fields is restricted to Campus Recreation
programming, practices, and events, unless approved. Campus Recreation does offer
Pugg Goals for participants to check out with a valid OneCard from the Campus Recreation
Rec Attendant in Burdick Hall.
Only gator type vehicles are permitted with advanced written permission.
Tents must be weighted with sandbags or weighted buckets. No staking!
Inflatables, including trampolines and related equipment are prohibited from the turf
fields.
Tables, chairs, coolers, and other equipment subject to inspection at any time.
Signs and banners and their location must be approved by either Campus Recreation
or Events and Conference Services.
Participants must use designated walkways and posted construction detours to access
the fields at all times.
Access to the Burdick Hall construction zone is prohibited. In the event that any
equipment (i.e. Balls) goes into the construction zone, only authorized personnel
are permitted to retrieve it. Please report all lost equipment to Campus Rec staff.
Campus Recreation and Events and Conference Services reserves the right to remove
any participant or group and/or close the field at any time.
The use of Campus Recreation facilities is a privilege. Consider the consequences
of your actions and do not engage in behavior that may harm other patrons or damage
equipment. Individuals who choose to engage in unacceptable behavior have their access
revoked or modified indefinitely.
Prohibited Items
FOOD AND BEVERAGE
All food products and beverages other than water
Sunflower seeds, peanuts, and other shelled nuts
Gum
Glass bottles or containers
EQUIPMENT
Stakes, spikes, or other pointed objects
Grills, space heaters or other equipment with open flames
Skateboards, roller blades, bicycles, scooters
FOOTWEAR
Metal cleats
Pointed heels
OTHER
Tobacco products (chew, cigarettes, cigars, pipes, smokeless tobacco)
All animals, with the exception of service animals
Golfing equipment
Alcohol
Fireworks
Water balloons
Failure to follow or adhere to the above guidelines and/or the direction of Campus
Recreation staff may result in dismissal from facility, revocation of membership,
or judicial referral.
Report all maintenance issues, emergencies, vandalism, or misuse of Campus Recreation
facilities immediately to Campus Recreation (410-704-2367) or TU Police (410-704-4444).
The use of Campus Recreation facilities is a privilege. Individuals who choose to
engage in unacceptable behavior may have their access revoked or modified indefinitely.

View more information: https://www.towson.edu/studentlife/activities/recreation/campusrec/facilities/fieldcomplex.html
See more articles in category:
Grammar