Associate professor awarded fellowship to develop center for returning citizens at TU
As an Open Society Institute Community Fellow, Associate Professor Elyshia Aseltine
will build on existing partnerships to open the Fair Chance Higher Education center
on campus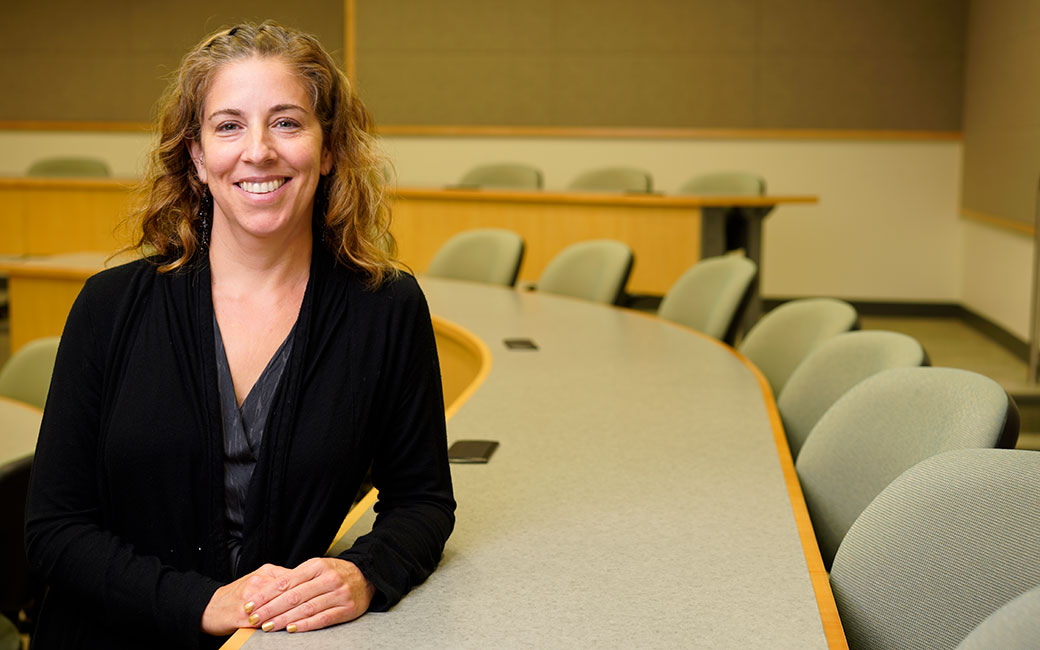 Towson University is on its way to becoming a leader in supporting returning citizens
on their journey to higher education and productive careers.
Last month, Associate Professor Elyshia Aseltine was named to the 2019 cohort of Open Society Institute—Baltimore Community Fellows. With the fellowship, which provides $60,000 over 18 months, Aseltine
will work to establish the Fair Chance Higher Education center at TU. The center will
support criminal justice system-impacted people in their pursuit of higher education.
Funding projects that address problems in Baltimore's underserved communities, OSI—Baltimore
chose its 10-member 2019 cohort from more than 150 applicants.
Aseltine's work in local criminal justice reform and education began shortly after
her arrival to the College of Liberal Arts' Department of Sociology, Anthropology and Criminal Justice in fall 2012.
With the support of Dean Terry Cooney, Aseltine and professor Michelle Manasse were
trained in the international Inside Out Prison Exchange Program, which brings incarcerated
students and college students together for a semester-long course held inside a correctional
institution. The first class was held at the Baltimore County Detention Center in
the summer of 2014.
Since then, the program and Aseltine's ambitions have grown with the support of BTU—Partnerships for Greater Baltimore.
"I had all of these experiences where education and incarceration overlapped," Aseltine
recalls. "And then when the BTU investment opportunity came up, I started wondering,
How might I be able to connect all of these parallel paths in some way?"
With a 2018 – 2019 emerging investment through BTU and support from the Provost's Office and the College of Health Professions
and the College of Fine Arts and Communication, 11 faculty have now been trained to
teach Inside Out courses at the Baltimore County Detention Center and the Harford
County Detention Center. The first class at the Volunteers of America Chesapeake Residential
Re-Entry Center in East Baltimore will be held in the spring term.
The BTU investment allowed Aseltine to initiate conversations on campus about criminal
justice reform, and she began to wonder about ways to further the university's support
of returning citizens.
In 2019, she was awarded a priority investment through BTU, enabling her to develop a network throughout the university that will
remove barriers and build support for students with criminal records on campus.
"My big vision is ultimately to have a physical center on campus," Aseltine says.
The Fair Chance Higher Education center aims to provide support in three areas: assistance
navigating higher education from interest to completion, a pipeline to potential career
opportunities at TU and elsewhere, and advocating for the formerly incarcerated on
campus and throughout the community.
"Professor Aseltine's outstanding work demonstrates the positive and lasting impact
that can happen when a committed faculty member with a good idea is given the resources
to engage with the community both on and off campus," says Provost Melanie Perreault. "She and her colleagues are making a real difference."
Aseltine credits BTU for elevating her personal passion to an institutionally supported
partnership making a difference in the Baltimore region. It's that support, she says,
that made the OSI fellowship possible.
"The work Dr. Aseltine undertakes embodies both the mission of the university and
the community engagement component of the BTU presidential priority," says Matthew Durington, professor of anthropology and director for community engagement and partnerships
within the Division of Strategic Partnerships and Applied Research.
"The work with returning citizens has been supported by BTU because it promises to
make a significant impact in the Baltimore region by providing points of access for
this population. The capacity to transform lives and communities is huge, and the
fact that OSI recognizes this demonstrates that the BTU priority is recognizing and
emboldening the great work of our faculty."
Aseltine hopes to make Towson University a model for supporting returning citizens
within the University System of Maryland, and one that could be easily replicated
throughout the country.
"Mass incarceration is such a prevalent issue in Baltimore City. It's an issue of
criminal justice and, more broadly speaking, economic and social justice," Aseltine
says. "What we're doing is one part of a multipronged strategy. Higher education won't
necessarily make sense for everybody that's coming out of prison. But for those for
whom it makes sense, Towson can play a deliberate part in facilitating their success."
This story is one of several related to President Kim Schatzel's priorities for Towson University: TU Matters to Maryland, BTU-Partnerships at Work for Greater Baltimore and Diverse and Inclusive Campus.

View more information: https://www.towson.edu/news/2019/elyshia-aseltine-osi-community-fellow.html
See more articles in category:
Grammar