9th Grade Online Curriculum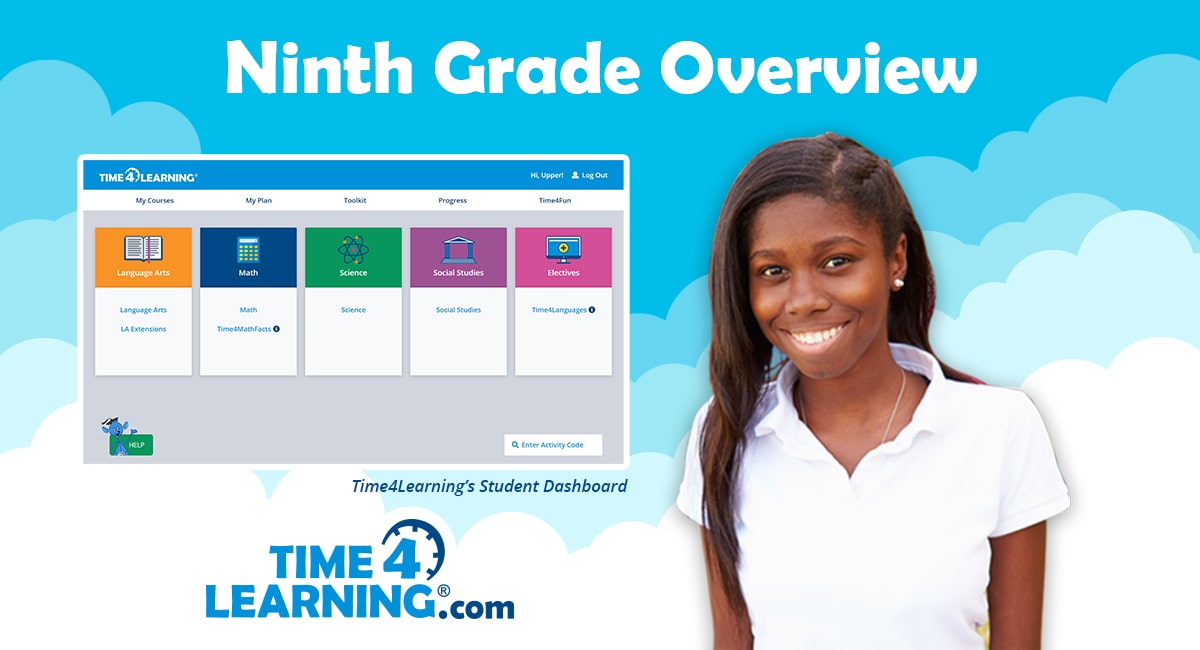 To find the right ninth grade curriculum for your student and family lifestyle, you'll want to consider your goals and preferences first. This page will give you an overview of what to expect for your ninth grade homeschool, examine what 9th graders need to know and more.
For students starting grade 9, curriculum flexibility is one of the key benefits that interest them the most. A well rounded ninth grade education will provide the foundation for the high school experience, as well as begin building the student's official portfolio for future college applications.
What Do Ninth Graders Learn?
9th grade is a year of major shifts in perspective, education requirements, and expectations. As they reach higher level thinking skills and autonomy, it marks the beginning of their preparation to go to college or enter the workforce after graduation.
Below are some of the skills and concepts a student will learn with a ninth grade curriculum:
Essay writing skills with an outline
An introduction to source citation and plagiarism
Continued grammar, vocabulary, and spelling skills
Reading apprehension via a reading list, book reports, quizzes, and more.
Understanding equations, polynomials, graphs, formulas, complex numbers, and more.
The structure of a cell, mitosis and meiosis, blood typing, the scientific method, properly recorded science projects, how to use a microscope, etc.
The use of a timeline, map, and globe. Likely, students will need to memorize the continents, states, and capitals.
Important events, dates, and figures either in U.S. History or World History, and an understanding of how the societies and cultures were affected.
The Time4Learning 9th grade scope and sequence and 9th grade lesson plans pages can help you gain an understanding of what a 9th grade curriculum should include.
9th Grade Curriculum Overview
A typical course of study for 9th graders include a wide range of topics for science and social studies. These usually include biology, chemistry and physics for science and US history I and II, US government and world history for social studies. Math usually starts with Algebra I in 9th grade but there are other math subjects students can take, while for language arts includes grammar, vocabulary, composition and more. Electives also become a vital part of any ninth grade education.
The specific subjects for ninth grade will vary depending on your preference. Certain families may choose to include more subjects to fulfill prerequisites early on and free up later high school grades for college preparation, while other families prefer to ease into high school and increase the workload as the student progresses.
When looking into a curriculum for ninth grade, you should expect the program to:
Instruct your student in advanced math concepts including algebra, geometry, pre-calculus and personal finance to help prepare them for independent living.
Provide tons of stimulation to build their composition, grammar, vocabulary and general communication skills.
Train them in essential science practices such as asking questions, planning and carrying out experiments, interpreting data and forming hypotheses.
Include lessons or activities that help them improve critical thinking and reasoning skills.
Expand your student's knowledge of the American history and government, as well as world geography, cultures, it's people and their history.
Help them gain experience with reading maps, evaluating data and problem-solving.
Introduce a range of additional subjects such as art, economics, personal wellness and more.
Be sure to research the homeschool requirements in your state to ensure your curriculum of preference aligns with what is required.
9th Grade Math Curriculum
A 9th grade homeschool curriculum often covers Algebra 1 in mathematics. However, other popular alternatives are also Pre-Calculus or Geometry. The choice lay with the parent and is completely flexible depending on the student's academic level and understanding. Some of the courses we offer for high school math include:
Algebra I

Geometry

Algebra II

Pre-Calculus

Trigonometry
Read more on our
Read more on our 9th grade math curriculum page.
9th Grade Language Arts Curriculum
A language arts program for a ninth grade education is usually a more rigorous introduction to formal academic writing. It expands on vocabulary, requires greater attention to grammar, and places a heavy focus on correct spelling. In other words, your student's previous skills from middle school will be challenged and deepened.
Here are a few topics you can expect your ninth grade language arts curriculum to address.
Mechanics of writing
Literature analysis and citing sources
Reading comprehension and writing reports
Learn more on our
Learn more on our 9th grade language arts curriculum page.
9th Grade Science Curriculum
For science, 9th graders will automatically get assigned the biology course. But there are different sciences high schoolers can take in the order they prefer:
Biology

Chemistry

Physics
Learn more on our
Learn more on our 9th grade science curriculum page.
How to Homeschool a Ninth Grader
Knowing what to expect from a curriculum is great, but how do you present this information for your ninth-grader? We understand it can be stressful, so we are here to guide you through the process. We've included information on:
Getting started
Creating a plan and schedule
A starter reading book list
Tips, ideas and more!
Learn more about
Learn more about how to homeschool ninth grade here
Why Choose Time4Learning 9th Grade Homeschool Curriculum?
Parents with ninth-grade students often look for a complete curriculum to meet their state's requirements and assuage their fears of dreaded learning gaps. High school is an important time in a person's life while also establishing a learning base for future education and careers. Time4Learning offers a core curriculum with the four main subject areas: Math, Language Arts, Science, and Social Studies. Additionally, electives are available, especially for the high school grades.
Further, high school can be a struggle if students are bored or the curriculum doesn't meet their learning style. Time4Learning utilizes multiple learning formats to keep the lessons and assignments both interactive and engaging, while also designed to reach all learning styles.
Finally, the task of teaching and grading high school assignments can be inundating for parents, especially for those balancing work and homeschooling. Time4Learning is set up to teach your ninth-grader for you, with automated grading and simplified record-keeping. Parents will enjoy the freedom of ready-to-go lesson plans in addition to the flexibility to skip ahead in lessons if desired.
Here are other ways Time4Learning suits the 9th-grade student's needs:
As a Full Curriculum
Completely online format means zero downloads and freedom to take school on-the-go.
Flexible options for skipping, repeating lessons or customizing lesson plans.
Award-winning core curriculum helps homeschoolers meet state requirements.
Automated grading and reporting for convenient record-keeping.
Our lessons include closed-captioning options to help support

students with special needs

or those who need extra support.
Student-led program for homeschoolers to learn at their own pace.
Plenty of tools and resources available in the parent account.
Access to fellow Time4Learning families group for social opportunities.
Easily printable records and portfolio for assessments, if needed
Includes materials for a full year on all the subjects you select.
As a Supplement
The lessons are self-paced, allowing students to learn in a stress-free environment.
Our 9th grade curriculum aligns with state and national standards.
Tons of non-scored activities, quizzes and printable quiz answer keys, that help your child master more difficult theories and concepts in all subject areas.
Ability to pick the courses you want your 9th grader to take based on your student's specific needs.
Complimentary spelling lists and reading book lists to help parents further their child's 9th grade education.
Lesson activities touch on

different learning styles

, giving every student the chance to succeed in academics.
Works well as an afterschool program supplement for students who are struggling in school.
Helpful option for helping children stay ahead in their grade level.
FAQs About Homeschooling 9th Grade
What age are you in 9th grade?
Most ninth grade students (or high school freshmen) are 14 years or 15 years old depending on birthdate and past history in school.
How can I prepare my child for ninth grade?
Preparation for a successful 9th grade year should include:
Setting and visualizing learning targets for the year.
Getting involved in extracurricular activities.
Consider ways to improve study skills.
Encourage discussion or debates on the topics being studied.
What should a 9th grader know by the end of the year?
By the end of 9th grade, students will often need a working knowledge of Algebra, biology, essay composition, foreign language basics, and an awareness of major U.S. or World History events.
See more articles in category:
Grammar